On Sunday 21st July I rode the Etape du Tour for the first time ever. Of the 16,000 riders signed up I was in a very distinct minority, as just 7% of those riders were female.
When I was first asked if I wanted to ride the Etape, I said yes despite not fully realising what I was signing up for. I knew that the Etape du Tour was one of the hardest stages of the Tour de France, a fiendish human experiment in which mere mortals are allowed to haul themselves up steep mountains at a snail-like pace to allow the professionals look even faster when they slid up them a few days later.
I knew it was a hard event, but I didn't realise it was one that so many female cyclists chose to bypass. As someone who (spoiler alert!) completed the ride and enjoyed it, I felt a pang of regret that there weren't more capable women on the finish line to share the same sense of triumph with me.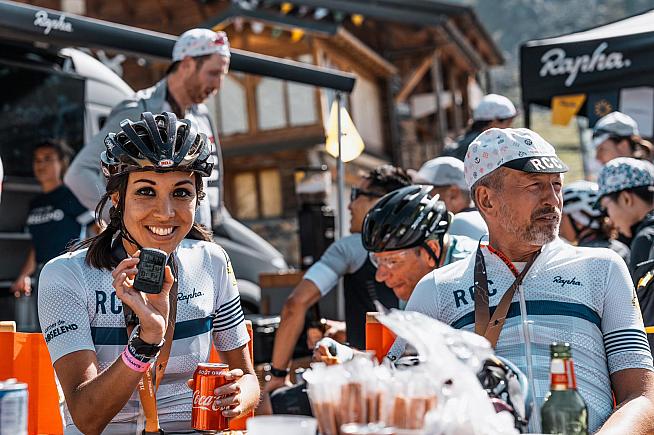 In pondering why this might be the case, I realised that there were a lot of factors that easily could have prevented me from reaching the start line. The majority of these initially appear to be physical obstacles; perfectly legitimate reasons not to ride. However, every single one can and was overcome with a little self-belief and hard work (or just hoping for the best in some cases).
If you think it would be great to ride the Etape du Tour but something has been holding you back, I've jotted my list of Etape excuses and how I got around them. You can take courage from the fact that the same doubts ran through my head too, but I still stood at the top of Val Thorens with a medal around my neck and a story to tell for years to come.
1. WHAT IF I CAN'T DO IT?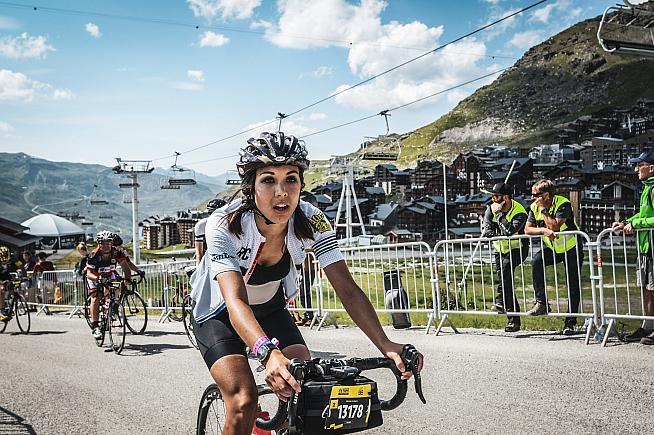 The most obvious one, and one that flashed through my mind with irritating regularity. What if I train for months, travel all the way to France, start the ride and I just can't do it? Wouldn't that be a disaster? Wouldn't people judge me for not finishing?
The cold truth is that maybe you can't, but that shouldn't stop you. My approach was this: Put your ego aside. It's not a race, it's an experience. Ride at your own pace at all times. Don't go into the red. Take your time at the feed stops. Savour the views. Enjoy it. If you make it to the finish, brilliant. If you can't, climb into the broom wagon and get a lift to the end, knowing that you got the most out of it, and still did better than sitting on the sofa at home.
By already making peace with the possibility of not finishing, I started the ride on that day with zero nerves.
2. I'VE NEVER CLIMBED A MOUNTAIN BEFORE
I do most of my riding in London and consider Kent to be 'too hilly', so the 4563m of elevation was beyond the realms of my comprehension. The first and last climbs of the route were twice (20km) and three times (33km) longer than the longest climb I'd ever done, which was Els Angels in Girona, once, four years ago. The average gradient for each climb was around 6%, which sounds doable until you realise this accounts for the occasional flat and downhill section, meaning that the upwards gradients were steeper, closer to 7-8%. This doesn't sound like much, but it's the difference between easily spinning in your bottom gear and having to work for every pedal stroke.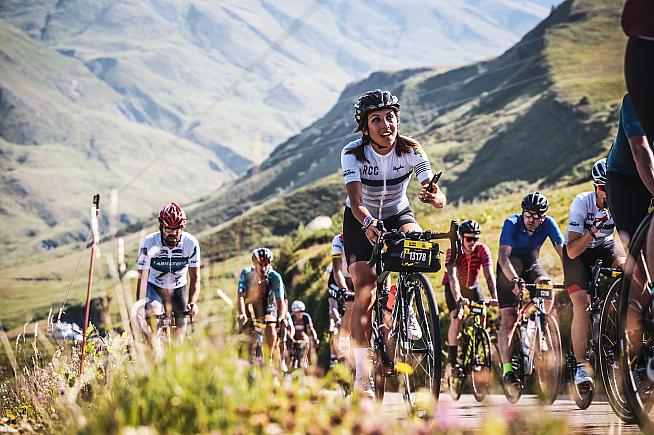 This was the biggest unknown for me and was one where I simply had to hope that my body would adapt to such long periods of climbing. I borrowed a bigger cassette to allow me to spin in an easy gear to avoid tiring out my legs, and paced the climbs by kilometer, not by distance to the top.
It requires patience and willpower to keep pushing on when you've already been climbing for a solid hour and hit a series of 8-9% sections, and this is when counting and distraction techniques really came in useful. Counting to eight over and over again kept my cadence regular, and inwardly reading my fellow riders names from their bib numbers in the accent of their nationality was a childish but entertaining game that kept my mind occupied.
3. I'VE NEVER DESCENDED A MOUNTAIN OR HAIRPIN BEFORE
What goes up - must come down. My inexperience in climbing was matched by ignorance in how to descend or, more importantly, navigate a hairpin, something that I've watched hundreds of times in race footage and thought looked utterly terrifying. I realised I would have to get my head around them quickly because the second descent from Notre-Damé-Pre contained a whopping 23 of the devils in quick succession.
Luckily for me, Rapha hosted a series of Warm Up Rides on Saturday, to help Rapha Cycling Club members find their mountain legs ahead of the big day. I joined the Women's Ride which had special guests Alice Barnes and Alexis Ryan from professional women's team Canyon//SRAM, who gave us climbing and descending tips as we climbed a small col near Albertville. Their top advice and the chance to practise it in real time was priceless, and my confidence by the bottom of the col had grown to the point that I actually started to enjoy it.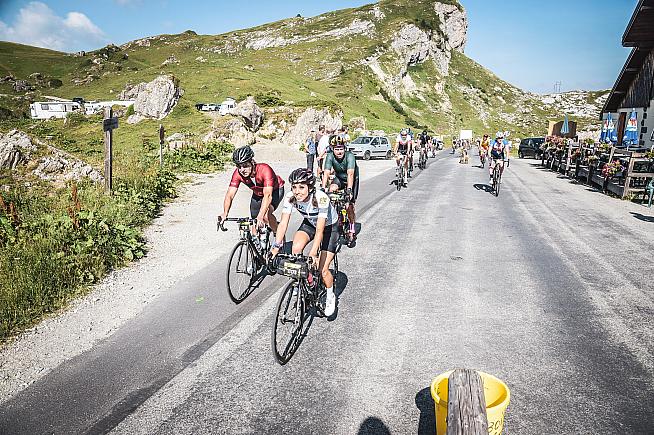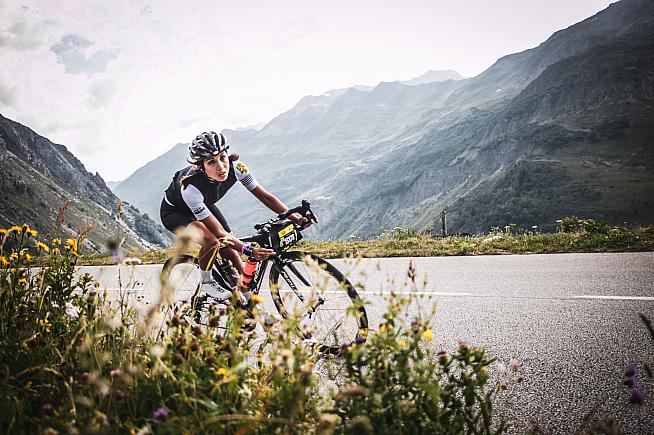 4. I HAVEN'T DONE ANY SPECIFIC ETAPE TRAINING
My training this year had been more tailored to short crit races and rarely topped more than an hour of interval sessions on the rollers, laps around Regent's Park or an easy 100km loop of Essex on the weekend. My training plans hadn't focused on long climbing efforts, or an 8+ hour day in the saddle. The only significant ride was a two-day bikepacking trip to Wales, which was the only time I spent over five hours on the bike all year.
Despite not training specifically for the Etape, I'd ridden consistently enough throughout the year to build a good base of general fitness, and also did yoga and strength sessions once or twice a week to strengthen my core. These two things were all I needed in the mountains.
Riding for short periods of time several times a week served me much better than just one big ride each weekend, and was easier to fit around a busy work life. Following a free training plan was also helpful to give me structure and reassurance that I was doing the right thing.
5. I WAS OFF THE BIKE WITH AN INJURY FOR A MONTH
In early June, just as I was coming into good form and feeling tentatively more confident about the Etape, I developed tendonitis in my left achilles, which only rest and gentle stretching could fix. My training schedule went completely out of the window as I had to avoid all cycling and sit at home, feeling like my hard-fought fitness was dwindling away to nothing and that the ride would surely now be impossible.
This was a lesson that despite laying your best plans, they often go awry and the ability to deal with that mental blow is a challenge in itself. Rather than wallow (ok, a small amount of wallowing occurred) I decided that if I couldn't improve my cycling fitness, I'd work on something else that would improve my performance. This meant considering my power-to-weight ratio and seeing what could be done about the 'weight' part, which is often overlooked.
I tried out the Keto diet and shed a few unnecessary pounds without feeling the negative effects of dieting when training. This isn't for everyone, but the idea of making up for lost fitness by having less mass to drag up a mountain felt like a fair swap to me. In the end, my fitness didn't wane drastically and whilst a few extra kicks would have been welcome, it ultimately didn't have too much of an effect on my ride.
In a nutshell, the hardest part about the Etape du Tour is not the climbing. It's not the hairpins. It's not the training. As cheesy as it sounds, the biggest obstacle is your own self doubt. And if you can overcome that, the rest will follow.
Start riding consistently now, and you'll conquer next year's Etape without breaking a sweat. See you there.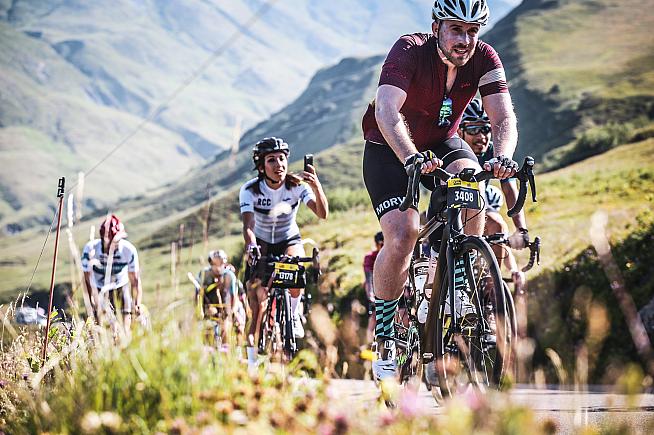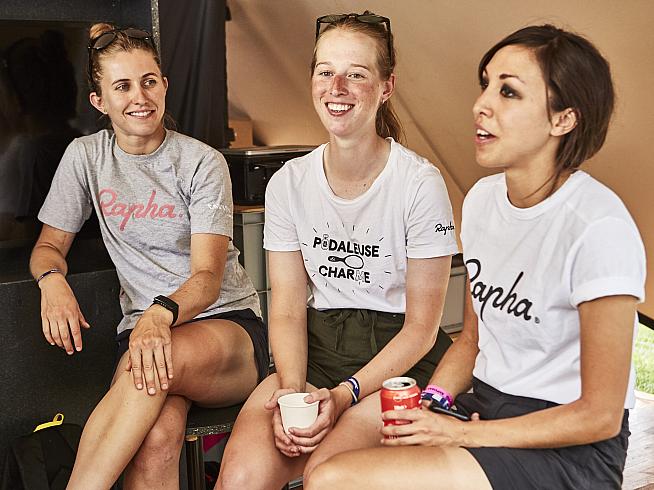 Learn more about Rapha's activities at the Etape du Tour here.
Follow Jess on Instagram here: @scoot__
0 Comments