Do you like to ride your bike? Do you like exploring new places? Do you like those places to be flat?
Follow along here, then, as I regale ye with tales from the Round Norfolk Epic - a 200 mile sportive that explores Norfolk's perimeter.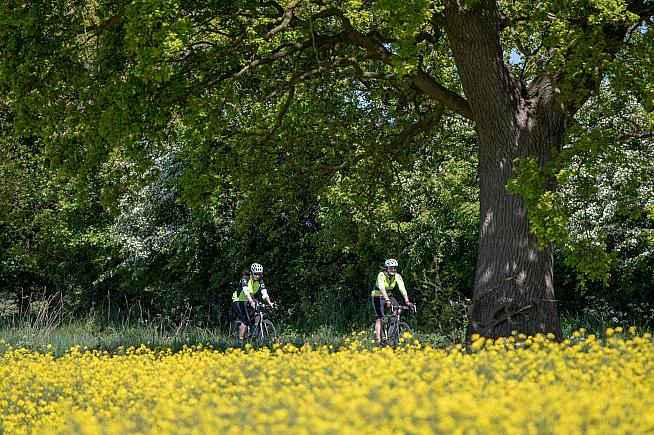 Cycling's popularity through the UK is apparent - just look on Sportive.com or any other site and you'll find innumerable sportives up and down the country. Norfolk is appealing to another sportive-crazed audience, the distance cyclist.
The event which brought myself and 17 other teammates to Norfolk was the Round Norfolk Epic - a 200-mile sportive.
This was the event's second year, which saw a sell-out field of 250 cyclists take to the start line.
The route headed south along the Golden Mile and out of Great Yarmouth before swinging southwesterly towards Beccles. From there, we continued heading west and rode along the Norfolk's southern border through the fens and onto King's Lynn. From King's Lynn, we moved onto the coast road that hugs North Norfolk's beautiful coastline before heading back to the finish in Great Yarmouth.
In full disclosure, I had never been to Norfolk before - so I thought a big loop around Norfolk was an ideal way to see it all!
Norfolk Cycling Events - Epic rides, epic hospitality
The Round Norfolk Epic was a really well-organised event. There was plenty of information available prior to the event to help prepare riders.
Registration was an informal, smooth process - we rocked up at 4:30am on the day. We signed in, picking our ride number from a pile. The event isn't chipped.
The organisers had the great idea of giving day bags to everyone. Fill a day bag with a change of clothes, food, chamois cream and anything else would help across the ride, and the organisers would make sure your bag was ready and waiting just before the half-way mark at the lunch stop in Welney.
The signposting across the event was really good. There was little confusion, even with the multitude of signs from other events all over the roads.
There were four well-stocked feed stations across the route that were cheerfully attended by very friendly people all willing to help. At the third feed stop, I had asked if it would be possible to have a cup of tea. The station was running low on cups and they still managed to magic one up for me to enjoy a lovely cuppa.
Mechanics were also available at every feed station.
The Round Norfolk Epic is a family affair, with organisers Matt and Louise heading a close-knit team in looking after riders on the day.
"From our perspective the event went really well," commented Matt afterwards.
"We didn't have any issues, except that we had a 53 seater bus as the sweeper wagon and had only one passenger at the end! So really, that was bloody brilliant.
"I think that our team, which is mostly family members and volunteers, looked after and encourage the riders a lot hence why we only had one person on the bus."
Big thanks to the Norfolk Cycling Events team for laying on a cracking day's cycling.
FOMO Strikes
Initially, six of us rolled out together - the remaining 12 wanted to ride a more conservative pace. The six of us cycled on, joining and re-joining groups while swapping that early ride banter.
Fear of missing out, or FOMO as the kids call it, is definitely a thing on the bike. And, like in many other places where FOMO creeps up, falling prey to it will usually land you in trouble.
We were only ten or fifteen miles from the start, doing a reasonable pace, and along came a few waves of other cyclists. The front of our group felt compelled to catch the wheel of the passing groups bringing our respectable 20mph average (don't forget, we needed energy for a 200-mile ride, not a 50-mile club ride) up to a 24-5 mph average. And, so the surging through the group began as the pace yo-yo'ed wildly up and down.
It wasn't the strategy I had in mind - a steady and consistent effort focusing on managing and maintaining energy - so, with another surge they were off.
I quickly fell in with my 12 other teammates and we enjoyed a very steady and consistent pace through the day that saw everyone of all levels enjoy and get around.
I heard later from those that stayed in the lead group that they did, in fact, blow up at different parts of the day.
Epic Challenges and Unexpected Personal Triumphs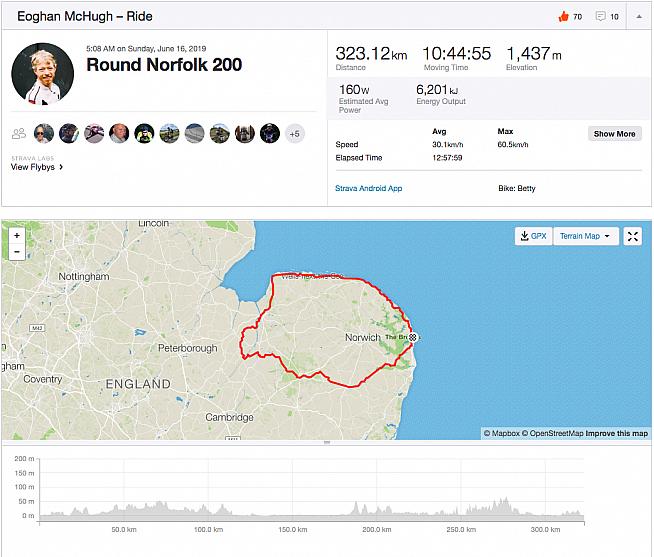 There were two in our group who've never even done 100 miles before the Round Norfolk Epic. They decided to go big or go home and committed to 200 miles in one day! One of the two had come off the bike only six weeks before the event, breaking his elbow which severely hampered his ability to train - to say the least. But, he managed! He even took a few turns on the front!
Another of our riders managed to surprise himself with his strength and stamina. Initially, he only wanted to ride 50 miles. Then, as logistics were being planned, he upped the goal to riding to the first feed station and turning back for a solo ride topping up the day to a century. As we approached the first feed station and when he got off the bike he decided 100 miles just wasn't enough and the zeal for 200 miles was undeniable. It was awesome to see the excitement in his face as he decided to do the full distance. He got around the full 200 miles - full of pride, I hope. It's not often you'll find a 60-odd-year-old man brave enough to take 200 miles on - especially with no preparation for that distance.
It's incredible to see and be a part of those stories where someone reverses their thinking from, 'I can't do that', to 'I can do that.' And an epic like the Round Norfolk Epic will certainly move the goalposts of what you think you can do!
Weather
We were very fortunate with the weather. In the week before the event, there was no predictability and no one knew how to gauge the day. I was contemplating packing either a snowsuit or just a plane ticket!
But, on the day, the weather was fantastic. Even at 5:00 am when we were setting off, it wasn't too bad - it was chilly, but it was 5:00 am!
There was one spate of wind and rain that, I'm sure, put doubt in a lot of rider's minds. The crosswind was so strong, the rain was coming in directly horizontal! But, it didn't last long, maybe five minutes.
Later, we had another small dosing of rain that had little effect on anyone. It clearly wasn't going to stay, it was a light spray that was kind of refreshing!
The final 20 miles into Great Yarmouth had seen some heavy rains (so riders ahead of us got a dose) and the roads were a bit messy.
Norfolk is flat and widely open. A lot of people were celebrating the flatness, but forgetting the fact there's nothing to break up the wind. Again, we lucked out. There wasn't too much wind generally. The forecast was even calling for us to hit into a headwind for the last 50 miles, which must have blown itself out when we got there as it wasn't too bad. Of course, there were pockets here and there, like any other ride.
Roadside Visual Treats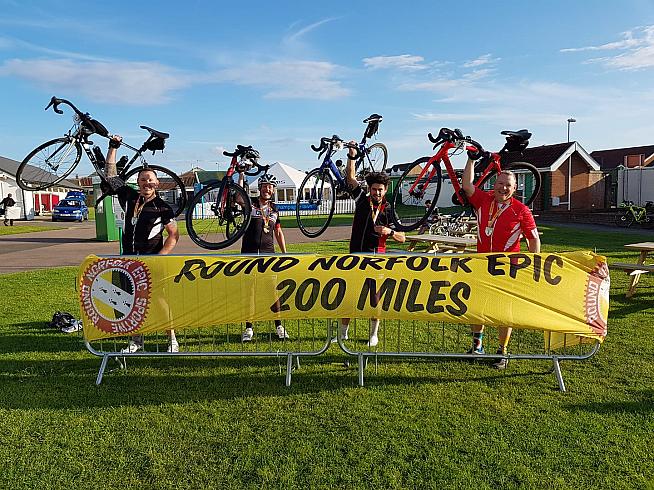 We were occasionally treated to lovely bursts of colours along the way. Roadsides and breaks between fields had big beds of wildflowers with orangey-red poppies and purple lavender.
The towns of northern Norfolk are very picturesque and quaint with a lot of work done to preserve their historical appearance and significance. There were a few instances of old waterside warehouses with third storey loading bays, which was cool to see.
We rode through several protected areas - bird sanctuaries and Norfolk's North Coast Area of Outstanding Beauty. We also cruised through Sandringham Estate, home to Sandringham House - a favourite of the Queen.
The last 50 miles or so became a bit lumpy, which provided a bit of cycling variety and also some great scenes. One, for me, was heading south with the coast running parallel on the left and wide, open and rolling fields on the right. Easily something Turner would have sat down to paint.
A Final Tip
I suffered from hoarseness and dry lips for a few days after the event. We were on the bikes for 10+ hours, breathing heavily through the mouth. It's definitely not a bad idea to throw on a bit of balm occasionally to help protect your mouth.
I also suffer from a bit of tendonitis in my Achilles and get a stiff neck. My roommate had slipped me some painkillers the morning of, which I took at the second feed stop. They really relieved the tightness in my Achilles and helped with my neck too.
Summary
Across the 200 miles, the Round Norfolk Epic broke spirits. I saw grown men with defeat on their faces and men-children with tears in their eyes.
If you're looking for a challenge or are a distance cycling junkie, Norfolk - and more specifically the Round Norfolk Epic - is a good challenge to take on.
View and download the Round Norfolk Epic route on Strava: www.strava.com/activities/2455748007
Discover other sportives from Norfolk Cycling Events at www.norfolkcyclingevents.co.uk
0 Comments