Poggio Murella is probably not a place that you are familiar with, but, as a cyclist, you may have heard of a certain Marco Pantani. A flawed genius if there ever was one - destined to burn brightly, then fade away to the glowing embers of a name chalked on a thousand hills. The connection to Poggio Murella? He lived there...
With the memories of Pantani in my head and a convenient holiday in southern Tuscany booked, I set about about creating a ride so that I could "chase the shadows of Pantani".
Loading up my hire car for an early morning drive from Capalbio to Manciano got the day off to a somewhat inauspicious start - I was ready at 7.00am to avoid the heat of the Tuscan day, but breakfast wasn't available until 8am! How could this be, I thought, how can I make such a basic mistake? I bet other cyclists would be much better organised. And then I thought, probably not.
Fortunately, the breakfast lady was already setting the tables and took pity on me. Well, if four slices of bread and some jam is pity, then that's what it was. Nonetheless, I inhaled the bread, gulped down a superb cappuccino and hurried back to the car. 7.15am, not too bad, not too hot yet!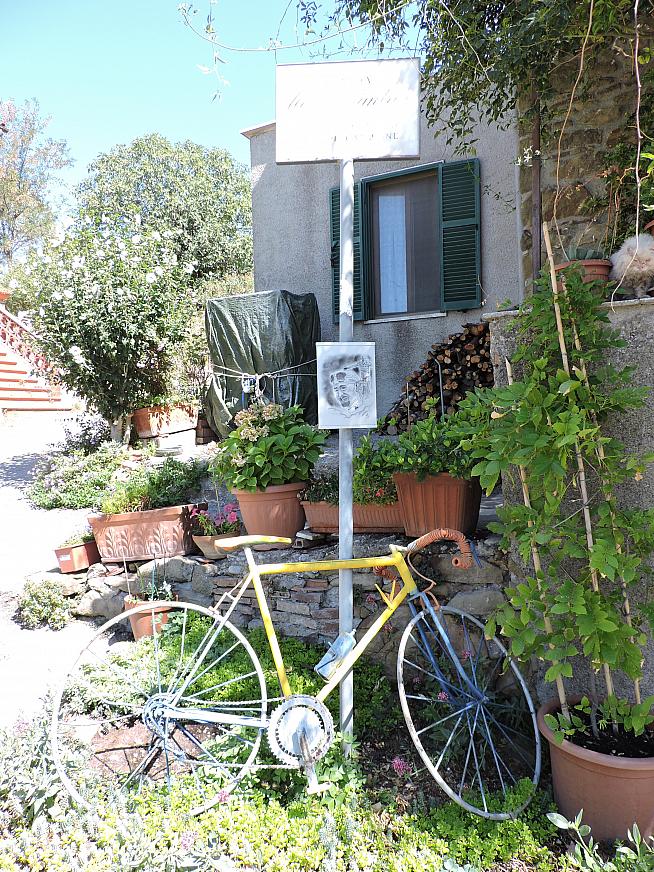 Forty minutes later and I'm ready to ride. My "Anglo-itano" has established that I've parked in a blue-lined parking bay, which means some Euros have to go in the machine. A quick switch to the blanco bays and I'm €5 better off. As Pantani knew, every little saving counts!
Heading north on the SP159 to Montemerano, it's a swift run out in the pleasant morning sunshine. Legs spinning easily, I absorb the gorgeous surroundings and try to avoid thinking about any climbs that will match the Strada Marco Pantani that protects Poggio Murella. I walked up it with my wife the previous day and it must be 30% in places - it's so steep that the surface has regularly spaced grooves cut in to it every 50cm or so - presumably to provide grip for vehicles, but incredibly jarring for bonkers cyclists trying to ride up it. Il Pirata may have used it to train on but I'm just a normal chap, so I've deliberately avoided that one - but, as I would find out, I did not manage to avoid all of the other gouged, grooved climbs that silently await.
After 10 miles of semi-benign Tuscan rollercoaster terrain, I'm settling in to the ride. I may be riding a hired Focus road bike rather than my beloved Colnago, but the 50/34 compact chainset is ideal for the terrain. My hesitancy over the 170mm cranks rather than my usual 172.5mm seems to be unfounded and the front brake being on the left, in traditional European setup mode, hasn't caught me out, yet.
Glancing down, I see that the temperature on my Garmin is already saying 25C at 8.40am. Tuscany and most of southern Italy is in the middle of a heat wave and I've already quaffed half of my first water bottle. Thankfully, a small café bar is open and I happily clippety-clop past a group slightly bemused locals.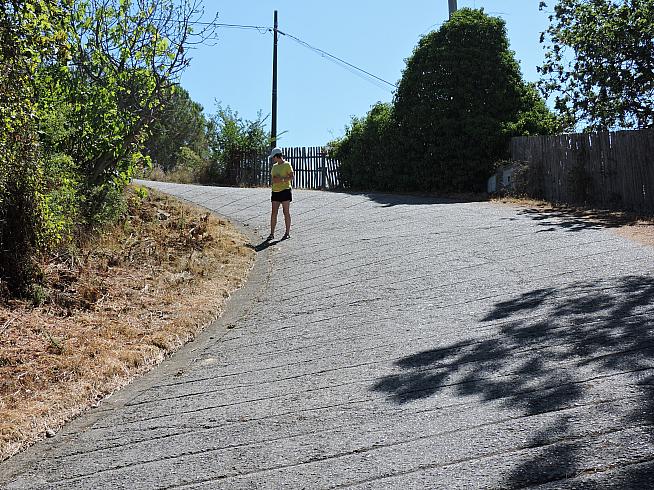 "Mi scsi, aqua naturale, per favore?"
"Would you like ice as well?" comes the reply.
I hand over the water bottles expecting just a top up, but the proprietress casually empties both bottles in to the sink and refills them. Not a problem, except that she's just flushed over a litre of the finest chemical assistance that High5 can supply!
I smile, take the bottles, utter my best Grazie, arriverderci and retreat out of sight to dissolve a new tab. Damn, I left them in the hotel room while trying to not wake my wife! For the second time, I think that I bet just about any other guy - and definitely all ladies - would be much better organised.
I'm soon on the first major slog of the day, grinding up the SS159 for the best part of six miles until Pomonte, then taking the SS323 for the next seven passing through the sleeping village of Murci. The gradient is very manageable, with a maximum of 9% and plenty of hairpin bends to keep me amused, motivated and often in the shade.
And boy, do I mean hairpins - many are as tight as anything I have ridden before, which includes 60+ cols from several forays to the Alps, Pyrenees and Mallorca. Forget any notion of straight Roman roads in the Grosseto region of Tuscany - there just aren't any. I find myself laughing at the thought that maybe the Romans invented straight roads because they got fed up with all of the bendy tracks used by the native Etruscans, who originally inhabited Tuscany.
Rounding the last bend, I watch a cyclist lower on to his drops as he crests the summit 100m away. He accelerates but then slows down as he spots me, before coming to a complete stop.
"Buongiorno," I say
"Buongiorno," he replies. "Come stai?"
"Bene, va bene. Molto caldo."
"Si, si."
As to the rest of the conversation, I have no idea what it was about - but we chatted for five minutes. He "knows" I have two kids, a wife, five bikes and that I am the Prime Minister of England. I just couldn't help saying something completely daft. He probably told me he is the long lost son of the Pope!
What I did notice, however, was his wonderfully stylish clothing - coordinated sunglasses, socks, jersey and even his bandana. I, on the other hand, looked like a sweaty tourist on a hire bike! Italians, such style...
It's been 90 minutes since my High5 flush and the increasing temperature of my remaining water is starting to give me some concern. My route, built from a couple of very frantic, hand waving, map scribbling, minutes with the hotel ride guide, is taking me on some wonderfully quiet, scenic, horrendously surfaced roads but encounters with civilisation are rare. I do know that I will skirt Poggio Murella on the north side, avoiding the Strada Marco Pantani wall, so it is a great relief when a sign reveals I am only 5km away.
In Poggio Murella, my thoughts turn again to the subject of water. As if directed by il Pirata himself, I round the corner and spy a village well, complete with ornate pumping handle. These things never work I think to myself and, even if it does, would I restock from it? After a very nasty experience with apparently fresh, fast flowing, water that led to my doctor having to file forms about a notifiable infection, I tend to err on the side of caution. Nonetheless, I stop as I have spotted a small plaque on it and am curious as to its meaning. Five minutes and a Google translate later, I have refilled both bottles and downed a further half litre. Not a drop has been spilt or wasted, so I congratulate myself for adhering to the advice on the plaque that the (water) source is Poggio's and to use it with respect.
Before setting off again, I text my wife to let her know that I'm 60km in, making good progress and will be back for lunch around the pool. Little did I know how much that simple message would offend the Roman god of cycling, Poorplanicus, and how he would extract his revenge.
Poorplanicus' first attack is to direct me on to the Strada Provinciale Poggio Murella - an unsurfaced road, which turns out to be something quite special. It starts off easily enough - a rough, stony, track winding across farmers' fields. After a few minutes, however, the surface suddenly changes to concrete and it starts to go down steeply, very steeply. I am squeezing both brakes at maximum pressure, travelling at a mere 8km/h and (MTB style) pushing my weight back as far as possible, but it is still scary, jarring me at each of the concrete grooves. The brakes squeal louder and although the speed is very slow, I am gradually accelerating.
Momentarily, I consider that this descent could be used to compare the performance of disc versus traditional brakes but ahead of me, the road is still plunging down. I wonder if I dare "let go" and ride it out but the hairpin bend in front of me says a definite No. Poorplanicus continues to squeal at me from my brake pads until I am forced to perform the ultimate humiliation ritual of using cleated shoes as additional brakes. I stop, somehow and catch my breath.
A couple of minutes later, I glance up for the first time since starting on the concrete. To my horror, I realise I am descending into a very steep, v-shaped valley. In fact it is the most perfect example of a V-shaped valley to have ever been formed by nature and surpassed only by a hand drawn representation that existed in my 1984 A-Level Geography exam. I'm not yet at the bottom but I can see that my exit is going to be just as steep and nasty as the entrance. Poorplanicus - how did I upset you so much?
The house that I believe to be Pantani's lies partially hidden but I recognise it from the previous day's conversation with a B&B owner and a local village elder. She instantly knew where Pantani's house was - it's painted pink, of course, and there's a well beaten track to the edge of the grounds for photo hunting fans of Il Pirata. I stop to take a photograph but it's the same as the one I took yesterday, so I delete it.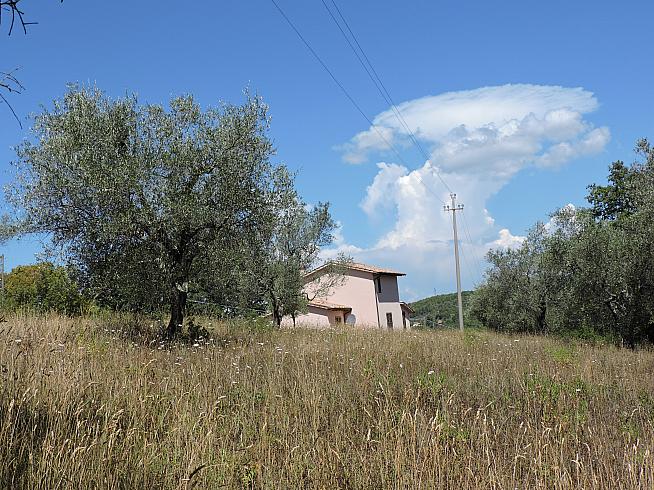 After two more cleat scraping stops, I finally arrive at the bottom of the valley and spot the striated concrete road marching skywards in front of me. I stop, take breath and summon the Roman God of gladiatorial can-do attitude, Spartacussalot, to help me climb back to the heavens.
The fight between Spartacussalot and Poorplanicus rages, unseen by other eyes, at a 6km/h skywards zig-zag for a mile at an average of 14.5%. A temporary truce is drawn for a few minutes as I do the unthinkable and stop. My Garmin tells me I'm on a 23% section and I'm in direct sunlight, feeling like I'm being rapidly cooked. I walk for 100m or so until I am in the shade of some trees and a more manageable gradient to push off on.
Spartacussalot, Poorplanicus and I all share some very Anglo Saxon words in the increasing heat of a late morning in Tuscany. Unfortunately, my ability to swear in Latin is not that good! Mental note made - learn to swear in Latin prior to any return to Tuscany.
Finally, gravity lets go of her grasp and I'm able to pedal freely again on surfaced roads. They're still just as deformed as everywhere else in Grosetto province but I don't care at this point - flat(ish) is good enough. 5km to the finish, I note, almost done. What is the worst that can happen from here, I think, or is it Poorplanicus having one last attack on my mental strength?
I dismiss his threat from my head as I roll downhill for a couple of kms, mentally switching off and thinking about my well earned gelato. How many scoops shall I have: two, three? I wonder if I can find a cinque-scoop cone somewhere?
Unperceptibly at first, I start climbing again. I'm probably about 0.5km into the climb when I realise it's getting steeper and it is probably going all the way to my car. The thought occurs to me that the first part of my ride was downhill. Oh no, this climb is definitely going all the way back to Manciano.
The sun beats down as I tick off the hairpins, count down the last 2km and watch my gradient setting hover around the 7% mark for the last 1.5km. It seems to take an eternity but, finally, I am back in the car and mentally starting to write this report!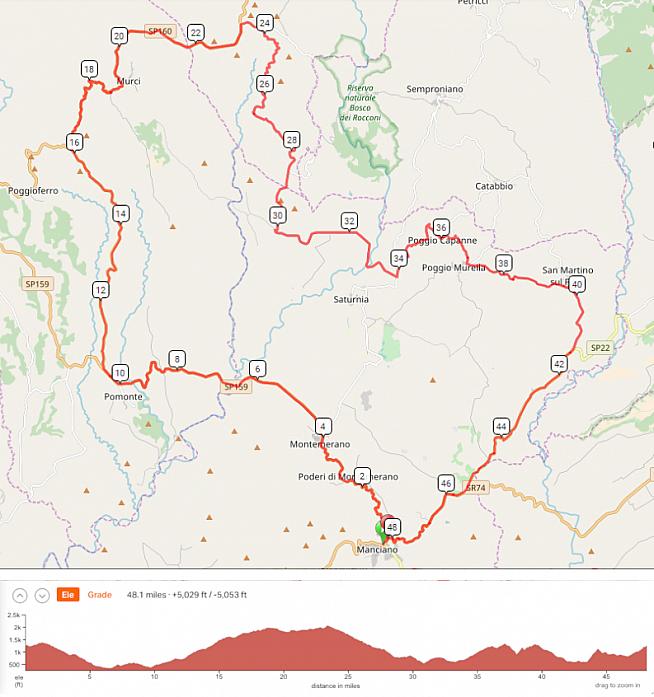 The Route
If you'd like to follow in the tracks of Marco Pantani - and Andy - you can find the route details here: https://ridewithgps.com/routes/23568412.
0 Comments