Distal biceps femoris tendinopathy? Nope, I'd never heard of it either, but it's the injury that's been plaguing me since the turn of the year. That pesky inflammation at the end of my lateral hamstring decimated my springtime riding plans and jettisoned me from all my summer events.
Roll on September and I'm back on my trusty steed about to tackle another century, this time at Hickstead's All England Jumping Course. There's no show jumping today, just five hundred cyclists about to commence battle with the new kid in the block.... the first edition of the Orro Sussex Downs Classic sportive.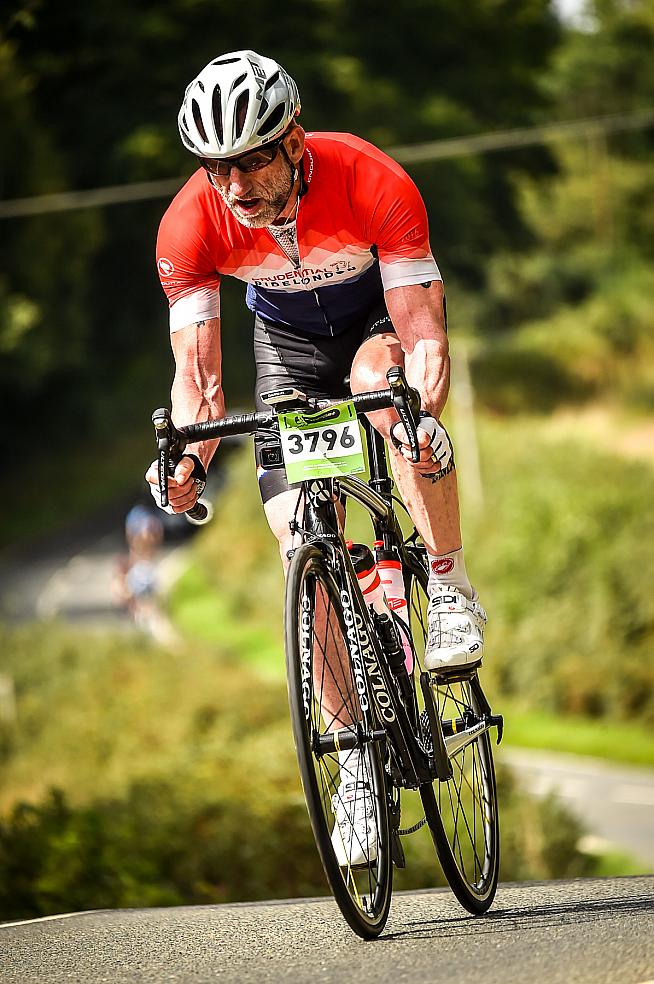 Orro are themselves relatively new, a fledgling bike brand based in nearby Ditchling. They describe their new sportive as "a pretty and scenic bike ride around the less travelled Sussex countryside, dashing between the small country villages."
They forgot to mention that, like a Grand Tour stage, it's back-loaded with climb after climb. Very kind of Orro to hold their sportive on my doorstep, not so kind to include so many damn hills.
The ride starts with a long, winding path out of the Hickstead estate, a half-mile of lumpy-bumpy concrete before hitting the smoother, and more familiar, tarmac of the local Sussex lanes. I knew it was going to be a long day and I knew I'd lost some fitness during my injury crisis, which is why I took the sensible option and cruised along in a pack of some twenty riders. Barely three miles into the course and the plan went out of the window. A handful of riders streamed passed, my competitive instincts kicked in and my post-injury caution evaporated as I manoeuvred into the faster group.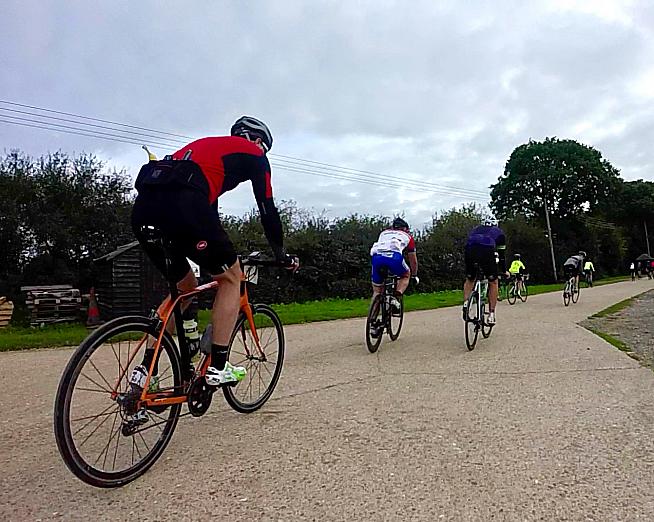 A series of punchy climbs followed as the route rose up through Warninglid, meandered across to Mannings Heath and rose again towards Horsham. The groups splintered into pieces as the gradients made their early selection. My injury was a distant memory as my climbing form began to return, shedding my riding buddies until I was left with just one... Andrejs, the Marupian Marvel, from Latvia. We duelled it out through Southwater, Coolham and Ashington, tearing up the course as if it were a stage from the Tour de France.
Being local, I knew what was coming in the second half of this sportive, which doesn't explain why I buried myself covering those first forty miles in just over two hours. The penny finally dropped as my quads began to scream reminding me that Ditchling Beacon wasn't far away, so I peeled off my Latvian buddy's rear wheel and watched him disappear into the distance as I attempted to spin out the lactic that had been deviously building in my legs.
I was lucky enough to pick up another couple of cohorts on the way, John and Paul, who incidentally are neither saints nor Beatles. But they were my saviours as they helped me to the foot of the Beacon, catching and passing Andrejs in the process, as we hit the foot of the climb.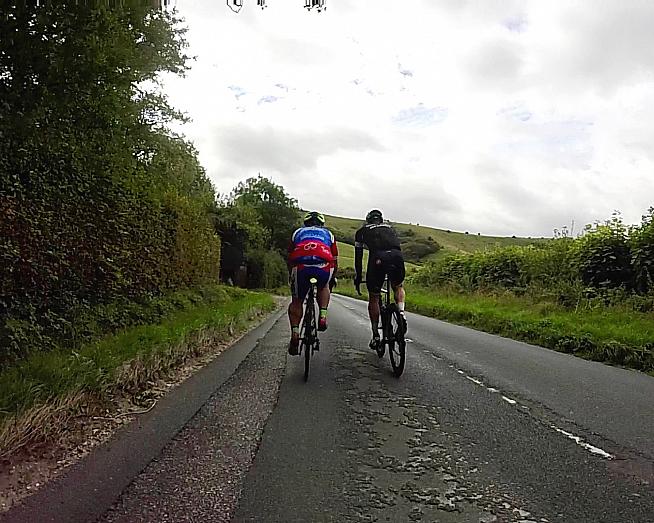 The ascent of Ditchling Beacon is a mile long, rising over four hundred feet but it's the inconsistent gradient of this rolling climb that makes it such a challenge. Orro claim all their bikes are tested here. It's not the hardest climb by any means, but to us locals it's our little green monster and we love it. Today however, I'm not feeling the love. My injury has steered me away recently. In fact, the last time I came up here was last October, during Sussex Nomads' annual hill climb race. I blitzed it on that day, taking an age group prize while caning my PB, but today, I was over a minute and a half slower.
I was relieved to reach the summit. Paul was already there, waiting for John. I wasn't prepared to wait as I excitedly made the quick turn, straight back down again. If I can't get a PB on the way up, I'll get one on the way down, I thought to myself. I nailed the first two bends and the PB was on, until... "Nooo!" I exclaimed. A van descending in instalments blocked my path, brake lights flashed on and off like it was in a disco, taunting me, adding to my frustrations.
At least I'll have that long Chuck Hatch descent to look forward to, I resolved. It was just a small matter of getting there first.
My biceps femoris was behaving, which is more than can be said for my quadriceps which were burning like they've never burnt before. All eight of them formed a chorus as they screamed at me to stop, I climbed out of the saddle to appease their request, but my sartoriuses formed a duo and joined in the chorale. My lack of match fitness was being cruelly exposed by this climbing-fest; I needed a miracle to get through this.
I dreamt of taking a break at a feed station, but the next one was over twenty miles away so my only course of action was to divide the ride up into ten-mile chunks and concentrate on the next ten alone. I played the route out in my head, looking for some respite, but there wasn't any. Somehow, my aching quads needed to be hauled up the lanes of Slugwash and Plummerden before taking on the steepness of Keysford Lane and then the dreaded five-mile drag up from Horsted Keynes to Wych Cross. At almost forty minutes, this slog-fest turned out to be my longest ten-mile split of the day.
Now for the next ten. Again, I played it out in my mind, but this time things looked brighter. It included a couple of two-mile descents, firstly down Colemans Hatch and then the one I'd been looking forward to: Chuck Hatch. In between however, is the small matter of Kidds Hill. The Wall, as this hill is affectionally known, is on a par with the Beacon. Similar in distance, elevation and gradient. But the sting in the tail is the exasperating sight of the summit rising into the distance, wall like, when you're barely halfway up. Similar to the little green monster, some twenty-five miles ago, my PB is smugly comfortable as I ascend at snail's pace.
The Chuck Hatch descent that I've been distracting myself with is finally upon me, and I assume an aero-tuck on my top tube as I take the exhilarating plummet down to Hartfield, hitting forty mph for the first and last time today. It's over all too quickly as my quads provide me with a timely reminder of their dissatisfaction, but this time I'm able to comply as the last feed station appears in Forest Row and invites me in.
A large wedge of flapjack, half a banana and a handful of jelly beans were hastily consumed to satisfy my raging appetite as I stretched my lower limbs, one at a time, in an attempt to satisfy my aches and pains. My consciousness was busy analysing what lay ahead... the long drag out of Forest Row, the steep ramp of Burstowhill Lane and the even steeper duo of climbs that reside on the Ardingly Reservoir. I got the message and resorted to my magic potion, containing enough caffeine to wake the dead, the sachet of thick gloopy gunge neatly branded as a caffeine gel was rapidly consumed.
In the meantime, Andrejs had caught up. Clearly on a mission, he came and went relatively quickly, only pausing to enquire about any further hills. The forecast was one of doom and gloom from equally tired riders, but he'd gone before the broadcast was complete. John and Paul arrived, but stayed a little longer as my procrastination ended and I reluctantly remounted my bike, filled with dread.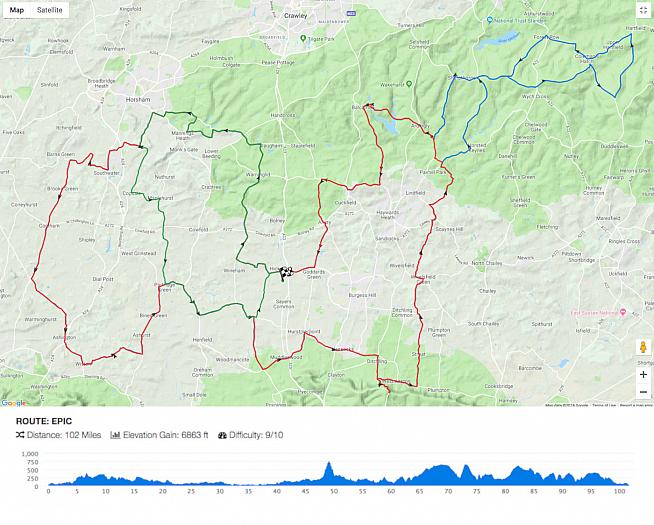 I took the climb out of Forest Row slowly, clicking down to my easiest gear and spinning it out when the caffeine gel suddenly realises it has a job to do. "I didn't force down the yucky double expresso flavoured goo 'cos I like it," I thought to myself, as the potion duly popped a fresh pair of limbs into my hips. The remaining climbs, that I'd been dreading, came and went as if they were non-existent thanks to the magical powers of caffeine... my wonder drug!
The summit in Ansty was reached as my Garmin clicked over to one hundred miles and I knew the climbing-fest was over. A couple of flattish miles across to Hickstead, a left turn and the lumpy-bumpy ride over the same concrete as earlier, before I gloriously glided under the finishing banner.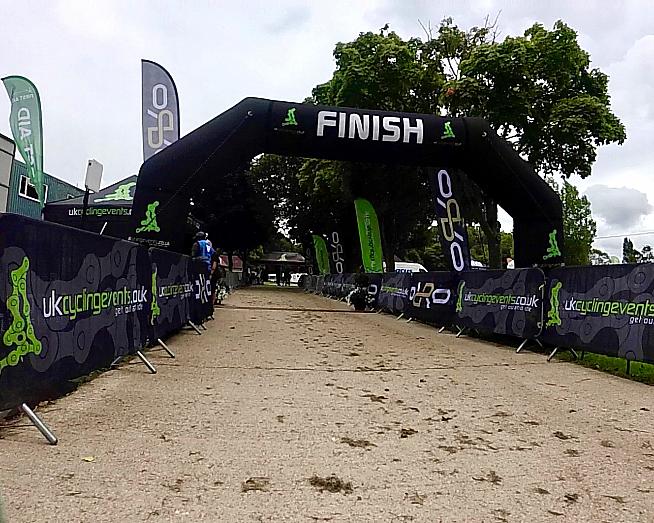 I was done; I had nursed my injury and my lack of fitness over seven and a half thousand feet of climbing. I felt relieved and accomplished as I was handed a shiny medal and an Orro goody-bag for my efforts, but then it suddenly dawned on me... I hadn't come by car today and I still had five miles to ride home... my suffer-fest wasn't over!
After a ridiculously slow jaunt home, my ordeal was finally over. My legs declared that they're done with centuries. Shhh... don't tell them, it's Velo South in a couple of weeks!
Fancy tackling a century? Join Dave's Strava Club: Cycling Centurions
0 Comments