Unless you have been hibernating for a few months I'm sure you'll be aware that 2018 is the 100th anniversary of the formation of the Royal Air Force (April 1st 1918). Having spent almost 30 years in the service, there was no way I was going to miss the sportive celebrating this centenary, even though a collision with a SMIDSY type driver left my normal bike needing some TLC from my local bike shop and my winter bike being brought out of the garage into the warmer air.
The local Air Training Corps, 42F (Kings Lynn) squadron managed to secure funding to have a heritage trail built around numerous old and current airfield airfields in the county of Norfolk. In co-operation with organisers Wheels in Wheels, a cycle sportive was planned to take in as many as possible of the iconic sites and offering three distances, 35, 73 and 119 miles, to suit and attract riders of all abilities to experience the Norfolk countryside.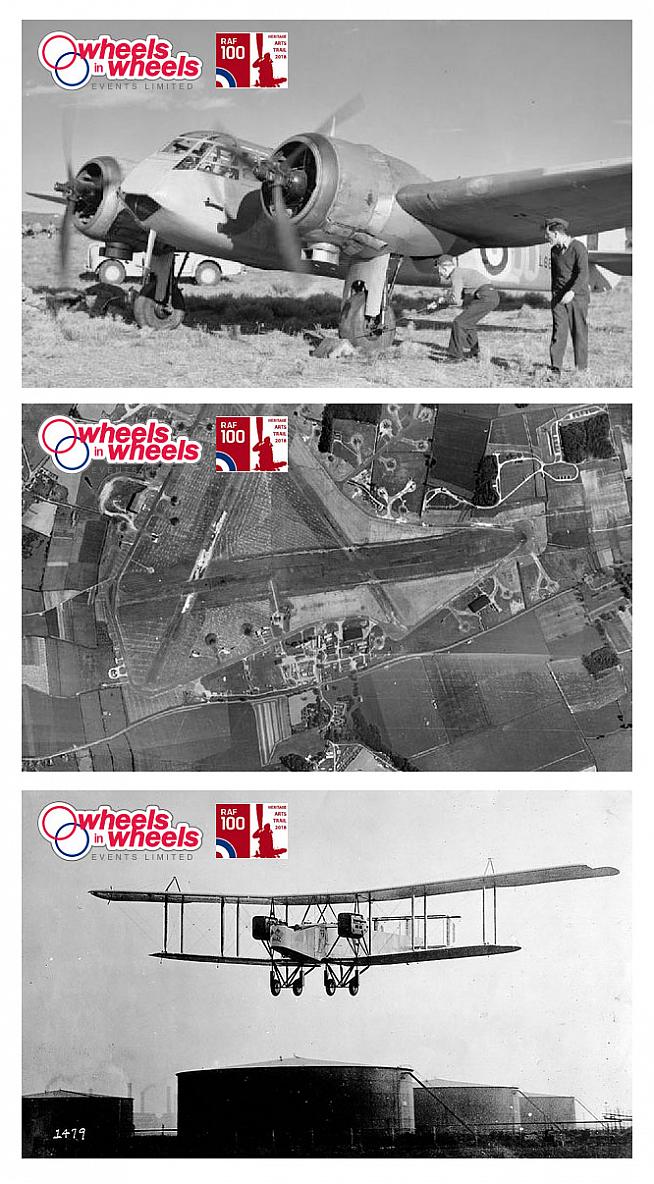 The event started and finished at RAF Marham with all routes rolling out into the country lanes throughout the county with the long route heading out towards the coast. Taking part in the long route, it was quite a relief that it wasn't a 'half past dark' start with a very sociable 0800 departure.
Quite a few riders were parked up before registration had opened and the main topic of conversation was, as normal, should I put on a jacket/gilet/arm warmers or just stick to bibs and jersey and take the risk? How many times have we all tried to answer that conundrum, correctly? The guy parked next to me took the risk and I went for playing safe.
Registration was simple but there was no method of electronic timing just a card that you handed in at the start, no doubt to record that you have left the start gate and, presumably to record your start time.
A very comprehensive brief had us away fairly quickly and released off into the depths of Norfolk. Shortly after departure and leaving the environs of RAF Marham the course presented us with a 'free' bit of a descent to help us along.
A steady coasting group formed and it was a good feeling being able to stay with them for a while. As is the norm the morning started warming up and the car park conversation was repeating in my mind as I was unzipping my gilet.
At the first feed station I was able to remove the arm warmers and gilet and while I was rolling them up and putting them into my jersey pocket my car park buddy arrived and we had a bit of a chuckle about our different clothing choices. The feed stations were staffed by members of the ATC and the normal fare of bananas, flapjacks and biscuits, along with water and sports drink was available.
The route was carefully planned so that we avoided major roads, where possible, and the routers should be congratulated for their efforts because we rode plenty of country roads that were almost devoid of any other traffic. Any cars or tractors I encountered were most patient and helpful in allowing me to pass safely, thank you. Some of the tracks we used even had vegetation growing along the centre but, other than that, were totally rideable.
The second feed station was one of the most unusual ones that I have experienced in the sportives that I've taken part in. Turning off the road at the feed station sign took us along what was an old airfield perimeter track and, seemingly, leading nowhere. Turning off the perimeter track up something more like a dirt track led us to a church that was to be our feed station. The members of the church congregation were very cheery and helpful and were very keen to hear all about what we were doing and amazed at the distance we were undertaking. Very welcoming.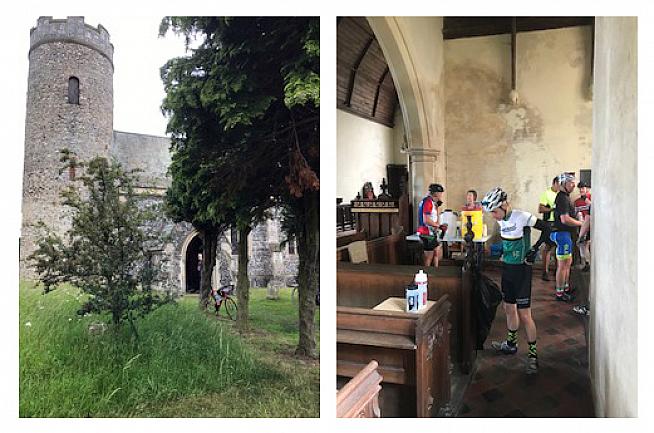 Venturing a bit further the weather seemed to cool a little and with a darkening sky it was a knocking bet that we were going to get a bit of a downpour but, fortunately, it didn't materialise. There was a 'whisper' of rain but not enough to get wet and, to be fair, you would probably have not realised other than the fact there was an aroma of a popular Yankee Candle smell so there was nothing to worry about.
Throughout the route the signage was really well thought out. Black arrows on a bright green background indicated upcoming turns and course splits, and then once around the turn there was a confirmation arrow, which was quite reassuring. Despite this I actually missed a turning, due to approaching traffic at a railway bridge but as there was no indicating arrow at the next junction it was a simple matter of turning round and heading back to recover the turning point.
Having gone past the half way point it was good to see that savoury offerings were available at the next feed stop. It may seem a bit of a psychological boost but it was good to go savoury.
As we got further along the route the wind seemed to pick up a little and energy started to drain, but at least it was just a matter of pedalling through and getting to the final feed stop, at the 99 mile point. So near but so far. Riders were keen to take on some more energy ready for the final push, the last 20 miles.
As a 'local' rider I knew the last bit of the route and that had a bit of a comforting effect in as much as I knew where we were in relation to the finish line. What it didn't help with is the fact that there were two stinging climbs at Fincham and the final climb up to RAF Marham, Squires Hill.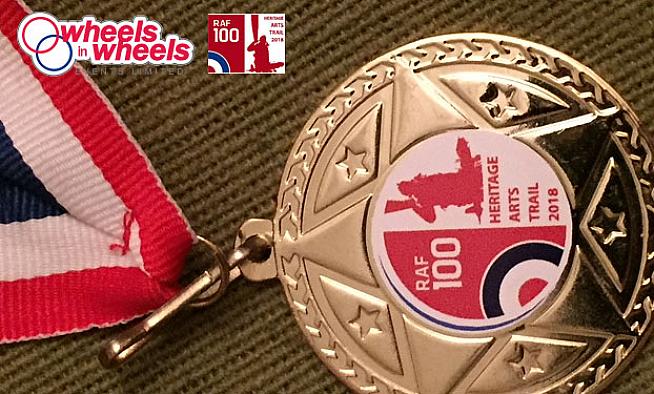 Fincham hill was a straight up and back down again affair, but Squires Hill is a steep, for this area, and turning climb that saps your strength at the best of times. After 116 miles it requires a little more grit to push yourself up there but, once at the top it's just another mile or so of spinning the legs off to get to the finishing banner and picking up a medal; and, because it was father's day, an RAF 100 keyring, although I'm not sure what the lady riders received.
It was great being part of a celebration of the RAF's birthday along with almost 200 other riders; a respectable turnout for what was a well planned, organised and catered for event.
The ATC deserve a double thumbs up for creating the heritage trail and combining with Wheels in Wheels to give us such a good day out on the bike, it was a great idea.
Fancy riding the route of the RAF Cadet Heritage Sportive for yourself? You can download GPX files for the short, medium and long routes at the Wheels in Wheels website: www.wheelsinwheels.com.
0 Comments