Cycling has its enduring traditions, like peloton etiquette, sock height and those early-season Classics in Belgium where riders battle over cobbles on bikes that are fundamentally the same as they have always been since the inception of the sport. It has a tendency to be slow in its uptake of innovation, choosing to stick to its tried-and-tested formulas.
But what happens when two things come along at once and upset the status quo? Take the young upstart of a Classic, Siena's Strade Bianche, and the 3T Strada: a visually arresting aero bike that goes against the grain with a 1X drivetrain. Exactly. It got us interested too.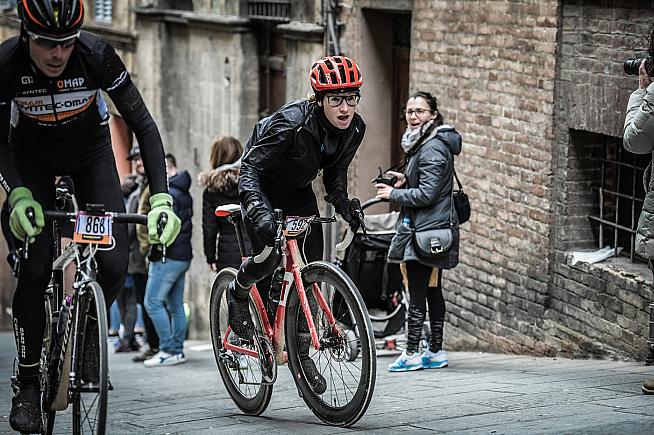 Within an hour of finishing my phone starts pinging. 'Did you really do it on a 1x?' 'Hats off! 1x can't be easy!' and even from an American friend saying 'dang girl, those climbs with a 1x!'
I furrowed my brow. The 4 hours 40 minutes of the Strade Bianche hadn't been anything out of the ordinary. Tough, yes. Grimace-inducing at times, I'll admit, but far from miraculous. My legs were hurting as I got off the bike in Piazza del Campo, but I couldn't discern if it was more than at any other gran fondo.

After half an hour or so of riding, I spot the first section of gravel. A strip of murky white ahead of me that veers off sharply to the left, already littered with bike bottles, adding yet more obstacles to the challenge. The body language of the riders around me changes. They brace themselves and try to get to the front of our already strung-out group.
Have they arrived here on form? It's early March, who can be at their best shape now?
The gravel is etched with lines, slashed into the track yesterday by the professionals. Today they are making a futile effort to dry out, but the residual ground water means they are still fairly slick. I was thankful for my 28mm tyres. Some riders demonstrate fine bunny hopping skills, while others just dig in. I pick my lines more carefully than the Italians, and they stream past me.
That same section of gravel introduces us to the first climb, an immediate bottleneck that sets the tone for the rest of the gravel climbs to come. The undulating route then intermittently breaks into swooping road descents with expansive Tuscan views, stringing out the groups into long, snaking lines, before a sharp turn that will abruptly introduce you to leg-bustingly steep ramps. That's how the next four hours pass. I love it.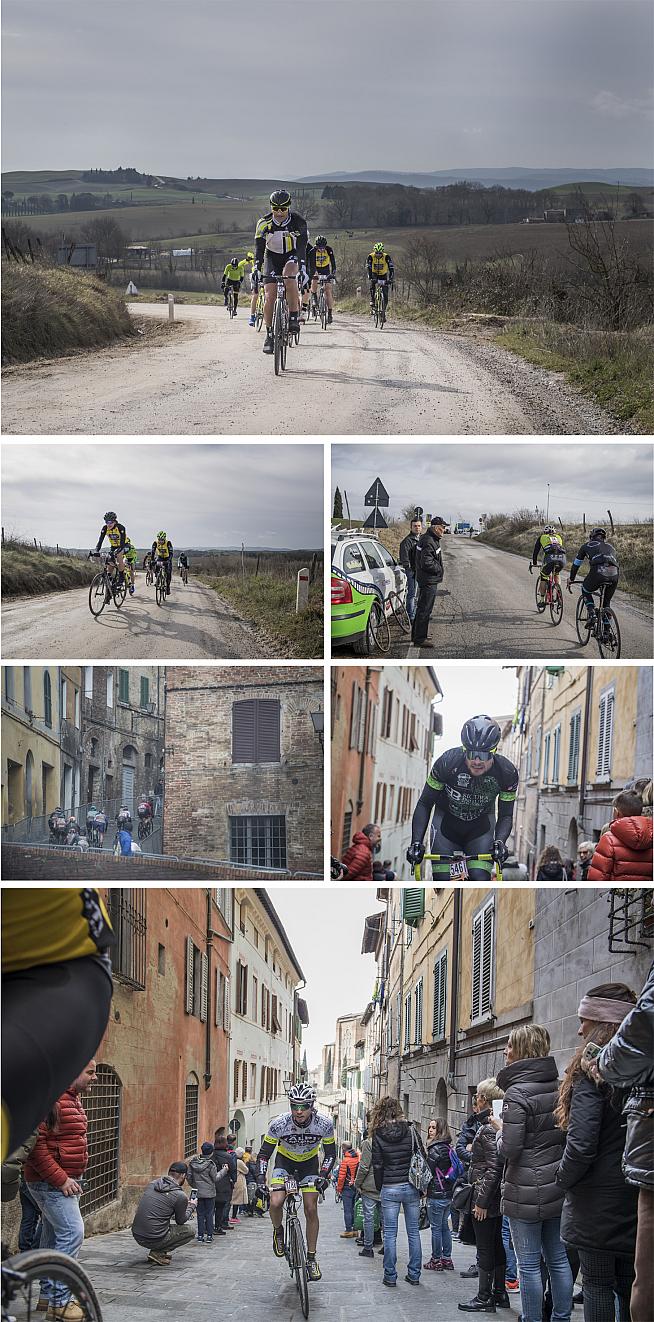 From the 5,000-odd riders in the gran fondo, I'd expected a certain amount of camaraderie, but this appeared to be in short supply. It was clearly more of a race than anticipated, even in my position somewhat distanced from the front group.
As we hit 60km and loop through the cute town (and Eroica stalwart) of Buonconvento, I latch onto a group as it snakes along a longish road section for about 20km. Just moments before we hit the day's longest and toughest gravel sector we are swarmed by a far larger group. Bad timing, I groan. Far superior in their descending skills, they press ahead while I hit the steep, narrow climbs behind a number of slower riders. They criss-cross the gradients, struggling to keep upright and gaps to pass are few and far between. By the time this section is over we are at 90km and the field has thinned dramatically.
The road then dips downhill, and I brace myself for what I'd heard was the hardest to come. The final two gravel sections top out with 20%-plus gradients. The whole second half of the route is much lumpier in fact.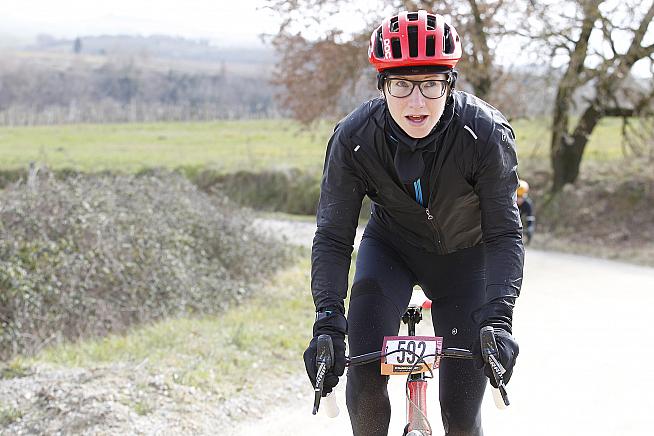 By now we've rejoined the short course, the 'medio fondo', which is actually no bad thing - these riders are clearly having a good time and joyously cheer me on as I pass them. Moments like these confirm the beauty in taking your time, but there's also a certain beauty in challenging yourself, a type 2 fun that many thrive on - me included.
After having seen the professional women race the exact same course on the previous day from the front seat of a team car, I'd witnessed how they'd turned themselves inside out with exertion. The thought of reaching the top of that same spectator-lined final cobbled climb that leads you to the iconic Piazzo del Campo in central Siena keeps me going.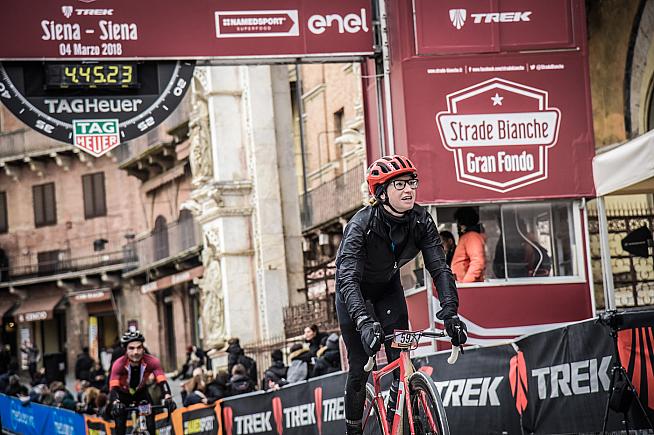 For amateurs, it's an awe-inspiring weekend: firstly, you get to watch a great bike race - certainly one of the coolest additions to the Classics calendar in recent years - while enjoying some great Italian food and topping it all off with some unbeatable riding.
Would I ride it again? Yes.
Would I ride it again on the 3T Strada? Yes, but with a smaller gear - and hopefully in the dry without any road dirt interference on the frame.

Dos and Don'ts for the Gran Fondo Strade Bianche
Do: have fun, look up and ahead. The Tuscan views are worth it. Unless you aim to win.
Do: get there ahead of the gran fondo and watch the men's and women's WorldTour races on the Saturday.
Don't: be alarmed by the steepness of the final cobbled climb in the centre of Siena. (Trust me, there's worse before this one).
Don't: try to take sloppy gravel corners too quickly. You'll end up crashing and that's no fun.
Do: stop at feed stations, even if isn't really de rigeur when you're high in the field. They refilled my bottle promptly and I tucked into a tasty piece of cake.
Do: make sure your saddle bag is firmly attached. The number I saw out on the course easily exceeded a dozen.
Don't: rely on anything - especially not your bike. The risk of puncturing is above average here, so make sure you're self-sufficient.
Do: make sure you pick a cool location to watch the pro race, ideally where you'll find a lot of local Tuscans with wine and food aplenty. They'll most certainly invite you to join.
Do: expect the first 25 km to be a bit of an eye-opener and be wowed by the speed that Italians whizz down the first descent. Flying cannonballs is the best way to describe them as they shoot by you.
Was the 3T Strada the right choice for the Strade Bianche?
Back in November 2017, the component giant 3T unveiled their 3T Strada, an aerodynamic 1X (i.e. single chainring) road bike, that would be ridden for the 2018 season by Aqua Blue Sport. I'd been hoping that the team would be present at this particular UCI WorldTour race on the Saturday but unfortunately not.
My initial thoughts were to check out their set-up and potentially steal some of their ideas - were they changing anything particular for the race? Was there anything I could do to attenuate the tough gravel conditions? And most importantly, what gear ratio were they running? After all, that's the most contentious topic when it comes to this bike. But, alas without the team, my questions went unanswered.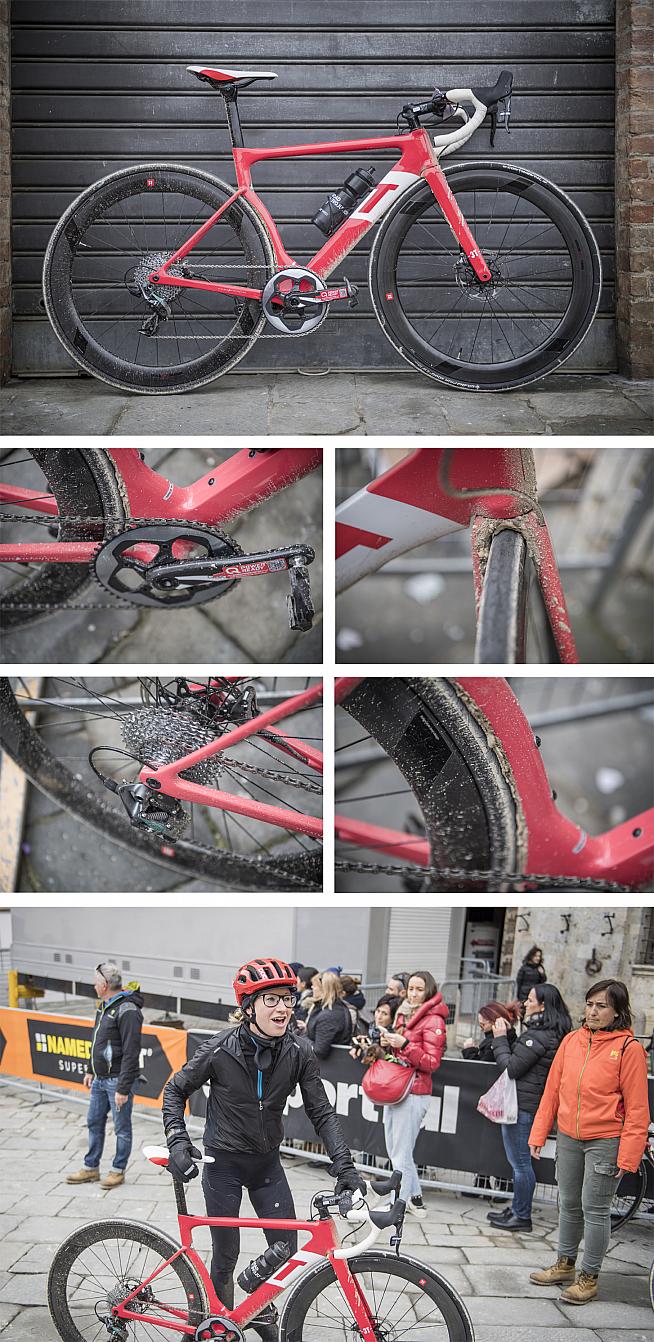 The hot talking point within amateur and professional ranks alike, this bike attracted more crowds than a puppy, with everyone talking about the 1x drivetrain. (To its credit it was really nice to not have to even consider shifting with my left hand.)
But on the downside, the 50x36 gearing was way too big for the 18-20% gradients on the Strade Bianche. Even as a super rigid bike, there was a lot of out-of-saddle climbing, which took its toll over the four hours of riding. If you're buying this bike, you'll have to make sure you're very au fait with knowing which gears for which ride, and switching them out. On the descents and flat I had no issues and sped along blissfully.
The 3T Strada only comes in a disc brake version, which was perfect for riding on the white roads. The bars are aero-optimised to the max, which meant no bar tape in the mid-sections and no comfortable position on the flat bars. By no means a game-changer, but sometimes it's nice to shift your position around to alleviate your hands on the rough roads.
Channeling their aero-optimisation, tyre clearance is minimal. On a regular road ride, this wouldn't be an issue but both the fork crown and between the rear wheel and seat tube rapidly became clogged with mud. It made such a loud throaty sound at times that I had to stop and brush the mud out of the way. As I listened to the cut & paste-esque rasp of the saturated white roads slowly wearing away the paintwork it also made me glad that I didn't have to clean it and look at any potential wear. Perhaps going down to a 25mm tyre is a wiser idea when the roads are dirty.
Even though the thru-axles are designed for performance and ride quality - allowing weight reduction in certain areas of the frame - in practical application for a gran fondo rider, it was impossible to mount my chip in the conventional manner.
Of course, that's not a problem that the pros on Team Aqua Blue Sport will have to face. But one thing's for sure: watching them compete on the 3T Strada should be a fascinating subplot to this year's race season.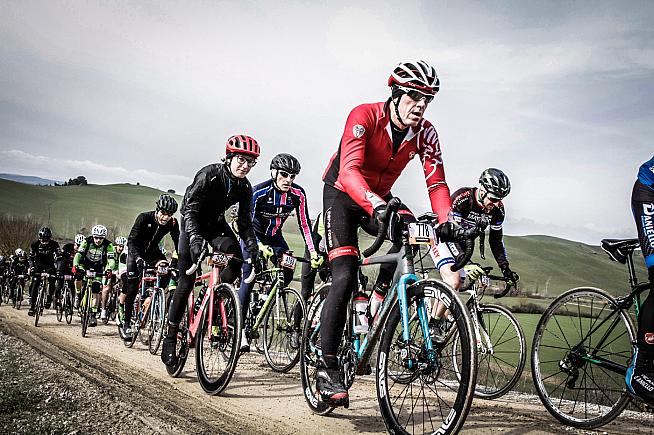 Thanks to 3T and Vitamina for providing the 3T Strada test bike for the weekend. For more information on the 3T Strada visit www.3t.bike/en/3t-bikes/strada-1.
1 Comments