The County Antrim coast in the northeast of Ireland is often cited as one of the most scenic coastal routes in the world, with hundreds of thousands of visitors each year enjoying the route by various means of transport.
What better way to enjoy it than by bike.
The Giant's Causeway Coast Sportive has tapped into the region's justified popularity, combining the stunning costal route with climbs through the epic Glens of Antrim to produce a gem of a sportive.
It is no surprise that it has become one of Northern Ireland's most popular leisure cycles over the past six years, and the 2017 edition was testament to this attracting over 1,200 entries.

There are three routes on offer: Route 1: "The Causeway Coaster" is a 35-mile entry level route for those new or returning to cycling. Route 2 is a challenging 85-mile "Glens and Coast" route with a mixture of challenging climbs and breathtaking views along the coast.
Route 3 essentially joins the two shorter options together to form "The Giant Killer" at a gruesome 115 miles.
I of course signed up for the Giant Killer route. As Saturday 9th September 2017 drew closer, the training kicked up a notch. I completed two relatively flat century rides in the previous month and also a Gran Fondo in June, along with my usual club rides and races throughout the year.
With the start and finish in Ballycastle being over two hours from my home and a 7.30am scheduled start time, I decided to stay up for the weekend with a few members of my cycling club as an end of season trip.
While driving into Ballycastle at 6pm on Friday I spied a sign for registration and decided to sign on early before getting settled into accommodation. I was given a chipped number with some emergency contact details on the back. Nice and simple. This took the pressure off on the Saturday morning and allowed me to get to the start line with no worries about registration.
After a very tasty fish and chip supper from the local chip shop and some liquid refreshments in the local pub I turned in for an early night. The forecast for tomorrow was not good.
Lying awake in bed I knew I should be getting some much needed rest in advance of the momentous challenge that lay ahead, but an incoming storm was thrashing wind and rain from the Irish Sea directly onto our seafront window. Hopefully the predicted bad weather had arrived early and we would be in for a dry day.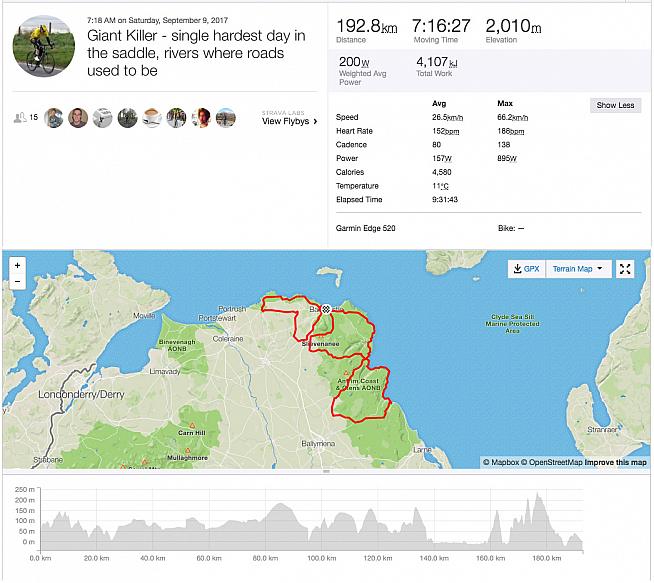 It was cold and overcast as I got ready to cycle the two miles to the start line at the local Gaelic football club. The summer was officially over as I pulled on leg warmers and overshoes for the first time since the spring.
I mixed with other cyclists, some old faces from other sportives and events I had completed earlier in the year. All the hard core local cyclists were here and eagerly anticipating getting officially started. The rain had subsided and most of the talk was of the weather forecast.
As the assembled crew scanned various weather apps on their phones they all concurred that we were in for a very wet day.
The event finally started right on 7.30 and we set off at a quick pace along the beginning of the coastal route towards Ballintoy, aka the Iron Islands in HBO's hit drama Game of Thrones. A steep hairpin descent on wet roads entering this quaint village reminded me that it was a tough route and that concentration was very important, especially on unfamiliar roads with riders of all abilities.
The bunch was enormous, perhaps 30 riders. One rider in the group had a whistle, and it shrilled every three minutes signalling the rider at the front to ride through. There was a tremendous headwind and I was putting in too much effort at this early stage. After six long minutes at the front - a double shift! - I receded back into the group. It was just my luck that after my turn they decided to change the interval to one minute, although the poor guy blowing the whistle was bound to be struggling for breath.
We continued along the coastline, which was still resplendent despite the conditions. We approached the world famous Giant's Causeway, although we didn't see it directly from the road. It is a UNESCO world heritage site which, according to folklore, was built by the giant Finn McCool in order to get to Scotland to fight another giant. Or, as the party pooping geologists actually tell us, 60 million years ago molten basalt lava cooled to form these amazing hexagonal columns.
The route then took us through Bushmills which is familiar to whiskey connoisseurs. Shortly after were seen some signs for a food stop, but there was no one at it. I realised we were the first to arrive. With a number of wet and hungry cyclists behind me I pushed a door into a hall in the middle of nowhere in the lashing rain, hoping to find shelter and sustenance behind. Thankfully there were caramel squares, sponge cake, bananas and jelly beans. What more could a cyclist want.
On we headed, and after taking an apparently normal 90 degree left hand turn we were transported into what seemed to be another world. What followed was one of the most surreal and enjoyable quarter miles on a bike I have ever ridden. We were cycling along the Bregagh Road in Armoy; or, as it is better known, "The Dark Hedges". This is a tunnel of trees along a quiet country road, again made famous by Game of Thrones. Despite the weather, it felt like cycling through a postcard.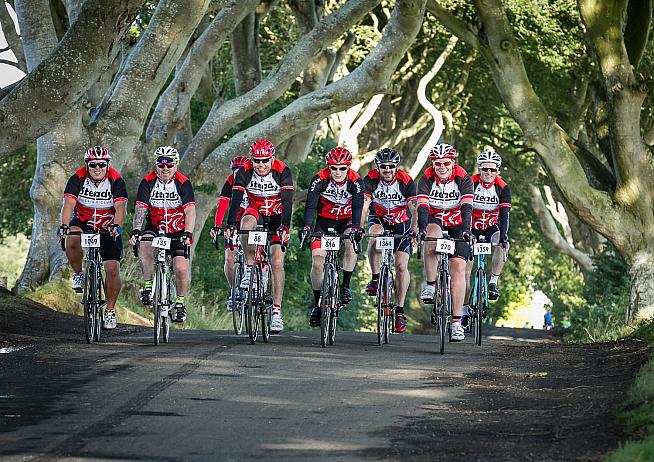 The famous Glens of Antrim were beginning to loom in the distance, cloud covered, dark and uninviting to cyclists on this particular morning. The first 35 miles had been an enjoyable sightseeing trail, but now the serious cycling was about to begin.
We continued along the backroads towards Ballycastle to complete the first loop. The conditions were becoming more and more difficult, I had never even seen rain this heavy before never mind cycling in it. The intensity of the rain was making roads that were already wet from the rain the previous night before become completely flooded. Visibility was poor and thankfully the group began to adjust the speed to the conditions.
We reached Ballycastle and some of the cyclists we were with called it a day. I really couldn't blame them. Thakfully I had shoe covers, a somewhat waterproof gilet and my armwamers and legwarmers had some form of water repellant feature. I was wet, but not cold. I decided to continue.
By this stage, the medium route had set off along the same loop we were now joining. We ground our way up the climb of Glenshesk and passed dozens of punctured cyclists fumbling for mini pumps and spare tubes. I was just beginning to thank my lucky stars that I wasn't one of them when I heard the dreaded sound of air escaping a rapidly deflating tyre. Of the group of 18-20 that had reached the first feed stop, we were now down to a core group of seven. Thankfully the other guys stopped to assist.
I struggled to get the puncture changed in the conditions and even when I got the repair finished we were cold and miserable. We huddled under tree and debated what to do. It was 10 miles back to a hot shower and a warm meal. This was the lowest point I had ever been on a bike but I resolved to continue to the feed stop at Cushendall, which in the case of the conditions not improving was only 16 miles back to base.
We turned onto the first big climb of the day, a five mile climb up Glennan with stunning views all around. A river was running down the road. A really fast, technical decent followed for the next six miles to Cushendall and the welcome relief of a food station. We were roughly half way. The food was really excellent consisting of sandwiches, soup, tray bakes and yoghurts along with tea and coffee. I felt reinvigorated and ready to go again, and the rain seemed to be easing off.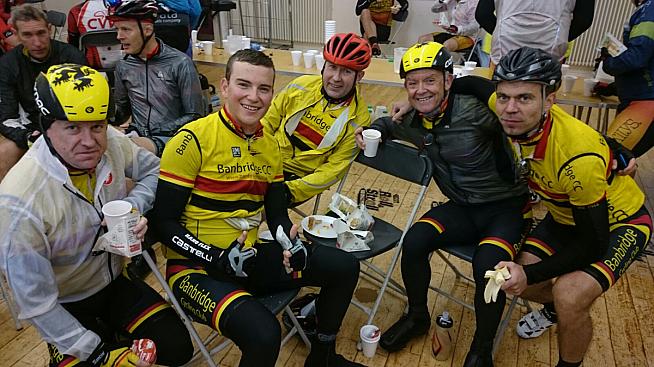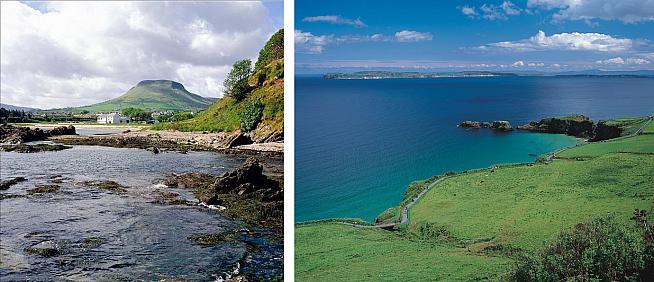 After Cushendall, it was another steady climb of six miles to the top of Glenariff. Our group broke up in the crowd leaving the feed station, and I chased a fluorescent rain jacket and black helmet up front. I was sure they belonged to one of my earlier companions, only to realise on catching them it was someone completely different. At least it took my mind off the climb.
The following 18 miles consisted of rolling hills on tough roads through stunning mountains. The roads rose and dipped continuously, and some flooding made the navigation of the puddles quite worrisome especially as I had already fallen victim to a puncture.
I found myself alone on the road which was strange on a large sportive like this. I had no idea where I was, but I knew I was on the course. Just me, the road and the scenery. The sun was trying to come out and this was cycling bliss.
As I entered the decent into Glenarm, which is three miles of sheer downhill, I was really starting to enjoy the day, and feeling so glad that I had continued.
I soon had another cyclist on my wheel. I had been on my own for some time and felt I could use some help. After some time I gestured for him to ride through and do a turn at the front. Nothing. I slowed completely down and as he passed I said to him that I was clearly too slow for him and to go around me. He replied "It's called drafting, I am trying to save some energy". Really, is that what it is? I sat on his wheel for a few seconds and then engaged the afterburners entering full Sagan sprint mode. He tried to keep contact but I caught him off guard. I was gone and he was on his own as he was completely unwilling to share any of the work.
The stop at Glenarm was in a beautiful setting of an old country house style courtyard. Amazingly the sun was such a factor now that cyclists were passing around the sunscreen. There were wraps, tray bakes, yoghurts and of course jellybeans!
As I filled my bottles and put in my usual dissolvable electrolyte tablets, I noticed it already had electrolytes in it, and I had been filling my bottle with the stuff all day. I was hoping you couldn't overdose on it.
A sign informed the participants that there was 33 miles to go. I regularly did 33 miles on most weeknights after work over the summer. Two hours until we were out of these wet clothes, two hours until the Guinness I was craving all day, and I don't usually drink the stuff! But I knew it wouldn't be that easy as I had cycled these exact 33 miles before and they included the brutal Torr Head, in my opinion Northern Ireland's toughest climb.
A nice group of riders formed after the plodded along the windy coast through Carnlough and Waterfoot. We enjoyed the spectacular views along the coast road. Our bunch was evenly split between those that had ridden Torr Head and lived to tell the tale, or so it seemed by the way people were talking, and those who hadn't; but both groups seemed to have been dreading the prospect for the last 97 miles.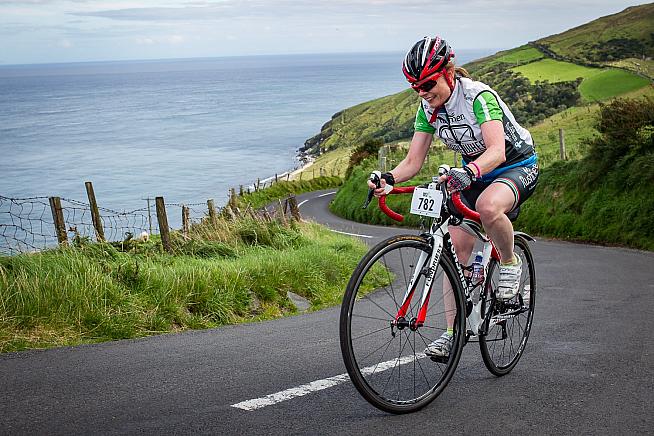 Passing through Cushendall again, we turned left up a steep hill onto the Layde Road. This was easily the toughest climb of the day so far, especially with so many miles in the legs, and in most sportives would be the hardest climb. My Garmin ticked over 100 miles. I don't usually take gels as they tend not to agree with my stomach, but needs must. This was an emergency. I broke the glass so to speak.
Approaching Torr Head there is a T junction, right for Torr and left for "Easy Street". I had come this far, I wasn't backing out now.
Over the next seven miles it was carnage. You lose count of the false summits on this thing. Just as you mutter to yourself "thankfully that's over", it rises up again.
Grown men were actually crying as they had to push. A gearing issue meant I was limited to 21 teeth at the back. I ground it out and finally made it to the top. It was all downhill from here.
Just as I finished the descent, I saw a sign announcing "KOM starts here". Oh dear, the hardest bit was still to come. I gave everything I had, I honestly thought I was going to have to put my foot to the ground, but eventually the 'actual' end was in sight and I gladly rode over the brow of the hill.
The last seven miles to Ballycastle was mainly downhill, but there was a final climb from the town back to the football club that seemed never ending.
As I crossed the line I was relieved to be finished, but proud to have completed such a tough event. I was really exhausted and I queued up repeatedly for helpings of the tasty pasta dish on offer back inside.
We were presented with a goody bag containing a medal, an outdoor magazine, a neck buff, a multi tool, a water bottle, some energy products and discount vouchers to Chain Reaction Cycles. I was really impressed with this, all stuff I can and have used since.
We rolled down the final two miles back to our accommodation, but of course there was time for a pint of Guinness.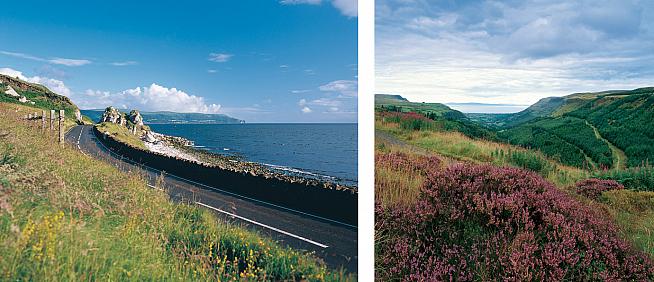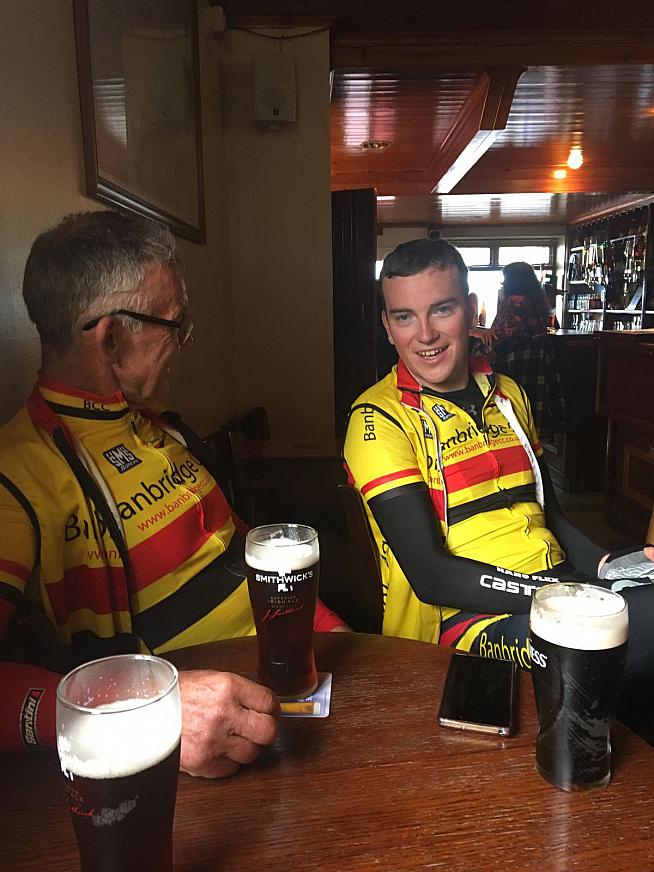 This is easily the best sportive I have done. The route is really challenging and enjoyable. The quality, quantity and location of the food stops was ideal. And did I mention the scenery? You really can't take a pedal stroke on this epic cycle without being blown away by the views.
As a non-native to the area I would however like to see some more information on the climbs, perhaps in the information circulated beforehand, or in the registration area and website. When we finished, people were asking me what I thought of Glenariff and I was wondering which climb they were referring to. I found myself going to Strava and Google maps afterwards to find out.
Most cyclists would have to travel to this amazing part of the world to take part, but it is well worth it. The organisers obviously realise this as there was a fantastic official afterparty with live music that night in a local pub that was attended by lots of the riders. There was a great atmosphere and sense of accomplishment in the air. It is fantastic that the event doesn't finish with the cycle and offers an incentive to stay over.
And if you do stay, there is always the option of cycling back up Torr Head the next morning. Or not...
The Giant's Causeway Coast Sportive returns in September 2018. For more details and to register, visit www.giantscausewaycoastsportive.com. The event is supported by DiscoverNI and the Causeway Coast and Glens Borough Council.
1 Comments