Dan Baker and Laura Delnevo report on this year's Tour of Cambridgeshire Gran Fondo. Could they qualify for the UCI Gran Fondo World Championships?
Sportive cyclists may be surprised to learn that there's a UCI-sanctioned World Championships especially for us weekend warriors - I certainly was. Surprised and excited. Because the UCI Gran Fondo World Championships is an actual thing: each year thousands of amateur riders battle through a series of road race and time trial qualifiers across the world for the chance to compete in the finals.
There are two qualifying events in the UK. The first is the Tour of Cambridgeshire Gran Fondo, and this year the Tour of Ayrshire Gran Fondo in Scotland became the second.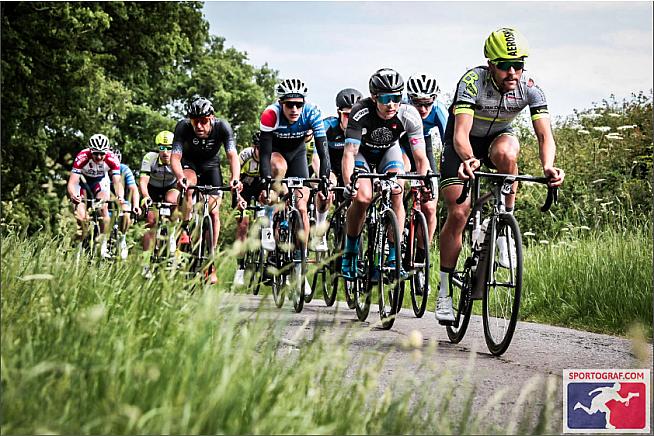 Each event is also a sportive, with entrants deciding whether to start up front in the race pen or enter in the more sedate (in theory) 'sport' category. It's still possible, although more difficult, to qualify from the sportive pens as results are determined by overall time to complete the course.
Although the standard of competition is fairly high, qualification also seems tantalisingly within reach. The top 25% of finishers, male and female, in each age category qualify for the finals which this year take place in August in Albi, France.
We fancied those odds. When the chance came to send a couple of Sportive.com reporters to the Tour of Cambridgeshire last month, rainbow-hued visions of glory flashed before our eyes. Step forward ace reporters Dan Baker and Laura Delnevo. We packed them off to Peterborough with emailed words of encouragement ringing in their ears: bring home some glory!
Unfortunately we didn't manage to get them placed in the race pen at the start. A significant handicap from the outset - but could they overcome it?
Here's how they got on...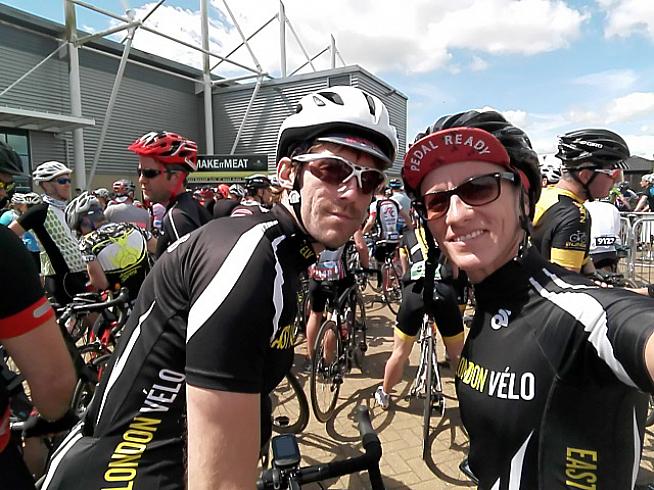 Dan's day at the races
I did the first Tour of Cambridgeshire in 2015. There were some teething issues for the event, meaning people started so late they ended up not being able to finish as the roads needed to re-open. I remember it being very flat and a bit windy.
2017 offered the same weather, but the logistical issues seem to be fixed from what I saw. Starts are staggered into anticipated average speed pens. Most people seemed to have gone for the 21mph pen (the quickest 'sport' pen, with racing pens starting before that). Some looked like they were being a bit optimistic.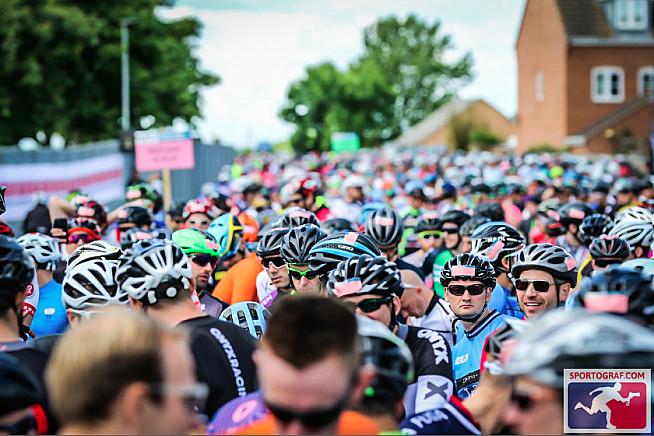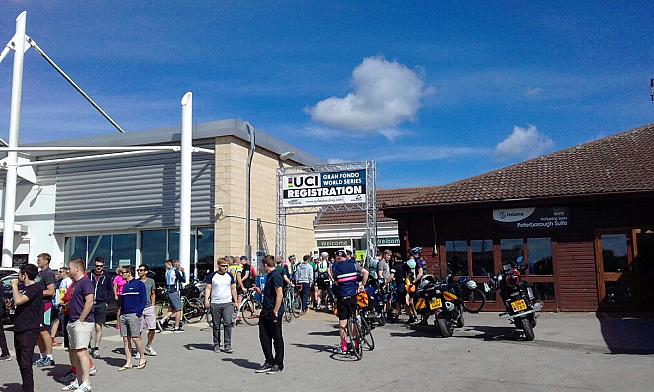 There were helmets as far as the eye could see at the start - thousands upon thousands. At the event HQ itself there's food, a bouncy castle and an indoor area with a number of companies showing off their wares - a good way to kill some time before the event. There's ample parking and toilets dotted around aside from the main building ones (more portaloos needed for around the car park next time please).
There was some waiting around, inevitable given the numbers, but not that much worse than any other sportive. Getting underway wasn't too much trouble in spite of the huge numbers setting off at the same time. The first miles are quite hectic with people trying to reach a mythical 'fast group' ahead but it soon settles and starts spreading out, leaving ample space to keep it steady on the left or overtake on the right.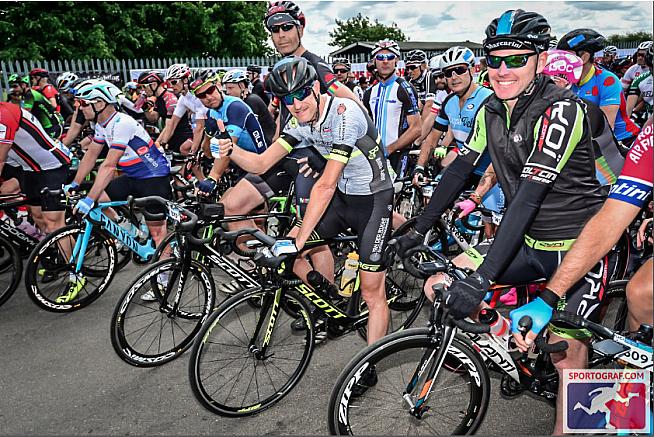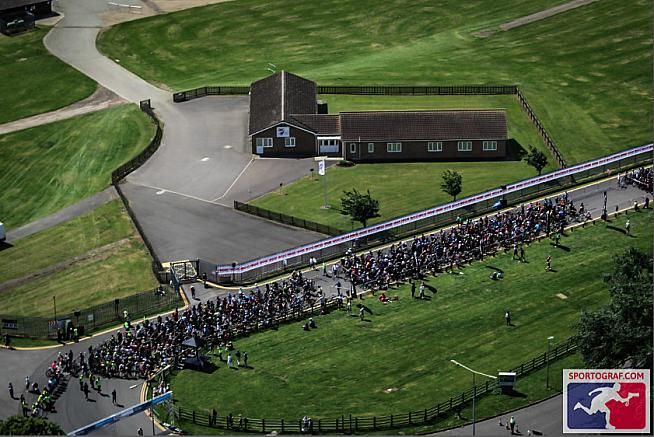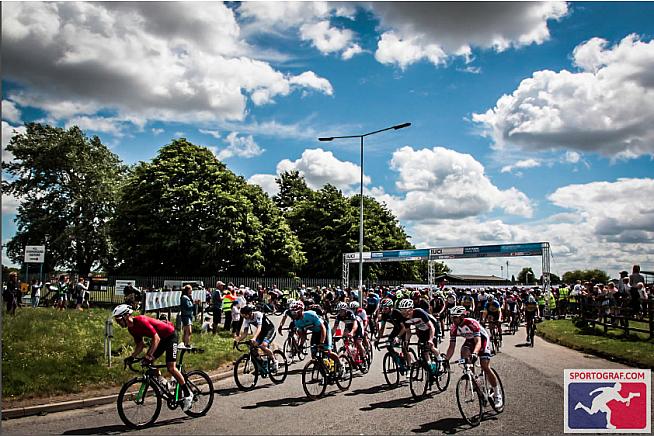 If you're after scenery or climbing then this isn't the sportive for you. Cambridgeshire - or at least this part of it - is flat, so there aren't really any views to be had. The selling point is of course the fact you're riding on closed roads, and the ability to qualify for the UCI Gran Fondo World Championships if you're within the top 25% of riders in your gender/age group.
Apart from that, it's flat and fast so it's a great place to test yourself over a long distance. There's another selling point you might not anticipate - supporters.
You often hear of moaning about roads being closed, but that's not the case on the Tour of Cambridgeshire. Large sections of the course were lined with supporters outside their homes cheering everyone on. There were kids holding out ice pops for riders and arms out for a high fives - I obliged a couple myself, trying not to send them onto the grass in the process. It's an odd feeling getting cheered on for something I do most days anyway, but it makes the event feel like it's something special.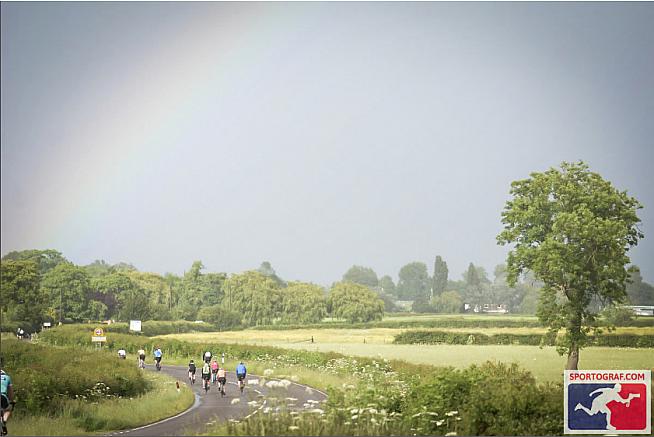 2015 saw me finish with an average speed of 20.1mph, although I'd had some stops for food and to help a friend with a puncture. I knew I was a lot stronger now than I was back then. I'd even been doing some sessions from Rob of Propello's race prep plan, so the aim was to go as fast as possible and without any stops (I managed that so can't comment on the contents of the three pit stops offering High 5 products and water).
In hindsight, a crucial tweak to my strategy on the day would simply be to start queueing a lot earlier at the start - I was about four-fifths of the way back in the 21mph pen with a good few thousand in front. For the most part I was moving through the field and tucking into groups for a rest. The closed roads make this pretty easy to do.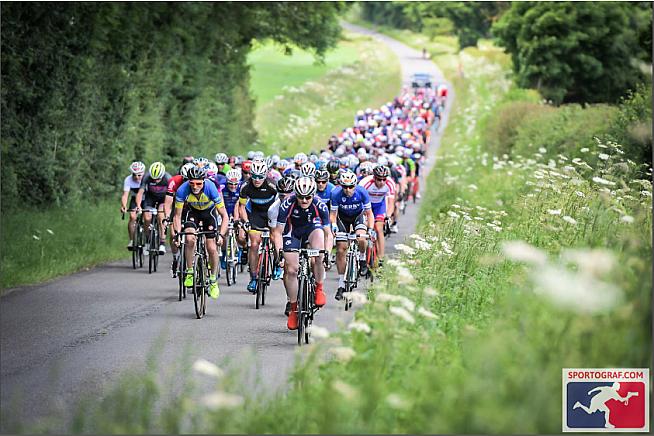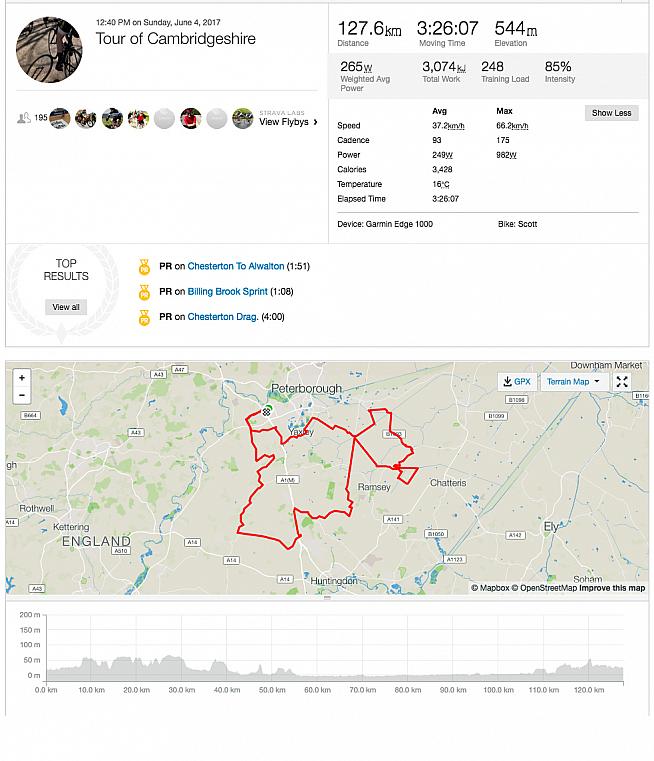 I found myself riding most of the ride with one guy who was super strong - in fact, it turns out he finished 8th in the world time trial champs following up on his national silver! He couldn't get a spot in the race pen either. Had it not been for him being an absolute machine I wouldn't have got close to the finishing time I did, because there simply weren't fast enough riders to maintain speeds of 23mph+ to be near qualifying.  No one managed to hold onto Mr TT's wheel longer than me but I lost him around 65 mile mark as I got tired. I finished up with an average speed of 23.1mph - an average power of just under 250 watts (272w NP) for three and a half hours, which I was pleased with.
The last half hour was a struggle and I was ready to quit - not just the ride, but cycling forever and take up chess or something less painful.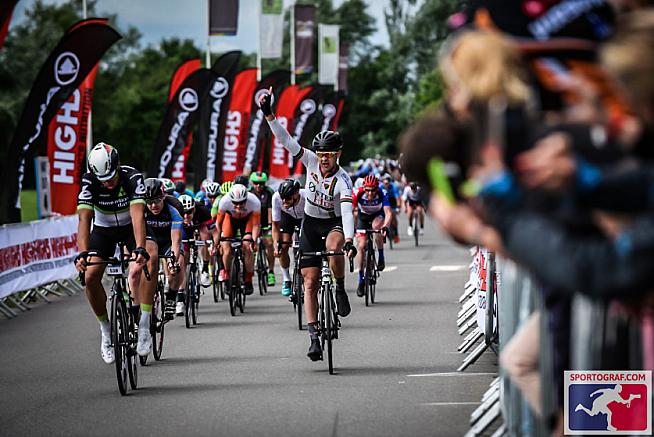 I was a few minutes outside the qualifying time for the World Championships, but qualifying is a very tall order for the male categories unless you're in a race pen or starting near the front of the sportive pen. Even my newfound TT friend on the day just about qualified in 104th spot a few minutes quicker than I was, which shows how hard it is to qualify from far back in the sport pen.
Still, having smashed all my power records for everything over the distance, it was certainly good training - not something you could replicate anywhere else (at least without going insane with lap-induced boredom).
At the finish you're handed a nice medal and a bottle of water or some non-alcoholic beer. You could probably do some nice things if you went inside, including checking the cut-off time for qualification and watching the winners' ceremonies. But frankly I was so tired and nauseous I just wanted to sit down and try not to be sick.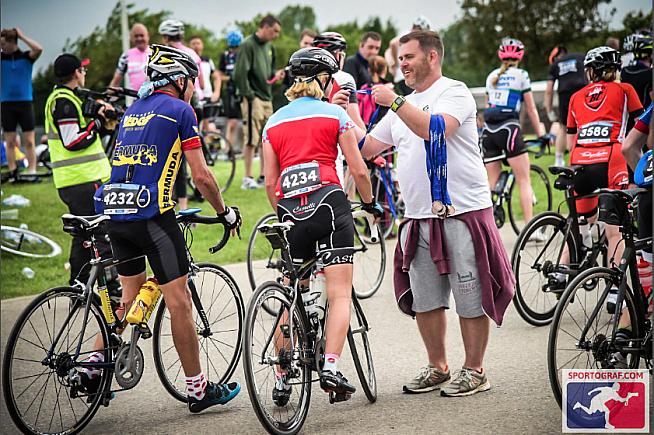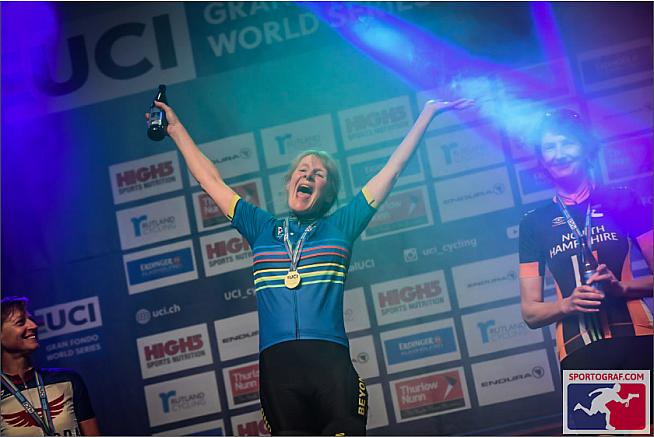 Unfortunately the tiredness and nausea meant I couldn't actually work out how to get back to my car, but I got there eventually only to fall asleep.
If you're looking for a fast sportive then the Tour of Cambridgeshire is the one to go for. Whilst the route isn't the most exciting, the closed roads, cheering crowds, and sheer spectacle of so many participants make it a special one that you should try at least once.
And of course, there's that dangling carrot of a qualification spot for the finals. I'll probably be back.
Laura's race for glory
This year life is doing a good job of "getting in the way" of my cycling; therefore the day before the Tour of Cambridgeshire I was frantically texting my editor in order to make sure that I didn't enter for the race but for the sport event. We settled that pretty quickly as he confirmed that I was in the Sport21 pen (Ed - by accident rather than design!).
Driving up to Peterborough on Sunday morning, my confidence of being able to pull this off slowly decreased as Dan and I chatted about our (lack of, in my case) training leading up to the event.
We arrived at the car park pretty early, so I had plenty of time to grab breakfast at the HQ: an egg roll and a latte. There were plenty of breakfast choices on offer: bacon roll, sausage, muffins, teas and coffees all at reasonable prices.
The more I hung around at the HQ, the calmer I became. "What was my morning fuss all about?" I asked myself whilst looking at all the relaxed men and women walking around in their flip flops!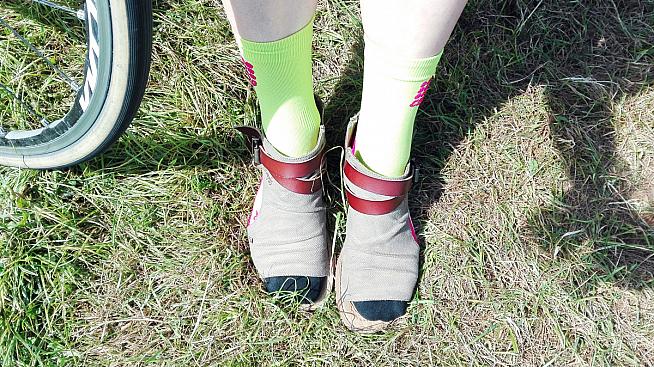 After all the prep was completed, Dan and I decided to kill the next hour by queuing in our Sport21 pen. The variety of people in the fastest group was remarkable. I could see very lean and skinny looking (that translates as mega fast in my head) cyclists, and some other way-too-relaxed endurance riders (with even lights and handlebars bags to complete their outfit). My morale increased. I was not the only one who might not be super fast.
After an excruciating hour, waiting in the pen without getting any updates from the starting line, we slowly started to move forwards. Nap time was over! We crossed the starting line just after 12:30PM and a few hundred metres after the starting line I lost Dan. He's fast, I thought to myself, so I'll see him back at the car park.
With the mass start and a pretty high average speed of 33kph (20.5 mph), I was always riding in a group. The faster guys sprinted at the front, and I was surprised to hear afterwards that even with an average pace of 36kph (22.4 mph) not all the men managed to qualify for Albi. That's a supersonic speed for 127km (79 miles) in my opinion.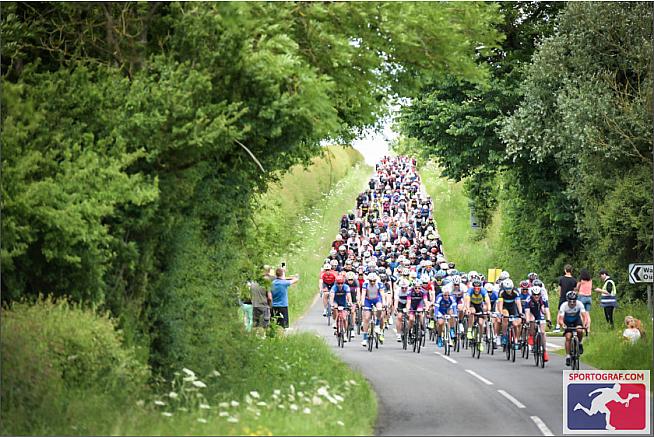 The first few kms of the Cambridgeshire route are the hardest. Rolling hills and everybody still riding together, mean that you won't find a rhythm until you pass those small hills. I was expecting a 100% flat course so that rolling landscape at the start took me aback. It was soon gone though!
Finding myself in the middle of the group (and not on the front with the fast ones), I actually saw a few crashes. One right at the start, just after a descent where the road blended slightly on the left. A cyclist in front of me slid and he lost control of his bike taking down another one. Luckily for me, my line wasn't following his so I managed to avoid the crash, unlike several other riders.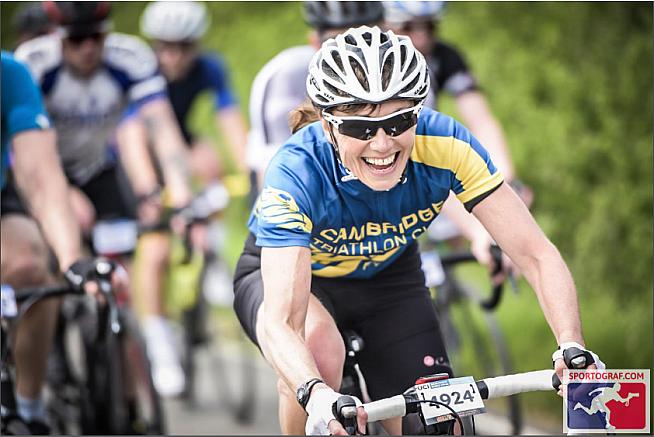 I never felt unsafe once, I have to say. The fact that the ToC attracts experienced riders meant that despite the high speeds, the majority of cyclists were aware of each other and some even willing to work together for a few kms. In the middle of the race, I came close to a cyclist who looked to me like he was beating out. Not on the skinny side, but obviously powerful he passed by me and I could hear the power of his pedal strokes.
OMG, I thought, I must try and hang on to him. So I did. And for a few kms I drafted behind him, only being able to take a few turns in the front to provide him a well deserved rest. A few other riders caught our train, and I was a bit disappointed that none of those men took a turn in the front... I mean, come on! No pain, no gain... right?
Anyhow, when I couldn't keep up with the power-machine pace anymore, we said goodbye and I moved to the left in order to continue on a more reasonable and sustainable pace. At this point we were just about two-thirds through the race. The 100km checkpoint seemed still far away.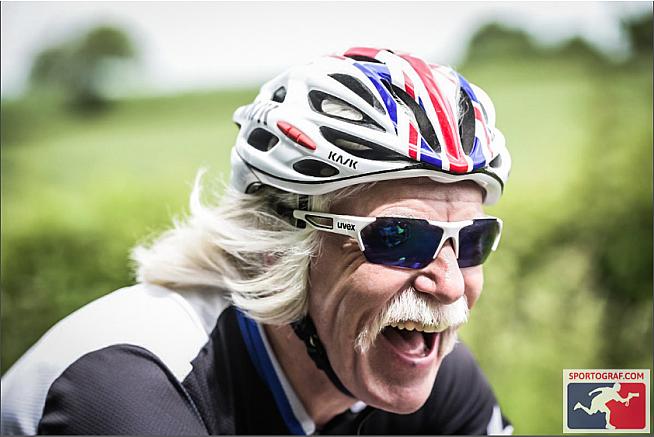 I did not stop at the feed stations, and I remember very little about the course itself because all I wanted was to give myself a chance to do a good time. When I ride in this mindset, I don't see much of the landscape, as all I see is that tarmac ahead, obstacles or some riders that I want to catch up with a short and sharp effort, haha!
On the last leg of the ride, some of the cyclists were clearly suffering the earlier efforts of the race. People sweating, slowing down, riding solo. For me the trick was to keep up with a pace that was clearly above my average, but don't overdo it throughout. If I was smashing it for a few kms, I would make sure to take it back to a sustainable pace for a few minutes to recover before blasting again. The difference in speed was minimal, but very important to give my heart rate a chance to slow down.
On the way back to the finishing line, I punctured at the very last roundabout - literally 200 or 300 metres from the end. I couldn't believe my luck, although I had seen quite a few other cyclists puncturing much earlier in the race. So, I refused to get off my bike and wobbled my way through to the finishing line.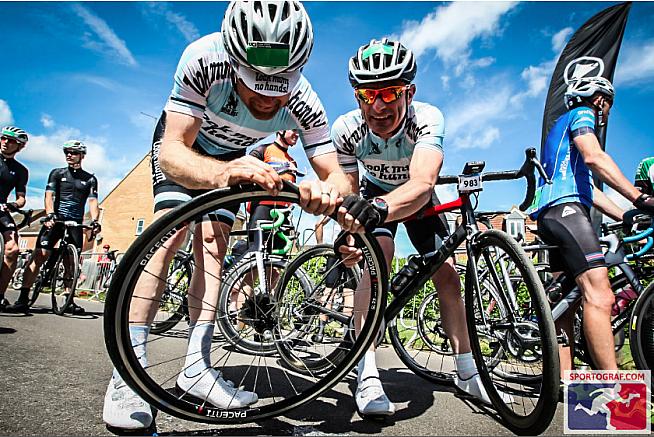 At the end, the atmosphere was great. A lot of riders congregating with a complimentary beer and the ToC medal in their hands. Some others hiding in the shade of the HQ resting after the day's effort.
On Monday when I checked the results, I was both surprised and really happy to see that (despite being the slowest woman to get in there) I qualified for the finals in Albi! And all of this with my 11/32 mountain gears fitted on the bike.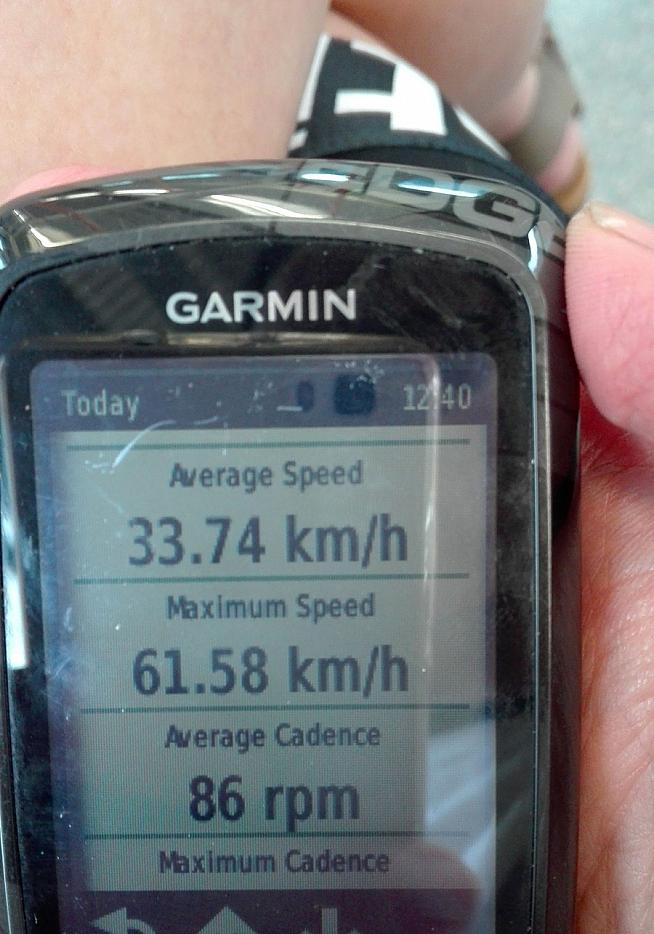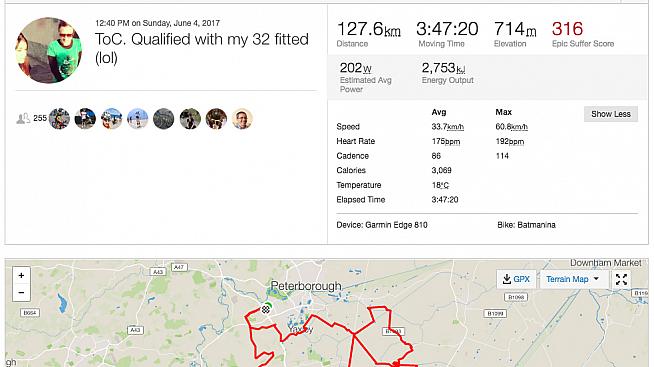 So ladies, if you want to get as close as possible to international road racing... do your training. And perhaps fit the right gears. I think that women have a great chance at the Tour of Cambridgeshire, whilst for the men the competition is much harder due to the higher number of entrants.
And who knows, I might even find time to do some training before the World Championship finals in Albi...
The Tour of Cambridgeshire Gran Fondo returns on 3 June 2018. Limited early bird places are now available for the gran fondo. For more information and to enter, visit www.golazocycling.com/tour_of_cambridgeshire
0 Comments