"Character-building" is one way of summing up our feelings after finishing the first Mod Rocker sportive, based in army training territory in the wilds of Northumberland.
My wife would probably use a slightly more colourful description, particularly if you had asked her what she thought as we reached the final food stop in Rothbury after 90km, when we'd been riding in pouring rain for hours and her hands and feet had lost all feeling due to the cold.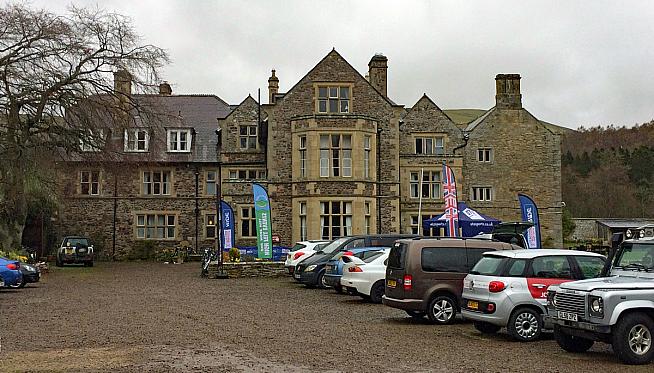 With hindsight, it wasn't the most auspicious start. After being spoiled by a couple of weeks of warm spring sunshine in the run up the event, the forecast was for temperatures of around 5 degrees and rain showers from mid-afternoon onwards.
As we stood and waited for more than 20 minutes after the official start time ticked by, we started to shiver. Even dressed in full longs, winter jacket and gloves and overshoes, I was still cold and was starting to regret leaving my winter boots at home.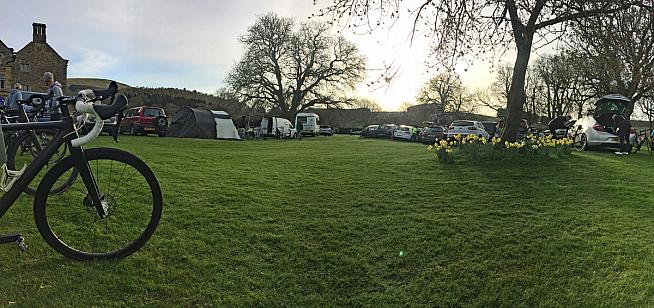 Then, as we set off from the super plush surroundings of Clennell Hall, we had to ride down their driveway. Normally this would be fine, but the gravel track had obviously become a bit potholed over the winter and had been repaired using fist-sized chunks of crushed limestone. A somewhat sub-optimal surface to start a road ride on, particularly for anyone on expensive carbon wheels. Luckily the cyclocross practice paid dividends and we made it through unscathed!
The pre-ride information had been great - super-detailed, quite strict guidance on what to wear/carry, a GPX file and useful information about feed stations. So far so good. The organisers had done a sterling job with the first part of the route too - stunning scenery, completely traffic-free roads and some "interesting" MoD road signs to keep us entertained. It's not often you see warning signs about tanks and unexploded roadside ordnance on a standard road ride is it!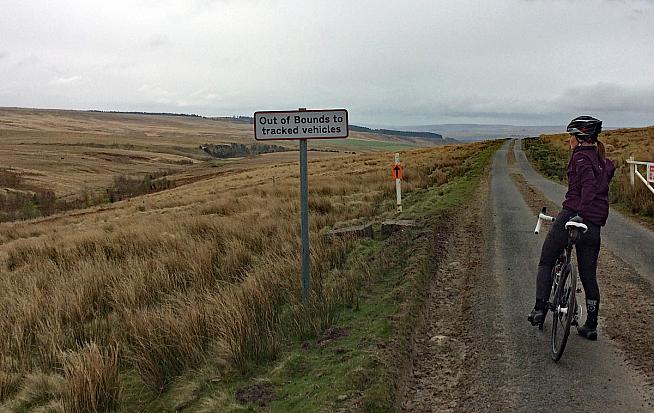 The route climbed gently away from our start point in Alwinton, a tiny village not far (as the crow flies) from the Scottish border. The first few kilometres were into a headwind and the combination of climbing and headwind were perfect in that it helped us generate some body heat. Looking around as we climbed, there was a very odd feeling, which I couldn't quite put my finger on. Then it twigged what felt odd - the roads were completely silent. OK, so we were riding in the far north of Northumberland, a county known for having more sheep than people (and in fact the least populous county in England, fact fans...) but not only were there no cars, there weren't really any cyclists either.
Despite the slight organisational faffage at the start we set off quite near the front of the bunch. But the riders in front of us must have screamed away and the ones behind must have been sabotaged by the rocky start, as we were straight away riding basically by ourselves.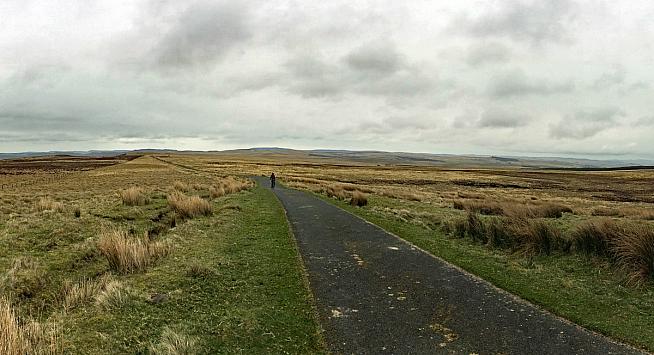 Looking at the route profile from the GPX file, the first 20km were uphill, but with none of the gradients appearing to be more than 5-6%. Perfect, we thought - we'll breeze up those.
Ha. I don't think so!
It was when my Garmin showed us climbing at 18% and we started passing fellow participants off their bikes and pushing up the climb that we realised the GPX file might not be quite as representative of the terrain as we'd hoped.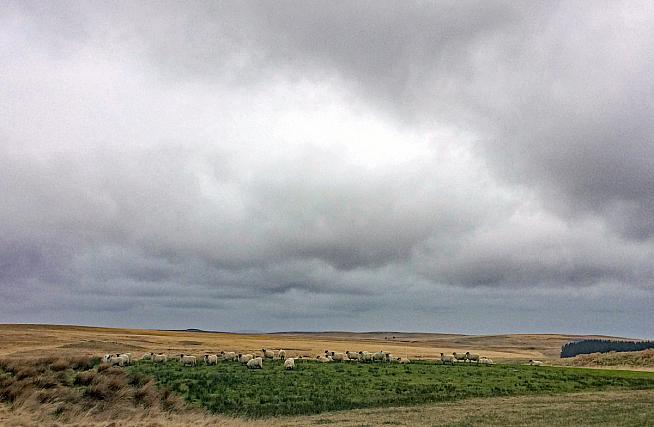 To be fair to the organisers, GPX files can be a nightmare to get right. No two GPS units will read them the same way - even viewing them on a computer at home will give different results depending on which software programme you use to view them. But there's quite a difference between 5% and 18%!
My suspicion is that the organisers had plotted the GPX file by manually tracing the course of the route on a computer, rather than riding/driving it - and fair enough, a good chunk of the route is closed to the public for most of the year as little green men do their best to blow things up and compete for best war-paint in Northumberland awards.
The problem with a plotted route though is that a) it doesn't always follow the road (so your GPS will bleep frequently to tell you you're off-course) and b) the vertical calculations (height gain/loss and gradient) go right out of the window. This seemed to be the case with our GPX file unfortunately.
Still, no pain, no gain and all that!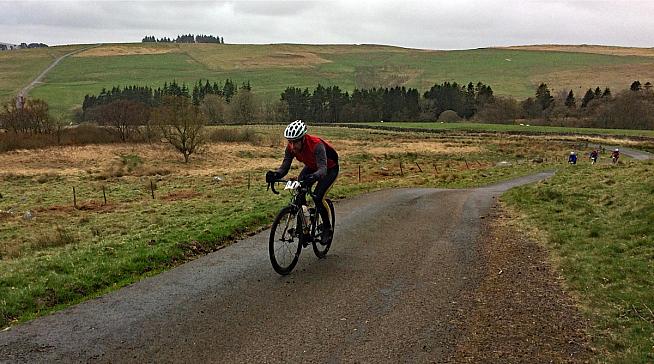 Luckily my wife and I both love climbing and generally relish a good challenge. But when you've got it in your head that you'll be climbing at 6% and then your route actually tops out at nearly 20%, it's somewhat dispiriting to say the least.
In brighter news, the scenery got better as we climbed. Even having lived up here for nearly four years now (as a transplanted alien from the sunny south), I still can't quite believe how wild it is and how amazing the scenery is. It's not easy to capture in a photo the vastness of the landscape. At the top of what we hoped would be the steepest climb, I took a 180-degree panorama shot and all you can see in it are hills and moors, stretching from one horizon to another.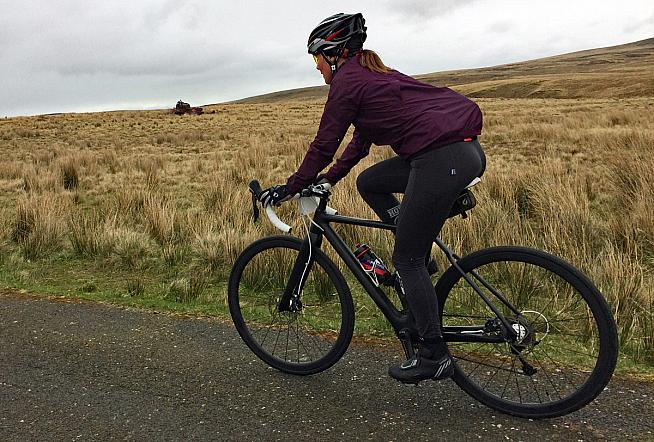 After a somewhat hairy descent, including one memorable set of sharp bends where the road was generously sprinkled in gravel, we made it safely off the first section of moors and down to the relative civilisation of an A-road. It was actually quite odd being back riding with traffic again after the complete tranquillity of the moorland roads.
We're going to gloss over the irony of the biggest danger on the main road being a set of riders from a local road cycling club, whose idea of a safe passing distance was somewhat less than mine was. Still, if you're going to blast past fellow riders at full speed at a distance of 6", it's always worth doing it in fully branded cycling kit displaying the name of your club isn't it. At least it helped us figure out who to direct our ire towards at the next feed station.
I'm not sure at what point the rain started. It was certainly dry at the first feed station. But somewhere on the moors afterwards a few spots of rain started falling, which then turned into light drizzle, and then into heavy drizzle and eventually turned into constant quite heavy rain.
Having had a month of decent dry weather in the run up to the event I'd brilliantly decided to take our "winter-only" mudguards off. It looked as though the weather predicted to arrive the following day hadn't read the instructions carefully (or perhaps its GPX file was slightly off)... what should have been a "slight chance of an afternoon shower" turned into full-on downpour for three hours with temperatures of around 4 degrees.
In a lot of ways, we were the lucky ones. We were wearing basically full winter kit (even to the extent of a merino wool skull cap) and so to some degree were sheltered from the worst of the cold and wet. Some more hardcore/brave/foolhardy riders were spotted at the start in shorts and short sleeve jerseys. Even for hardy Geordies, 4 degrees and pouring rain is pushing your luck to be in shorts and I suspect there were quite a few thinking "with hindsight, I really wish..." when they looked at the rain bouncing off the road and straight into their summer shoes.
The organisers did their best to keep spirits up with the most cheerful marshals in the world - quite how they were smiling and giving encouragement when they must have been turning to lumps of ice is beyond me. They'd also plotted a route which seemed to incorporate every lump and bump in Northumberland. The climbs were great, as they were steep enough to generate some body heat, but the descents (unusually) were less welcome. Even with hydraulic disks to keep the speed in check, frozen fingers and roads running with water made braking more of a chore than it normally is.
Eventually we dropped off the moors and started to head back towards the market town of Rothbury. From our local knowledge, I knew that there was a junction coming up where I could cut off the official route and head back to the start to pick up our van and then collect my wife, who by this stage was pretty much in tears as she was so cold and fed up. To her credit, despite being nearly hypothermic she wanted to keep going, so we followed a small band of fellow participants and traversed the back lanes to the sanctuary of Rothbury.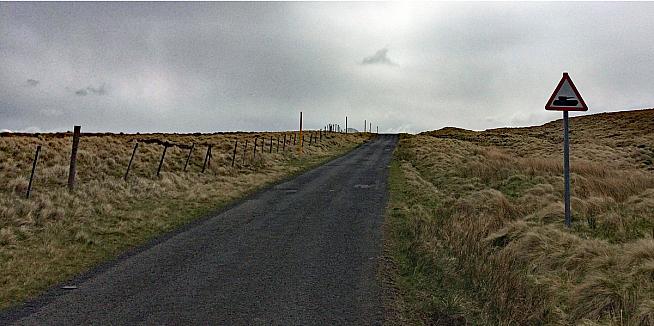 As I got closer to Rothbury, most of me was desperate to get out of the rain and head into the warmth of Tomlinsons Café, well known purveyors of fine cakes (and more importantly, log burning stoves and comfy sofas). I also realised though, that if I got off my bike and took some of my wet kit off, there was no way in hell I was going to get back on my bike again. And seeing as the finish (and more importantly, our parked van) was still 10km away, I decided instead to carry on to the end.
I made a deal with my now nearly catatonic wife that she would stop at the café and get something to eat and warm up a bit, while I rode as hard as my frozen legs would carry me back to the finish, where I would get the van and come back and collect her.
Initially the thought of only being 10km from the finish was strong enough to persuade my frozen brain and legs to function properly. I was so desperate to get warm that I screamed up the first little climb from the cafe and then failed to grasp the fact that the road actually turned sharp left, whereas I shot straight on, technically the wrong way down a short section of one-way street. Still, if no one saw, it didn't happen, right?
The route back to the finish was, of course, longer than I thought (by nearly 3km, if my GPS is right) and was also quite a bit lumpier than I'd remembered too. I could feel the "man with the hammer" sneaking up on me quite rapidly. I can always tell that I'm about to bonk when I get flickery vision at the side of my eyes - not a pleasant feeling, but a useful warning that things are not well. I stopped at the roadside and shovelled in some sugary calories, carefully stored in my back pocket for such occasions.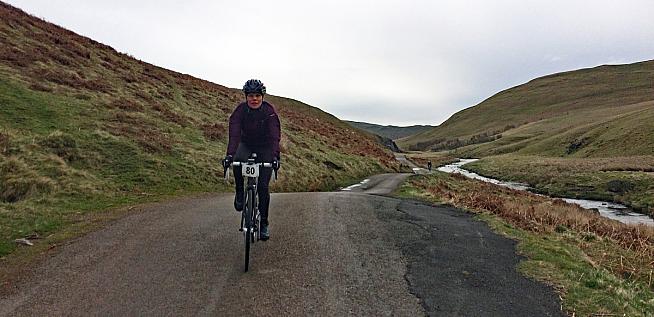 As I neared the top of the last climb I spotted a rider in front of me. Despite being frozen, starving and pretty much knackered, I gave chase. But to no avail. He obviously realised he was about to caught and sped up just enough to keep away from me. I caught him on the descent, mainly because the spray coming off the wet roads meant he was riding a bit more cautiously on his rim brakes and carbon wheels, whereas I could slow down somewhat better (despite my frozen fingers) on my disc brakes. As we turned right onto the drive back up to HQ I pulled alongside and complimented him on his hardness for wearing shorts and a lightweight windproof jacket.
"The forecast said it wasn't supposed to rain until much later this afternoon" he whimpered "so I thought I'd be OK in shorts." Based on his nondescript accent and the blue colour of his skin, I guessed he wasn't a hardy local and had just played (and lost) the Spring weather roulette.
As we crunched over the now wet and slippery limestone rock back to the plush surroundings of Clennell Hall Country House, my Garmin read 109.4kms and 1778m of climbing. I was too tired and cold to even try and make it up to 110km with a few laps of the car park, so abandoned my bike and leapt into the van to get out of my wet kit.
Dry and considerably warmer, I headed into the Hall to sign-in and to pick up a goody bag that the organisers had laid on. Everyone got a t-shirt (which miraculously fitted perfectly) and a bottle of specially commissioned beer, plus a handful of sugary snacks if you wanted them, which was very impressive.
The inside of the Hall (and the car park too, come to think of it) looked a bit like a war zone. Bikes were piled up outside the door and a lot of very cold, wet riders were hiding, trying to get some warmth back into themselves. Amazingly the marshals and organisers were still cheery and helpful - admirable, when they'd been probably been standing in the rain for hours and hours.
As I drove out of the car park to retrace my route back to the café to collect my wife, she whizzed past me on her bike heading for the finish under her own steam. Obviously, I'd underestimated the combination of cake, hot chocolate and willpower - she made it to the finish in one piece, having completed the full route.
As we drove home we saw a steady trickle of riders heading back along the short cut that I'd considered taking a few hours previously. By the look of it, the tough course and the challenging weather had just proved a bit too much for quite a lot of the field.
Now that I've had a few days to reflect on it, I did enjoy the event, but it was a "Type 2" kind of fun, where you enjoy it with hindsight rather than at the time. The chance to ride roads normally closed to the public and the great scenery certainly helped make the event memorable.
I'm not sure whether, having survived it once, I could be tempted back to the MOD Rocker next year. But for those blessed with northern souls, I'd say come and have a go - if you think your waterproofs are hardy enough...
Entries for the 2019 MOD Rocker Sportif are now open: www.themodrocker.cc.
0 Comments