Professional cycling is the most accessible of sports. There are very few others that allow everyone the chance of getting close to the action, and their heroes, for little or no money, but cycling fans are blessed (or cursed) with the chance to ride the same roads the pros do, albeit often at a considerably slower, more 'leisurely' pace. If that weren't enough, pro cyclists often seem to feel that they owe their fans and supporters some imaginary debt of gratitude, and fill their lives with personal appearances and endorsements, often well into their retirement.
Of course, some pros and ex-pros are more accessible than others, but arguably none are more accessible, approachable and downright awesome than Jens Voigt. Even since retiring after a successful tilt at the Hour Record, Jens still has a packed social calendar with gran fondos all over the world throughout the year. Why, then, does he come back to the UK to ride 50 miles with a comparative handful of riders in the New Forest every September?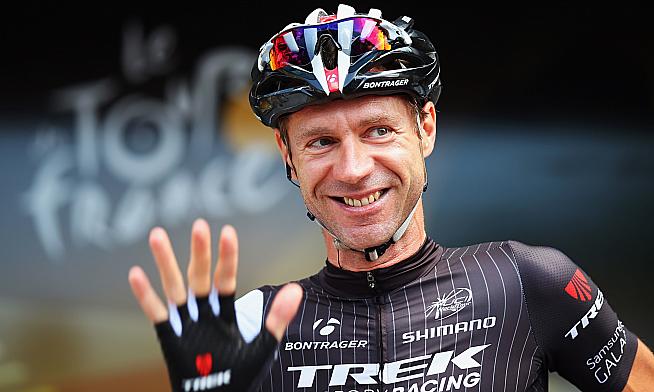 The answer lies in that accessibility - the pros share their arena with thousands of 'regular' cyclists, and many of us have an anecdote about bumping into somebody like Wiggo or Cav on the Sunday club run. Stuart Grace, the founder and organiser of the Jensie "Shut Up Legs" New Forest Ride, had such an encounter while riding the Duo Normand back in the late 1990s.
"He (Jens Voigt) was riding the event with Chris Boardman," Stuart recalls. "While I was out warming up I saw a rider by the side of the road looking at his bike. Although I knew nothing about bikes I thought it only polite to ask if I could help; with Jens dressed in Crédit Agricole kit and wearing a dark visor I had no idea who he was...until I noticed his name on the top tube!
"Because I was riding a fixed TT bike he asked about it and we seemed to get on. A few moments passed and Chris came along and questioned did I know how hilly the event was."
At the time Boardman was preparing for the Athlete's Hour Record, so Stuart kept a respectful lid on the backchat. But he did make a point of trying to contact Jens:
"On my return to the UK, and way before mobile phones, I sent a fax to Crédit Agricole in France to say I had met Jens and would like to forward a letter to him. Well, after the letter and Jens moving from France to re-join Stephanie in Germany and a new contract with CSC he found the letter and emailed me, and from then we became good friends."
Despite Voigt's busy schedule as a top-level professional cyclist, they did find time to meet on occasion. As Stuart recalls:
"We did go to London when the Prologue was there for the Tour de France. Fabian Cancellara won that day and Jens made a fuss of my daughter, Amy on the day.
"Also when a stage of the Tour finished in London a few years ago we met again and while waiting, Amy spoke to a lady and said she was there to see her friend Jens Voigt. The lady looked at her and thought you'll be lucky; a few minutes later he came over with a Sky Sports TV crew and did an interview with myself and Amy talking about our Shut Up Legs ride and Amy's condition. After the interview he returned with two Trek water bottles and his red numbers from stage 2."
Stuart founded the Shut Up Legs charity ride to raise money for epilepsy after his daughter Amy was diagnosed with the condition. The main focus of the ride is still to raise awareness and funds to support Amy Grace and others with epilepsy, but other charities are championed and supported by the event.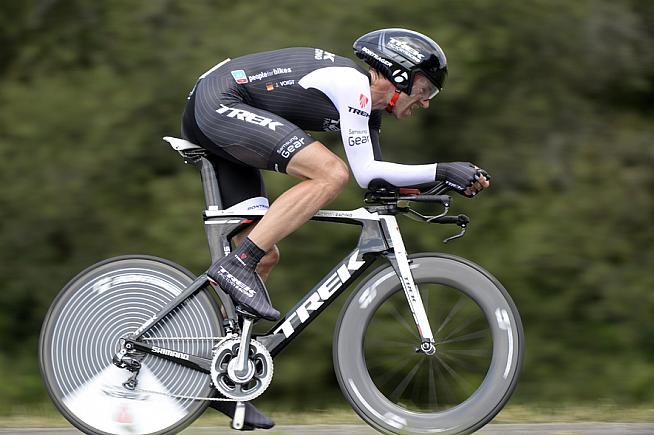 I was fortunate enough this year to have wangled an invitation via Darren Kenny (whom I met by chance last autumn on a sportive), although I didn't feel very privileged to be rising at 5am on a very rainy Saturday to face a four-hour ride being hydrated via osmosis. I'd only just dried my kit out after the Wiggle Fire Breather, and I'm pretty sure my shoes are growing a new kind of algae.
The HQ for the ride was Hoburne Bashley Holiday Park in Sway, and before the off we all gathered in the main hall and helped ourselves to copious amounts of strong coffee.
Stuart arrived and began proceedings by explaining why he does what he does and introducing other sponsors involved in the day. He seems to be a serial collector, and has a cornucopia of collectible items that he auctions off to raise extra cash. In addition to this, there was a Generation Game-sized pile of goodies for the day's 'free' raffle, to be drawn at the end of the ride. After a brief explanation of the format, Stuart introduced Jens and we saddled up to start the day.
We were divided into groups that would leave at three-minute intervals. Jens and Stuart would start with the first group and fall back to the next group on the road after shooting the breeze with all riders in turn. The system worked well. Jens, despite being retired, still keeps sickeningly fit as many ex-pros do - and he was happy to chat about anything with anyone, even though English is not his first language.
The course we rode was great, a good combination of moderate hills and snaking descents. I love cycling in the New Forest and knew many of the roads we squelched through. The rain was relentless, however, dampening most things apart from the enthusiasm. Some riders were so saturated that the sponge in their chamois produced a foam on each pedal stroke, albeit one that even Heston Blumenthal might think twice about flavouring a dish with.
I was grateful for the support and coaching of the other riders in my group (all painfully more proficient than me), and with their help, my Strava record of the day is dripping in gold PRs.
Back at the ranch, we changed out of our sopping kit and awaited the return of Jens for a Q&A session. There was more coffee and more cake, and more pleas from Stuart to take away items from his collection for the sake of his marriage. After a shower and a freshen up, Jens took centre stage and, by way of an introduction (or reintroduction) began to talk about why he's doing what he's doing. He spoke eloquently about the love and pride he has for his six children, the mixed emotions about their lack of desire to follow him into the world of pro cycling, and the effect of having his mother-in-law living with him.
Jens reiterated that his work and his fundraising rides are fuelled by his desire to give back to cycling what it gave to him - a long, happy and mostly successful career. He constantly referred back to what drives him - the desire to be a better person, to share his thoughts and his stories and to improve lives. He was enduringly self-effacing, smutty, hilarious, forthright and opinionated about his career, his personal and professional life, and the state of professional cycling today.
After an intriguing talk, Jens opened the floor to any questions. There were many, and he answered on a range of subjects including where he enjoys riding the most (South Africa), who his cycling hero is ("me, of course - and Sean Kelly"), life in pre-unification East Germany (and the historical arguments that sometimes occur when a married to a West Berliner) and whether there should be changes in the pro peloton with regard to team sizes (no) or technical innovations (maybe). Not all of his anecdotes are repeatable, but I don't think anyone present will forget the story he told about Tom Boonen and the King of Belgium.
To be fair, the after ride talk must've been more exhausting for Jens than the ride itself, but he carried on until we were all satisfied. After thanking everyone for coming he was still more than happy to pose with steaming, grime-encrusted riders for pictures and to sign autographs.
Everyone left feeling like they had actually ridden with Jens, chatted with him, had a laugh with him - it would almost be rude to not want to come back and ride with him again next year. I certainly shall. He hinted that he might be able to coax another recently retired Trek rider to come along (cough, Fabian, cough) or even his cycling hero, Mr Kelly.
Fantastic as that may be, I don't think it would be necessary. Jens seems to expand his charisma to fill any void and the day wasn't lacking in enjoyment or personality. His sincerity and warmth is genuine, and is a testament to the tireless work that he and Stuart Grace do for their friends, family and many other good causes.
The Shut Up Legs ride is no gimmicky way to relive a career fading into the recent past - rather it's a natural progression, a way of harnessing the spirit of camaraderie that many cyclists feel, and magnifying its benefits to others.
1 Comments