"Send a photo to my wife. That'll cheer her up."
I'm pointing a cameraphone at my new team mate Dan, who's just pulled into the pit lane at Brands Hatch with his left side streaked in mud. Too much speed coming into the Paddock Hill bend - that, and Rubino tyre fail on the rain-slicked surface of the iconic motor racing circuit nestled in the Kent hills.
Luckily there's no damage to man or machine. Dan has somehow managed to get back on his bike and complete the lap in 7 minutes 11 seconds - a very respectable time on a bike, even if you haven't stopped en route to taste the gravel.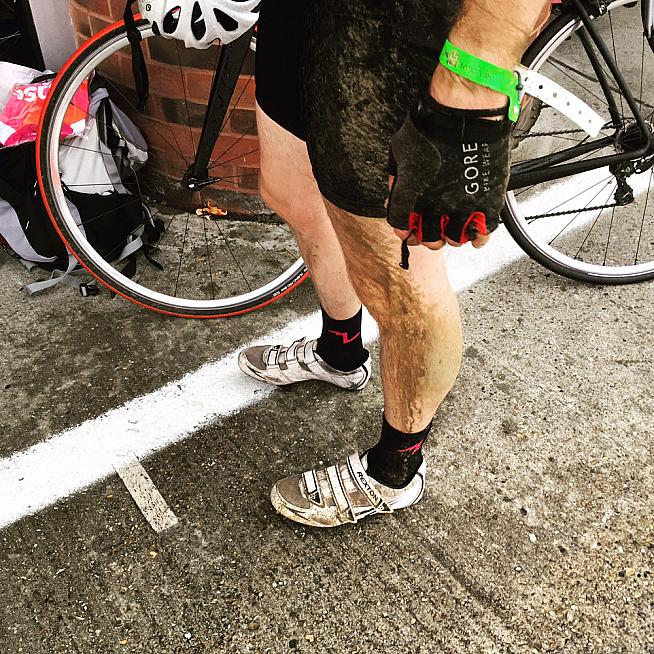 While Dan's hardman credentials are being established our next rider, James, is already zipping around the course on his first session of four laps under grey skies.
It's 5:09pm. There's still 22 hours of racing to go. Welcome to Revolve24 - where the clock, and the action, never stops.
Revolve24, if you haven't heard of it yet, is now in its second year. As the name suggests, it's a 24-hour bike race hosted at Brands Hatch race circuit. Solo riders compete against relay teams of 2, 4, 6 or 8 riders to cover the most laps in the time limit, sharing the track with racers in 12- and 6-hour events along with a British Cycling omnium race.
Revolve24 is open to riders of all abilities, from elite athletes - step forward Olympic champion Jason Kenny - to enthusiastic amateurs out for a spot of gentle pootling around the track, which is where Team Sportive.com fits in.
Or at least, so I thought. After a few laps from each rider on the team, it turns out a few of them are putting down impressive times. Out of over 100 teams we're riding high in the top 20. Maybe I should have taken my training a bit more seriously...
Ultimately though, it's a fun event as well as a competition. And, looking back at a fantastic weekend, I can safely say Revolve24 is as much fun as it's possible to have while spending 24 hours in a garage with two dozen sweaty strangers and an unlimited supply of chamois cream.
Here's how the time flew by...
Saturday, 13:45... I arrive at Brands Hatch in the nick of time, having ridden from Swanley station with a rucksack and dynamo hub wheel on my back. Find our garage, out of breath and sweating to greet the team - not a strong look for the supposed ringleader of this operation.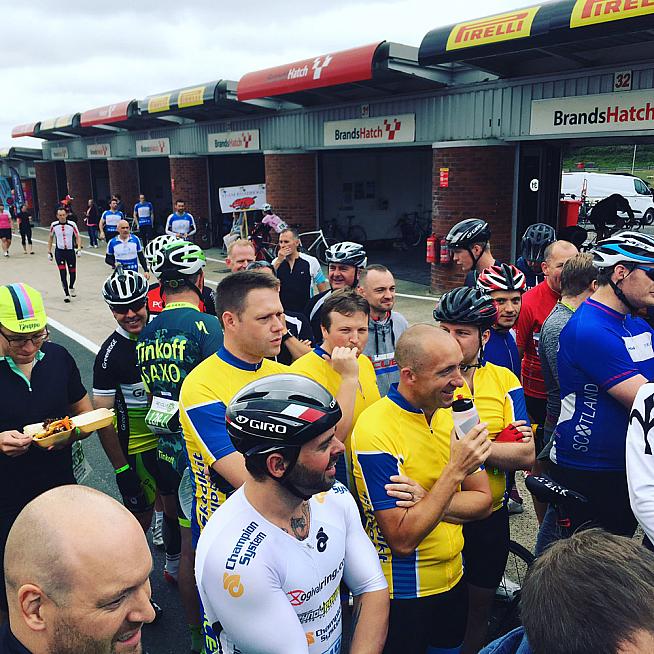 14:30... Race orientation takes place at something called the Scrutineers Garage, which turns out to be located at the end of the pit lane. A throng of racers crowd around event organiser Huw Bunn.
Huw and a race commissaire lay down some light-hearted ground rules - there's a 25kph speed limit in the pits, I can't remember the rest - as the sunshine gives way to rolls of dank cloud overhead.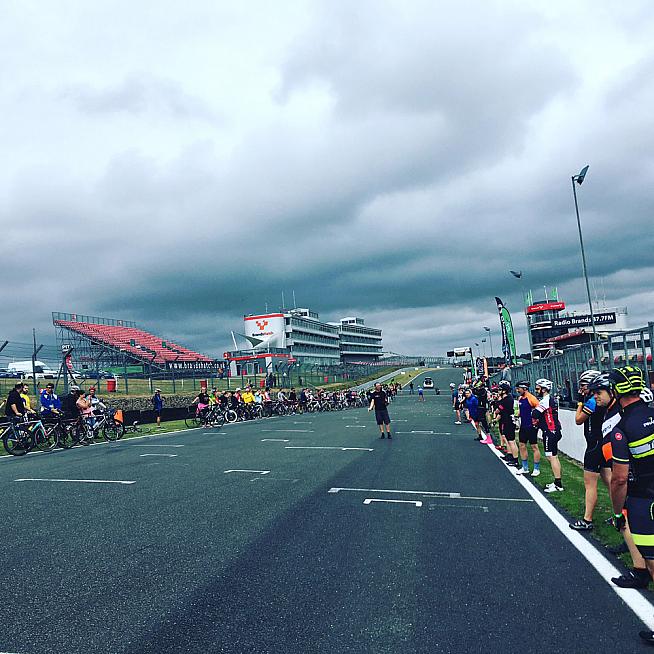 14:50... Riders assemble on the start grid. The race starts with a Le Mans-style sprint on foot across the track to a waiting team mate holding your bike. Pez is doing the honours for me. Looking across the track I'm reassured to see his mind is fully on the job, as he nonchalantly browses his phone while I entertain visions of tripping over my cleats and landing on my face before a pedal is turned. I turn to exchange words with the rider to my right, then catch sight of the name on his race bib. Jason Ken... Hello! How is he feeling? Nervous, apparently. This makes me feel better.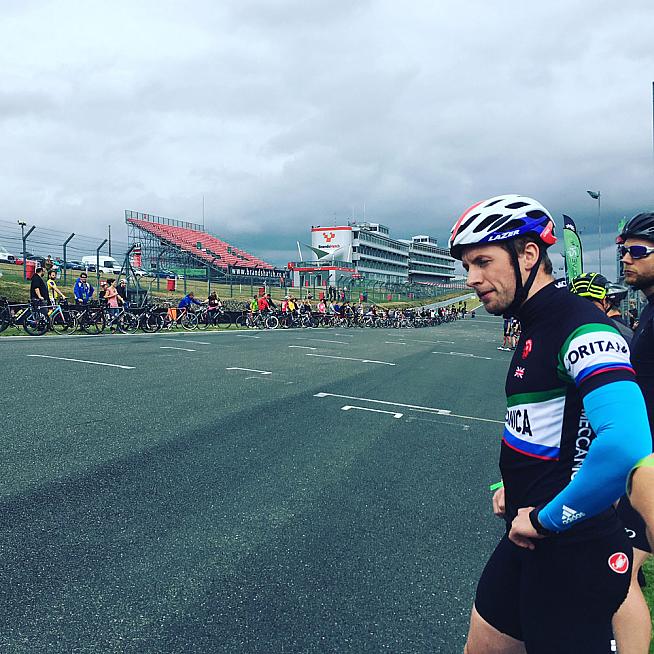 15:00... PAAAARRRRP - and we're off! I manage to mount the bike without disgrace, and Pez shoves me off into the throng. I arrived too late for a test lap, so I'm riding the course for the first time. No point in holding anything back, we're only doing 4-lap turns! I spin as fast as I can up the straight and suddenly I'm arcing around the sharp right of Paddock Hill and plunging downhill. But already there's a wall in front of me: Hailwoods Hill, with a max gradient of 9%, is the setting for the KOM challenge. It whips the speed from my wheels in an instant and I'm quickly up out of the saddle for a big-ring grind up the final metres, before the famous turn at Druids Bend.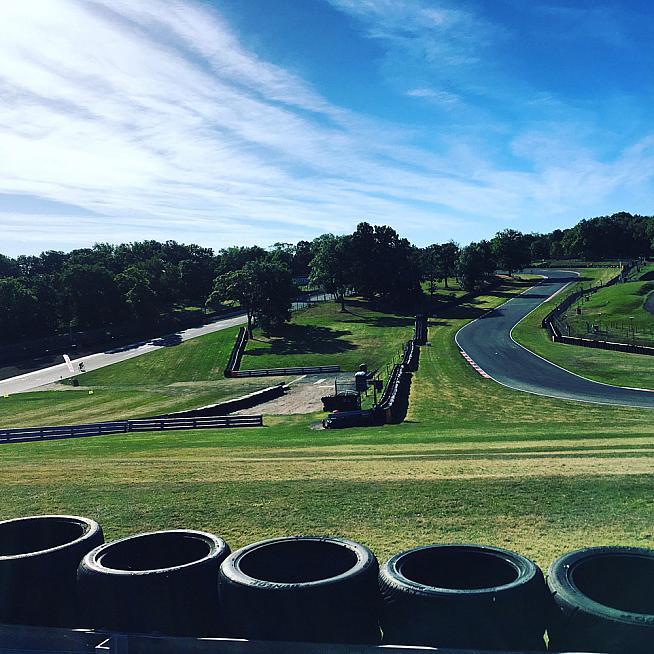 Alistair and James have warned me from their reconnaissance that the 3.8km course is heavily front-loaded, and they're right: after a brief descent and a wide left turn there's a false flat running parallel to the back of the pit garages - Cooper's straight - followed by another sharp lefthand climb up Surtees. Here I get my first few seconds' respite on relative flat, before another long incline that sees my speedo drop to the low 20s (km not miles; I know, letdown).
Just as I'm wondering where the easy part is, the final third of the course flattens out and then drops into the home straight. I speed past the turn-off to the pit lane and crouch into the drops, crossing the finish line flat-out - and then easing off again, as Paddock Hill rears up ahead once more.
Lap 1 complete. Just one hundred and sixty? seventy? eighty? to go...
17:09... Dan has just come in from his first shift and is checking his bike for crash damage while we stand around taking photos for his wife.
It's raining now, and lights are starting to come on, both in the media centre overlooking the course and on racers' bikes.
The garages up and down the pit lane are bustling with riders. Across the garage are our deadly rivals, team road.cc/Aldi. We studiously ignore each other - until Alistair breaks out some premium snacks he's brought along from...Waitrose. The tension in the garage is suddenly palpable.
On our side of the garage, we're cohabiting with another relay team in Breast Cancer Care jerseys, and with a solo rider: a chap of middling age whose daughter is performing a supporting role from the pits. Every hour or so he pulls into the garage for a few seconds for a light scolding from his daughter and to drop off an empty bottle of mayonnaise, taking a fresh one from a box on his table. There won't be many people drafting him on that diet, we imagine - but hats off to anyone tackling this challenge as a solo rider. They must have rich interior lives.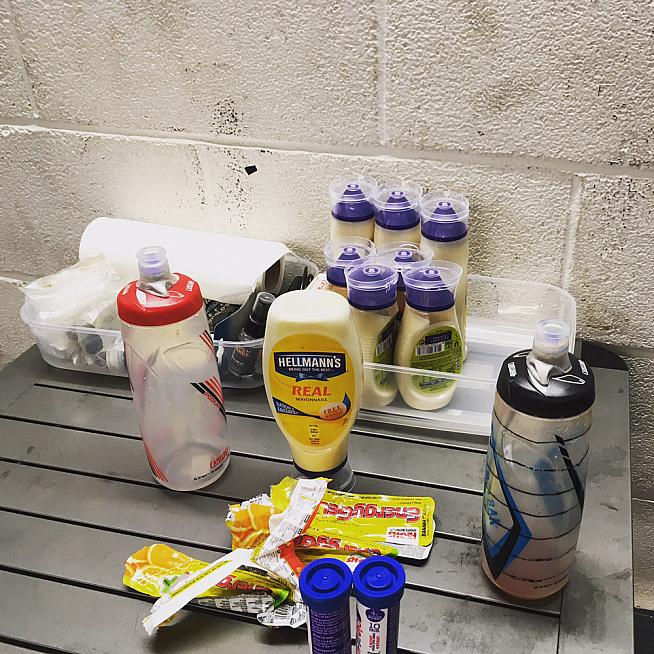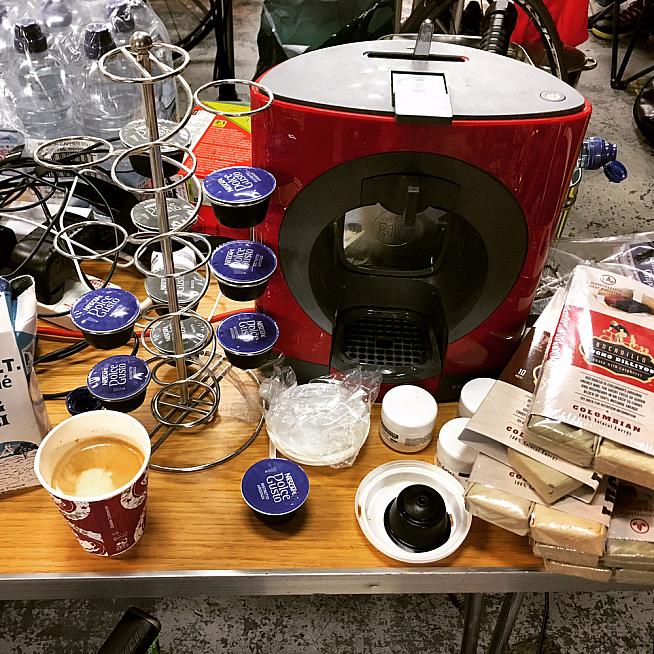 18:30... It's time for my second shift. By now all seven of us have had a turn, and we're getting a sense of our capabilities relative to the field and one another. Dan and James D have emerged as our strongest pair, hammering out 6-minute laps, closely followed by Alistair and Laura. James A, Pez and myself are losing us 1-2 minutes per lap, but it's all relative - in the grand scheme of things we're riding well up the leaderboard, and jostling for top position in the admittedly slim category of mixed teams of 8 - and there's only 7 of us, with Joe forced to pull out with injury a few days before.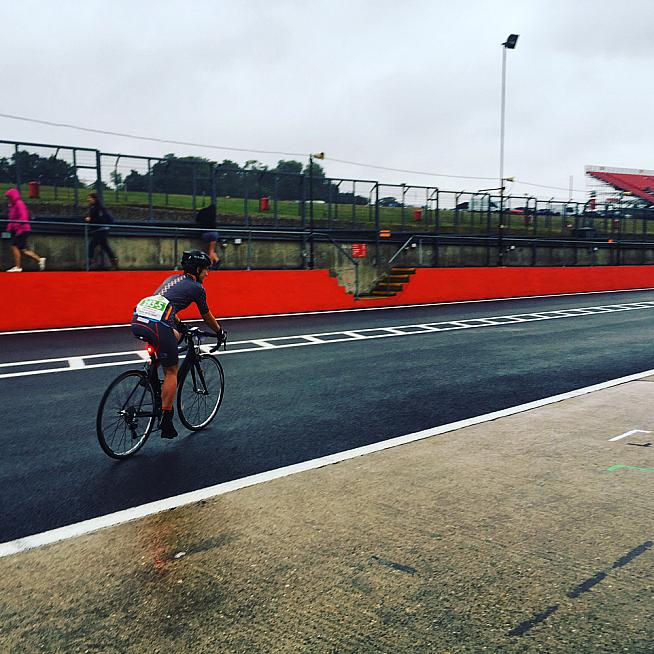 It's dark now, and I've swapped out my front wheel for the dynamo equipped one. I've mounted a Busch & Muller Edelux II headlight: the setup may cost me a few watts, but I'm keen to test the performance of the Son Delux hub and light.
I'm less than keen to set off into the drizzle, but my turn has come... Pez brakes to a halt outside the garage, rain streaming down his face. James grabs the 'baton' - a snap-on wristband - from Pez's arm and whacks it over mine, and I trundle off into the fading light.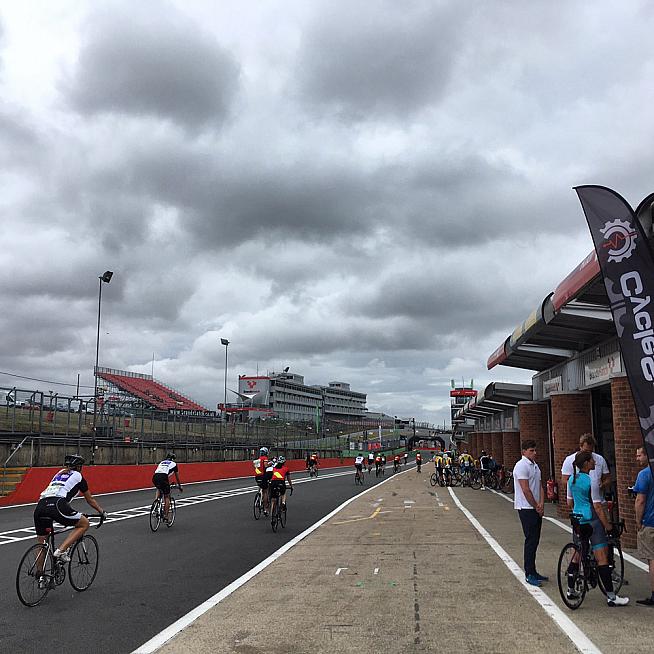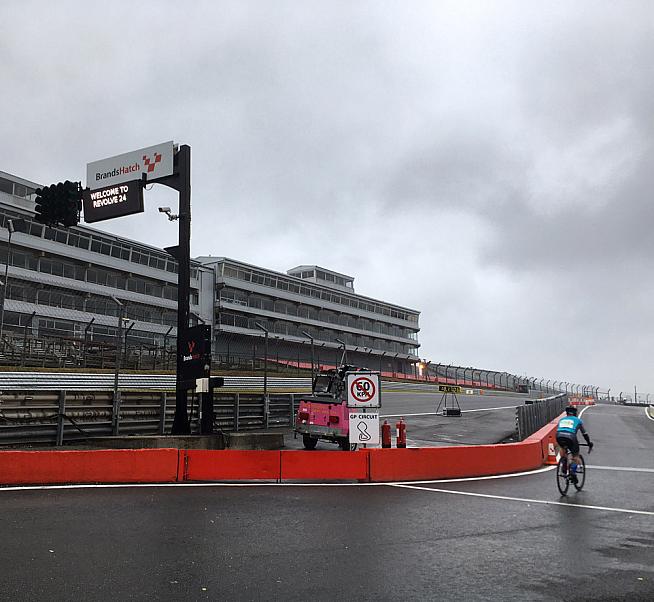 The second stint feels a lot harder than the first: my legs take a good half lap to warm up, but the back section of the course is now into a strong headwind. It's raining, and with all the dynamo faffing I've forgotten to put on my overshoes. I knock out the four laps in just over 30 minutes and pull into the pits again, damp and chilly.
20:01... Dinner time! Outside the garages a small food village has been set up. Cyclists with a taste for Cajun are particularly well catered for, but there's also Gustav's waffle van, and and a pizza stall. Credit is due to the vendors, who manned their posts for the entire event - all except the pizza man who, I overheard, "can't keep his oven burning all night." I'm not sure if that's an Italian euphemism or not, but the pizza stall is the only one that won't take cards so I never get to test his wares.
Back at the pits, where the garage doors along the north side have now been closed to keep the chill wind out, my athlete's supper - Cajun chicken, salad and sweet potato fries slathered in piri-piri sauce and garlic mayo - meets with thinly veiled disgust from my team mates:
"Looks like something you'd eat after the pub..."
Fair comment. But I'm not eating their quinoa.
Culinary differences aside, morale in the Sportive.com camp is high. We've settled into a well-oiled groove in our transitions on and off the track. Well, sort of. James A adds a delicious element of unpredictability to proceedings by randomly deciding on how many laps he'll do while out on the course. His free spirited approach - will it be three laps or four this time? - keeps us on tenterhooks in the garage. Finally a watch is set on the pit wall to alert the next rider whenever our maverick looks like veering into the pits.
"I lost count," he protests each time - and to be fair, the repetition of lap after lap, especially in the dark, exerts a weirdly soothing, entrancing effect on the mind. Especially in the dark, when it's just you and perhaps 50 or 60 other islands of light careering slowly, silently in circles like sentinels around the track.
Meanwhile, Dan and James D are spurring each other on to ever faster laps - if we had a team of them we'd easily be in the running for the overall prize - and have woken Alistair's competitive spirit. "If it wasn't for them I could just cruise it," he says mournfully - but instead he's pushing himself to match their times and break the 7 minute mark, which he duly does.
23:32... I've just finished my hour-long night shift. Our team strategy, devised over approximately 3 million emails and WhatsApp messages in the weeks running up to the event, is to rotate through 30-minute shifts (or 4 laps), with a one-hour/8-lap shift in the middle of the night to allow everyone time to get a bit of sleep.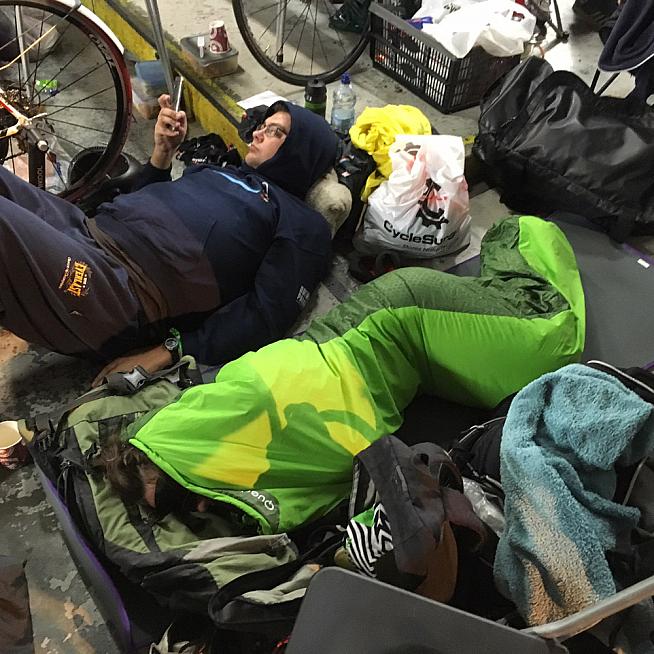 I tick off my 8 laps in an hour and 2 minutes, and get back to find Laura buried under sleeping bags and an eye mask on the garage floor. Dan is about to embark on a hunt for the showers to finally wash off his crash crud, and I offer to walk with him.
The showers turn out to be well hidden - we must trek at least two miles back and forth around the site until we finally find them, tucked away across the far side of Paddock Hill in a nondescript-looking hangar. I leave Dan to it, and walk back to our garage - only for him to reappear about 30 seconds after me. Typical Dan, takes the racing line through anything - even a shower.
00:00... I abandon my team mates and wander off with my sleeping bag to find somewhere to bunk down. What's this, a grimy cavity under the stairs in the media centre? Thank you and good night!
But the thundering of cleats up and down the metal stairs over my head all night means that anything more than a few minutes' rest is impossible. In hindsight, there's probably a reason no one else was sleeping under there.
On the plus side, I'm treated to rolling, TripAdvisor-esque commentary on my bed choice from heavy-footed passers-by. Reviews range from "Not a bad shout, that" to a less-than-impressed "Desperate times," and "There has to be a better way." Yep.
04:30... Emerge bleary-eyed from my crawl space to take on the 5:00am shift. In the garage the usually irrepressible James A is huddled under a sleeping bag in a camp chair, looking like a tired ghost. Laura's still asleep on her mat on the floor, sending out peaceful vibes that subliminally rejuvenate the team. Maybe.
Pez is out on the course, due in a few minutes, and the others have retreated to the relative comfort of their cars.
Here's Pez. Our handover lacks the urgency of the first couple of shifts, but the sky is taking on a lighter tint and there's a sense of dawn and fresh energy on the horizon. Not that you'd know it from my lap times...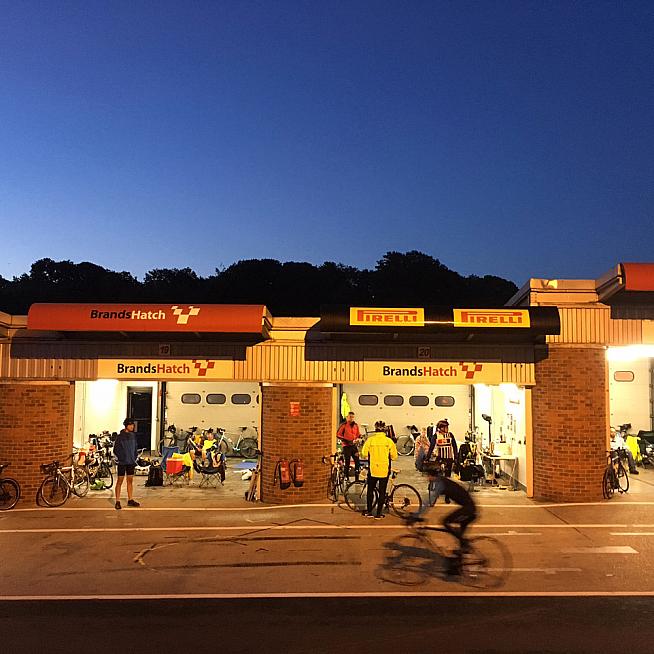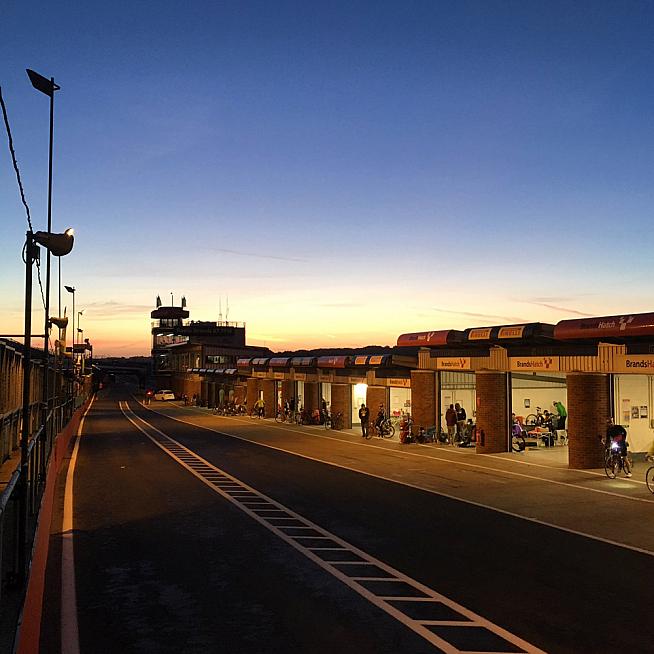 06:10... As James rolls in from yet another magical mystery tour of "guess how many laps", Alistair gets out his camera with a view to grabbing some photos of the imminent sunrise.
Alistair's camera deserves a special mention: it has a lens the size of Chris Hoy's left leg. I suspect it's merely a decoy to distract attention from his real camera, cunningly concealed in his front light (not allowed). He puts up a convincing show of pointing it at things and making "click" noises, but you can't fool me.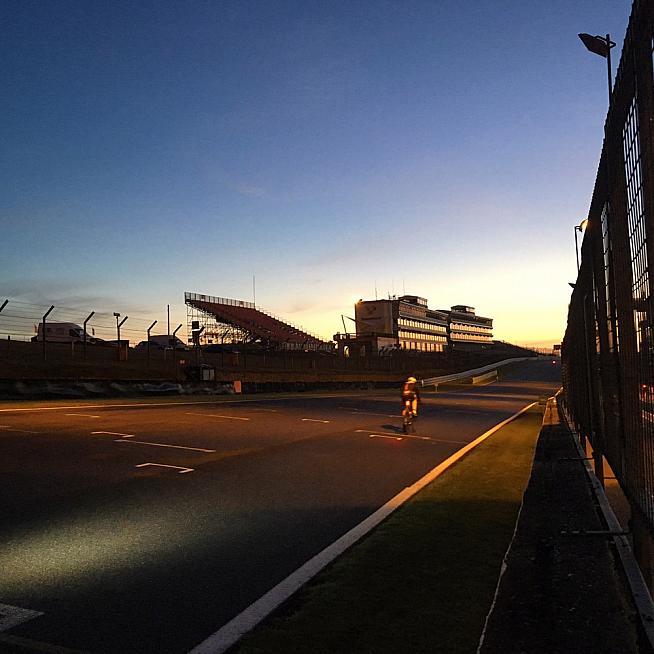 07:01... I've retreated to the media centre where there's free tea and biscuits, as well as excellent views over the start/finish line and screens showing the leaderboards overall and for the KOM challenge.
I note with interest that Jason Kenny has set down the third-fastest lap time, 5 minutes thirty-something; he's riding as part of a foursome with his dad, his uncle and Laura Trott's dad Adrian. We're a couple of laps down on them, but Team Sportive.com is still sitting pretty at the top of the mixed 8s table. It's hard to see us clawing our way higher in the overall standings though, unless we make James, Dan and Alistair do double shifts. I will suggest it, obviously...
Competitors in the 6-hour challenge that starts at 09:00am are starting to filter in for registration. Each one receives a warm welcome and some banter from the lady at the desk.
How do they keep going all night and still sound so cheery? It's all I can do to grunt at Pez when he pops up to say hi, a towel slung over his shoulder. I forget to tell him where the showers are - won't be seeing him for a couple of hours then...
08:30... My turn again - already? I almost miss it, thanks to the world's most leisurely waffle iron at Gustav's stall. A full twenty minutes passes by between placing my order and receiving my food, but it's worth the wait: a crisp, chunky waffle piled with bacon and egg. I leave half of it on a chair in the garage and set off on my laps, loving the sunshine and the fact I can see where I'm going again.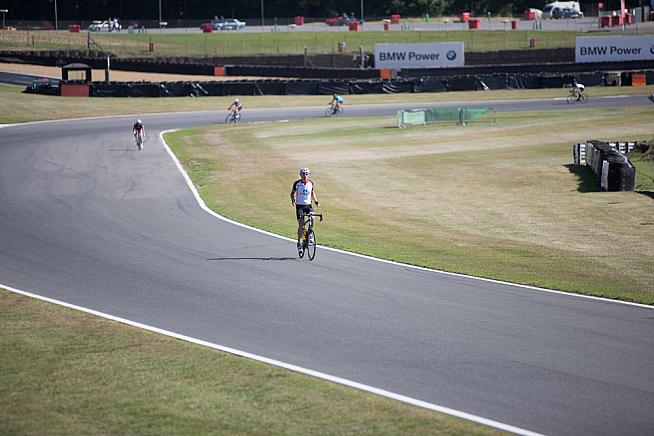 Sunshine's a game changer, and the day turns out to be a scorcher. I roll in from my turn nicely warmed up, and make a beeline for the showers. They turn out to be of the communal variety, and I end up showering across from a pinkly naked Scottish man chatting enthusiastically about our respective Jason Kenny sightings. You just never know how a weekend will turn out.
Feeling 100% more human after a wash, I'm walking back to the garage in bright sunlight when who should trundle past on an electric derny only the Farnworth Flame himself. We exchange grins. I would say we share a Moment, but Jason may disagree.
There's just time for a trip to the mechanic's garage before my final stint. Yesterday's rain has washed all the lube from my drivetrain, leaving it squealing like a litter of newborn kittens. I'm only after a dab of fresh lube, but in a flash the mechanic has my bike up on a stand, snipped off and replaced the front brake cable, and retuned my rear derailleur. Service!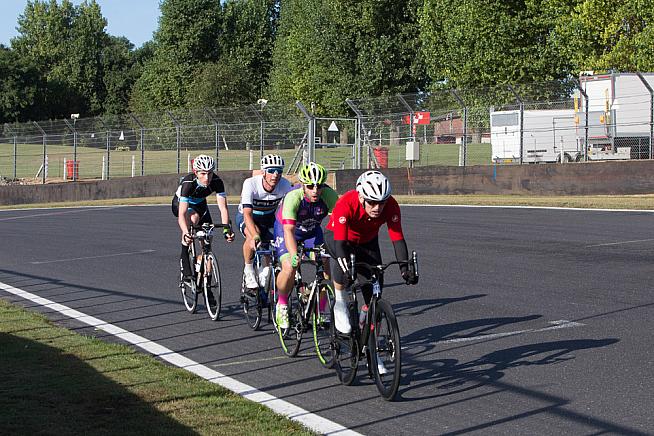 12:00... High noon, and it's time for my seventh and final spin on the track. I sprint off under blue skies, keen to go out in style. But there's not much left in the tank, and I clock up a fairly standard succession of 7-minute-something times. At least my freshly oiled bike is purring.
Brands Hatch is looking glorious though, and outside the garages riders are sprawled on the tarmac soaking up the sunshine. Our mayonnaise-powered soloist is still going strong - how? why? - and so is his daughter, who surely deserves some sort of award in her own right.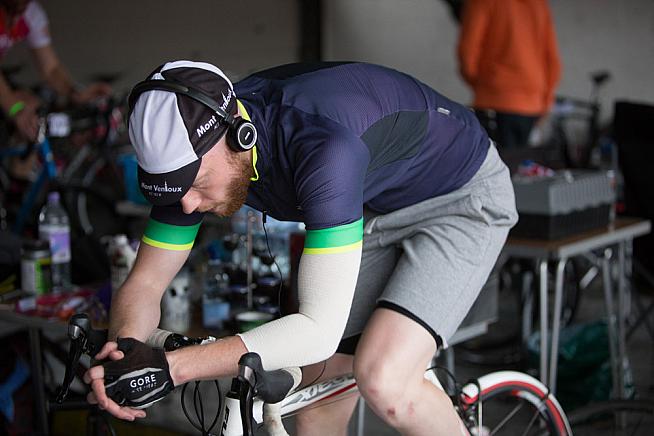 Speaking of sunshine, Kate and Amber from Breast Cancer Care drop in for a visit. They've been doing the rounds of their charity riders, and their cheer is infectious - it's only later I discover they've been taking performance-enhancing naps at a nearby hotel.
But, like those diehard Lance fans who continue to support the tricky Texan despite his manifest chicanery, I'm willing to forgive the BCC crew their sleep-doping. If any readers feel moved to make a small donation to the excellent work of Breast Cancer Care you can visit our JustGiving page here - anything at all will be hugely appreciated.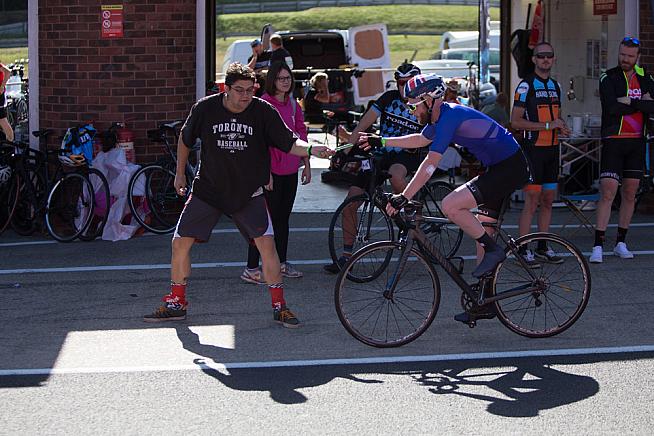 13:00... With my work on the track done, the next few hours pass quickly - I go for a wander, and find the gate to one of the grandstands open. The view from the top over Druids is excellent, but in my sleep-deprived state I'm concerned I might topple over the edge and be found snoring at the bottom of a cyclist-shaped crater in the car park.
Meanwhile back on the course, Dan and James D are putting in an extra lap each. Checking the live scoreboards on the app, we've locked down the mixed 8s but are still a few laps behind the team in 15th. Pressure off then, let's just enjoy the last hour? No! James D, Dan and Alistair are still goading each other on, while James A is bending the laws of science and somehow getting faster rather than slower with fatigue.
And Laura's only gone and put down the 6th fastest women's lap! Against a quality field packed with hardened racers and elite endurance riders, that is some going.
14:55... As the 3pm deadline approaches the chequered flag is waved and the sprint is on for riders out on track to complete their final lap in time. Crowds gather at the finish straight - and Pez makes it safely home for us with minutes to spare - before the countdown begins, and suddenly it's all over.
15:00... Race complete! How did we do... pretty well, in fact: we completed 186 laps, for a total distance of 727km (452 miles). It's good enough for 4th place in the Mixed Teams category, 16th position overall, and 1st in the Mixed 8s. Result!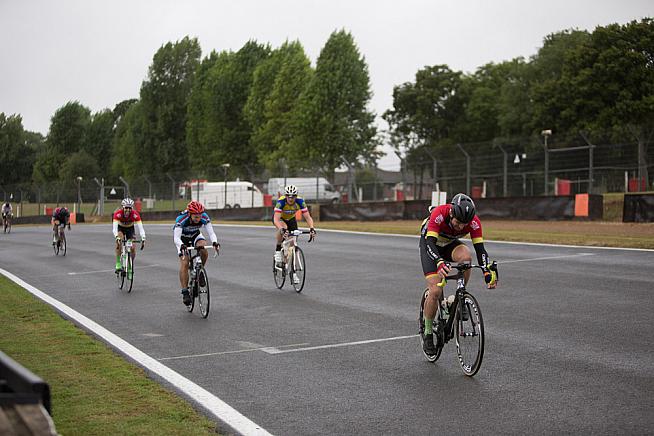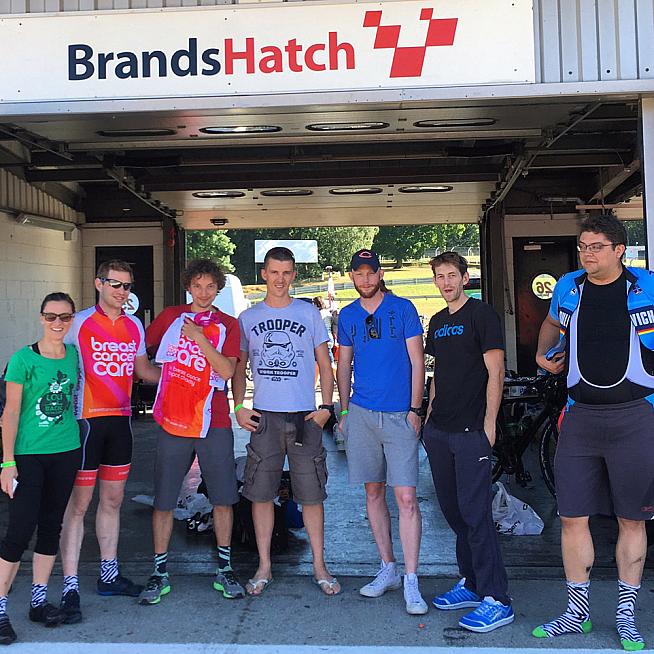 After collecting our souvenir mugs and a couple of team photos from Laura's soigneur (grazie, Ray), we join the rest of the competitors for the prize ceremony on the grass by the finish line. As the ceremony threatens to become a protracted, Oscars-style affair the rest of the team bails en masse, leaving me as de facto team captain to collect any prizes.
Guys, technically this is known as desertion and carries stiff penalties at sea. Still, if we'd won any prizes I would totally have shared them with you - unfortunately, what with the blazing sunshine and fatigue I fall asleep on the grass within seconds.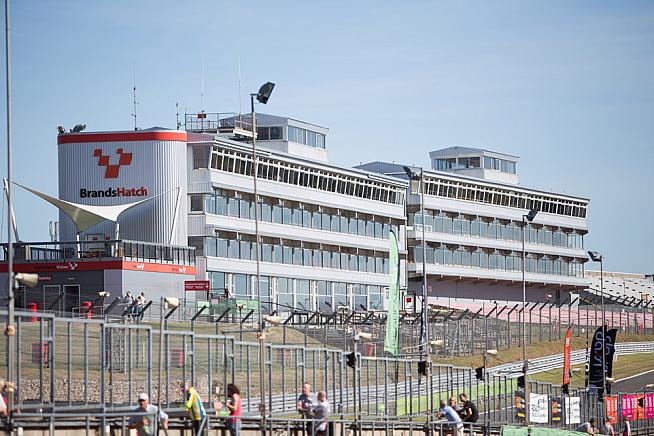 I awake some time later to find the awards ceremony has just finished, and endurance champ Jasmijn Muller literally stepping over me, laden down with champagne and trophies for everything from fastest lap to QOM and "snazziest sunglasses".
I suspect we didn't miss out on any prizes on account of my nap, but Huw and Vicki, if you're reading this, feel free to send any leftover bubbly to the Sportive.com office for disposal. More importantly though, huge thanks to both of you, and to everyone involved with Revolve24, for laying on a truly fantastic and unique weekend of cycling.
Thanks and high-fives as well to the Sportive.com Team - Alistair, Pez, Laura, the two Jameses, and Dan the man. Cracking effort, everyone gave their all, and an excellent weekend's racing.
You know it's been a good one when you start looking forward to next year the moment it finishes - and we'll definitely be back at Brands Hatch for Revolve24 in 2017.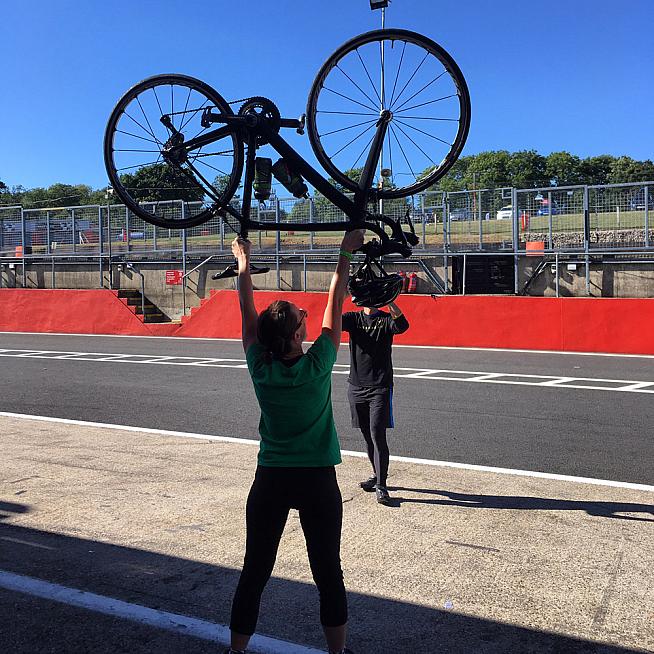 Thanks to Revolve24 organisers Huw and Vicki Bunn for inviting Team Sportive.com along to the races, and to Jo O'Connell at JellyRock PR for her help before the event.
We also have to give a big shout out to Stuart at Ashmei, Dalany at Assos, Lucho Dillitos for the tasty (legal) Colombian energy, and not least Primal Europe for the awesome socks that were the talk of Brands Hatch. If sales haven't doubled in the past week I'd be very surprised... Thanks as well to SJS Cycles, Amba and ZyroFisher for providing lights and wheels to test at the event and keeping us rolling through the night.
0 Comments