I grew up near the Welsh border, and having spent three years at Swansea University I jumped at the chance to revisit  Wales for this year's Velothon sportive.
I had never heard of the Velothon before, but once I had signed up and started talking to other cyclists I was met with mixed reactions. Last year there was a lot of anger from the local residents who live on the route because of the road closures meaning people were trapped in their houses for the duration of the day.
I also then started hearing horror stories about tacks being thrown on the road during last year's ride, and also that it was mainly aimed at people setting out on their first sportives meaning there can be quite a lot of crashes. However, upon chatting to others who had taken part, I heard about the scenic route and the electric atmosphere and I felt confident that it would be a good event.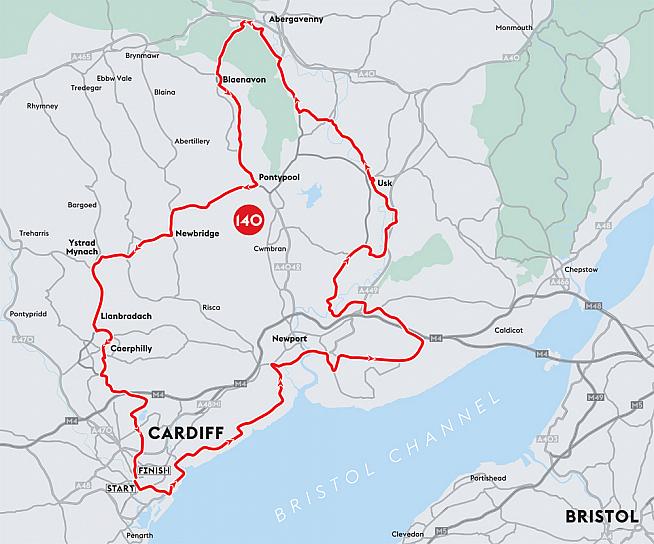 The bulletins and updates sent out by organisers in the lead-up to the Velothon were really informative, and there was a good amount of buzz created through social media and local press. The virtual fly through of the course was particularly cool.
Registration for the Velothon took place on the Friday and Saturday before the race on Sunday, which meant heading down to Cardiff the day before to collect our race packs. This was slightly frustrating, but in hindsight it made for a much more relaxed morning on the Sunday. It does mean making a full weekend of the sportive if you live outside of Wales, which no doubt is appreciated by local shops, restaurants and hoteliers.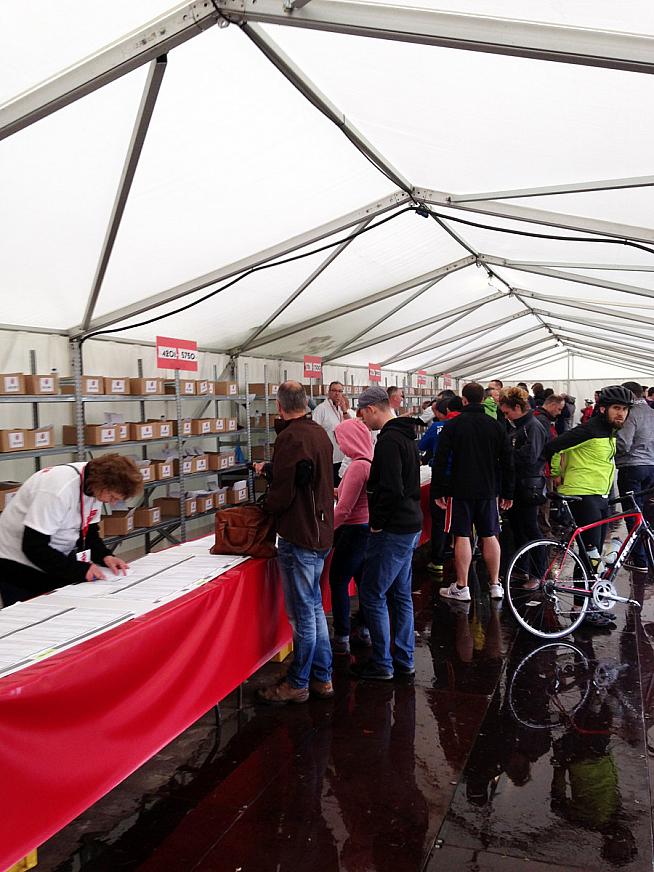 The expo was set up in the centre of Cardiff and was sponsored by various local companies and bicycle brands with tents selling product. They say it always rains in Wales and unfortunately this rang true on registration day. Everyone stood trying to shelter from the rain and tiptoeing over the waterlogged grass to collect their racing chips and numbers. Despite the nuisance of the weather, the organisers had everything in hand - people were in and out with their packs very efficiently.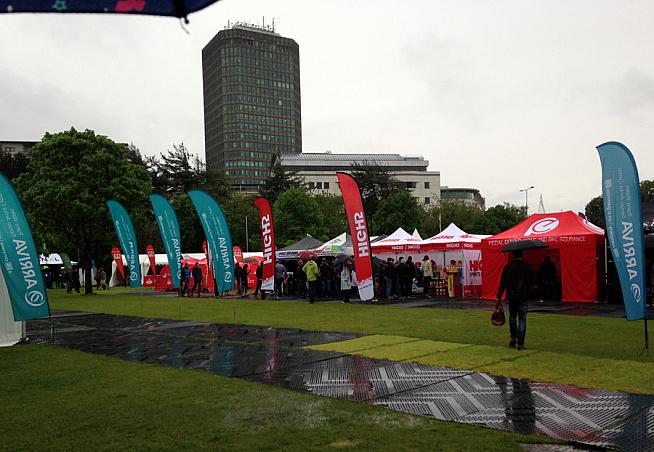 Everyone was assigned a start pen when they signed up, which was based on your predicted start time or, if you were in a team, there was a specific pen so you could ride with your team mates. I was riding with the Clapham Chasers, so we all rode down to our pen at the allocated time. Again, the organisers were really helpful in directing everyone and we set off exactly on time.
With 16,000 riders, I was expecting to be riding at a pretty slow pace for the first few miles but while the roads were heaving with cyclists, there was still enough space to weave in and out and pick up a good pace. About 20km in, the gaps between riders started to increase and we were able to get into some good group riding.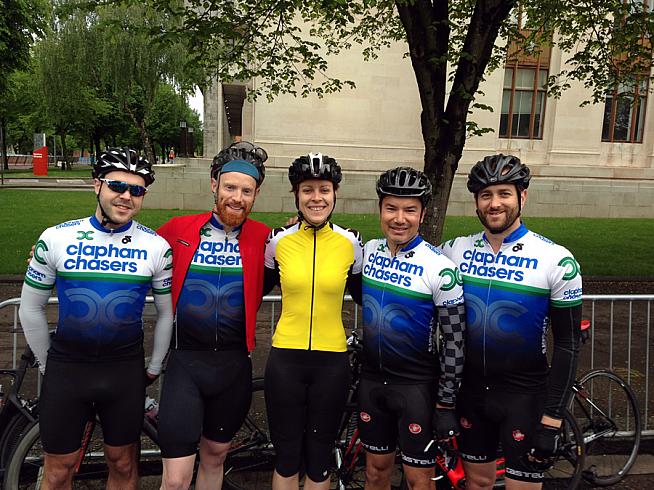 The support along the entire route was amazing. The people of Cardiff had really made a day out of cheering riders on from gazebos (sheltering from the rain) on the side of the roads, blowing whistles and ringing bells, and the encouragement was great to see. The amount of volunteers directing on the route was also very impressive and there was no point on the ride that the directions were not clearly marked.
The route map marked out 1,800m climbing, so by the time we were 75km into the ride and I hadn't really left the saddle, I started to feel a little bit concerned about what was to come. Soon after this I looked up and saw what looked like a wall in front of me, and it became apparent that this was the dreaded Tumble. Everyone dropped down into the smaller chainring and started grinding away up the narrow country lanes. With a stretch of 4km and an average gradient of 9%, the Tumble is certainly not to be sniffed at. As you leave the country lanes and the roads expand, you start seeing some really beautiful scenery all around you, but it's best to keep your eyes on the road to dodge the sheep running around!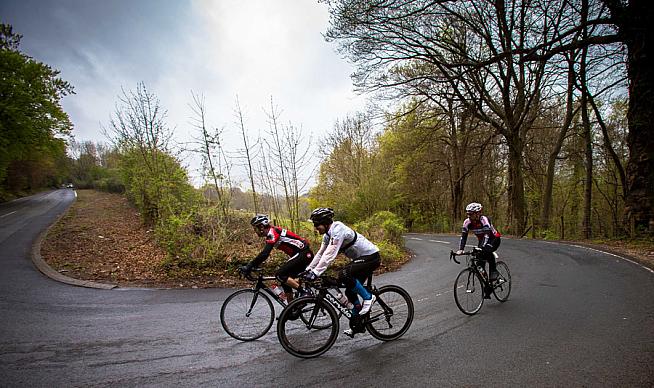 After enjoying the Welsh countryside for a while, the route then brings you back onto a (closed) A road for a good 10km. This didn't make for particularly enjoyable riding, but offered the chance to get a good chain gang going and really pick up some speed.
As we headed back around into Cardiff, I suddenly noticed the lady in front of me grab a gel out of her back pocket. I rode up to her and asked her if she knew something I didn't, which was met with a look of disbelief that I wasn't aware of Caerphilly mountain. This is a short, sharp 1.4km climb with a 10% average gradient and reaching 15% at points. I dropped down into my easiest gear and was immediately out of the saddle desperately trying to keep the pedals turning. The locals were all out on the road screaming and cheering everyone on which left me feeling like Lizzie Armitstead, aka a champion!
With Caerphilly mountain conquered, the last stretch was a speedy and lumpy 10km back to the city centre. We sprinted across the finish line and everyone was awarded with a Velothon medal. The sun finally decided to make an appearance, so we stood at the expo with a coffee enjoying a really great atmosphere.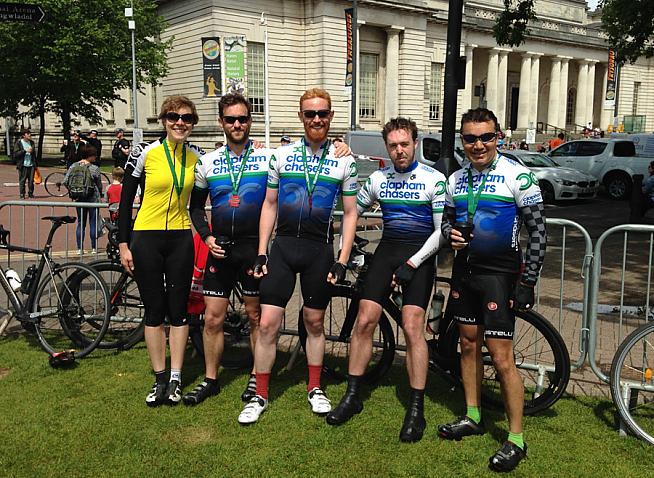 All in all, it was a really well organised event which left all of us Clapham Chasers feeling thoroughly exhausted, but like we'd had a very good day on the bike.
And my result? Four hours, 36 minutes and 54 seconds - finishing in 16th place out of 969 women.
I'll certainly be back next year!
Read Joe Saumarez Smith's ride report of the Velothon Wales 2016.
0 Comments