I really shouldn't be surprised when it is wet in Wales. Driving down the M4 on Saturday afternoon it rained pretty much constantly. But the BBC weather forecast for the Cardiff area on Sunday was good, at least until about 4pm. Some people never learn.
The Velothon Wales is one of the few closed road events of the British cycling year. A chance to ride 140km on roads unfettered by cars was why - for the second year in a row - I found myself standing next to Cardiff Castle at 6.50am and wondering whether I could beat my previous time of 4:41:58. There was glorious sunshine, the temperature was a perfect 10 degrees - not too hot, not too cold - and all around there was excited chattering and one pop, followed by a hiss as someone's inner tube collapsed after being asked to bear 120psi of pressure.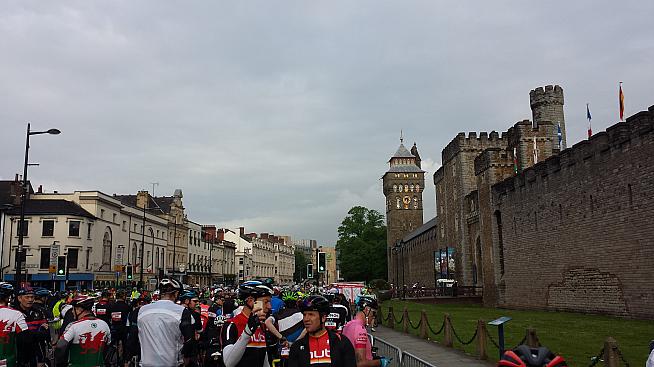 At somewhere around 7.10am (this was a rare cycling event where things appeared to actually happen on time) pen D was released and my ride companions, Jon and Will, and I crossed the line at 7.12am.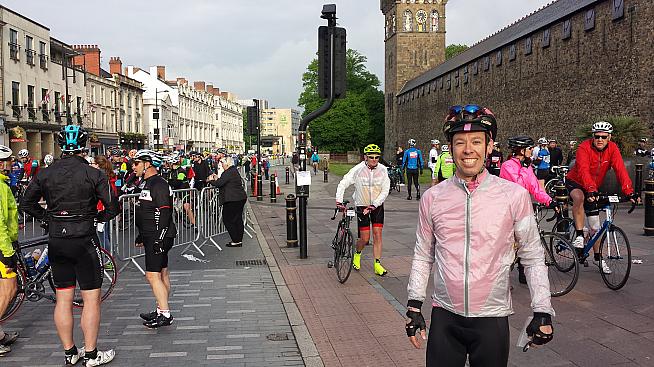 Anyone who has ridden the Velothon Wales always remarks on how fast the first 35km of the course are. Almost completely flat, it is hard not to go along at quite a speed. Within about three minutes it appeared we had lost Will and Jon and I found myself in a train of riders led by someone in a jersey from the Royal Engineers Old Boys Cycling Club. He was a solid unit and had plenty of power and he led us along for a good part of those first 35km at an average of just over 40km/h. We streamed past a large number of the C group starters and some of the Bs, and thanks to the ex-services man I didn't feel like I was using too much energy early on.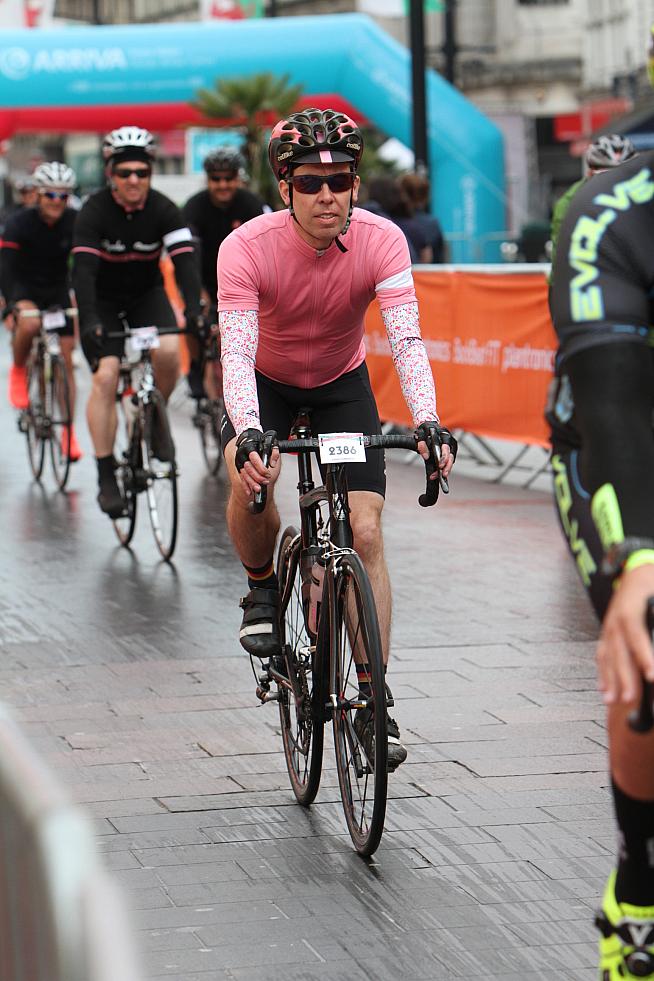 Somewhere between Caerleon and Usk the pace started to tell on some of us and the group started to fracture. I found myself riding on my own on and off, either managing to latch onto the back of a passing group for a few clicks or catching riders and working with them for a while. At Usk I decided not to stop at the feed station - which looked very empty - and keep going towards Abergavenny. I has forgotten from last year's Velothon how pretty the roads are around there, and although I didn't have that many people to ride with, there were plenty of fields to admire.
This section of the course always comes with the added downside of the impending climb of the Tumble. It's only 6km long at an average of 10% - a mere bagatelle by comparison with some Alpine climbs - but it's a fair test of any rider. My relative lack of winter training did leave me wondering how well I would cope with it.
About 3km outside Abergavenny the rain started, first a light Welsh mist and slowly it set in. At the base of the Tumble it was slightly harder than a drizzle. Sometimes it is quite nice to be cooled down on a climb, but I didn't particularly want to have a rain jacket on while climbing the toughest of the Velothon ascents. So, I persisted on, slowly pedalling my way to the top, once in a while overtaking others but most of the time being passed.
At the top there was a good crowd of spectators cheering riders on. Off the top there is the fast descent into Blaenavon and then the road to Pontypool, which is largely downhill all the way. There were plenty more spectators in Blaenavon to cheer us on, despite the fact that by now the rain was really tipping it down and getting on anyone's wheel meant suffering a full on facial spray. Somewhere along this road someone in a racy blue sports car decided to come charging past at speed (on the right hand side of the road), breaking the closed roads rules. A race organiser's motorbike also came past about two minutes later, so I suspect that he (or she) was being chased down and told off.
The run from Pontypool to Caerphilly is probably the toughest part of the route. It is largely uphill and in the rain it is not much fun. I had stupidly not stopped to put on my very thin rain jacket - although I suspect it would not have withstood the assault too well - and by now I was properly damp. Without a group to ride with I found it a long, hard slog, especially the uphill dual carriageway from Ystrad Mynach to Caerphilly, which also featured a headwind. Again, the cheering spectators at the roundabouts and bridges were most welcome and lifted spirits that might otherwise have been quite down.
Once you hit Caerphilly castle, you mentally know that you can complete the Velothon. The climb up what they call 'Caerphilly mountain' - basically a 1km grind with a maximum slope of 15% - was slow but manageable (a couple of riders were pushing at this point), especially because there are so many people encouraging you on and making sure that you would feel ashamed of stopping. At the top there is a huge sense of relief, knowing that there are only a couple of short, sharp uphill sections on the 10km run into Cardiff centre. On top of this, not only had it stopped raining but the sun had come out.
Knowing that I had definitely slowed my pace in the previous 30km, and worrying that my riding mate Jon would be hot on my heels - he had finished eight minutes behind me in 2015, despite it being his first sportive, and he'd been using a personal trainer twice a week since then - I decided that I needed to put my foot down in the run into the finish and so I did my best to power home. Despite this, a worrying number of riders powered past me as though I was barely moving! Again, there were plenty of spectators beside the road cheering us all on, which does make a huge difference.
As I rode down the final stretch to the finish line, I checked over my shoulder to make sure there was no one who was going to pip me on the line (there wasn't, I was the only person on the road), got into the drops and gave it one last push. I crossed the line in 4:44:38, 2 minutes and 40 seconds slower than in 2015 and with an average speed of 29.5km/h. Botherations! How did I go slower than last year? I'm putting it down to the extra weight I had to carry from being rain drenched for a good two hours of the ride. Most importantly, I beat Jon by 90 seconds.
Checking the results in the evening, I was pleasantly surprised to find that I had finished 1103rd out of 8814, better than the 1155th out of 8774 in 2015. So, perhaps everyone got slower, not just me!
In the evening my legs were properly stiff, locked up so much that I had to haul myself upstairs one step at a time. I'd definitely ridden hard and I suspect I won't have been the only person in pain. But it was a great day on the bike and a particular credit to the Welsh locals who made us feel so welcome, and amazingly didn't make any (audible) comments about my flowery arm warmers and pink top (which probably doesn't pass for normal wear in coal mining communities).
I've heard rumours that the Velothon didn't get quite as many riders as they had hoped taking part this year, and that there were again grumblings from some Cardiff residents about the number of roads that were closed; I'd really encourage any sportive rider to take part in this fantastic event and make sure that it becomes an annual fixture on the Welsh sportive calendar.
Read Dalany Watkins' ride report of the Velothon Wales 2016.
0 Comments