After a long weekend in Scarborough with the family, riding home was the perfect way to finish the trip and as autumn had not yet set in with any determination, it looked like a good day in the saddle lay ahead. I was in for a brisk 85 miles, made up of skirting around the southern edge of the North Yorkshire Moors, crossing over the Howardian Hills to York and then a long flat-out blast down to Doncaster.
With my best self discipline I ordered a bowl of porridge rather than the B&B's temptingly huge full English. After letting it settle for a while I was off around ten and glad to be so, after a rather grumpy landlord had finished moaning about having a bike stored in his dining room overnight.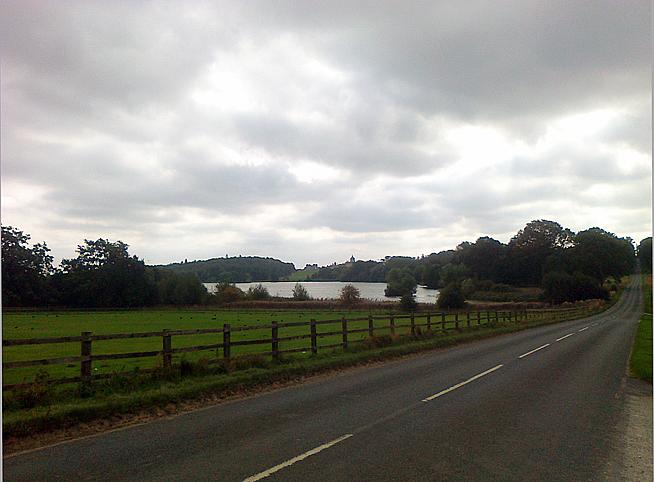 A windy and grey scene greeted me at the seafront but the steep climb out of town on the A170 soon warmed me up and the undulating terrain all the way to Pickering was a good start to the ride. An hour or so later I was at the crossroads in the middle of Pickering looking at what seemed to be a huge traffic jam. Thankful that I wasn't in a car that day I had a quick break in a bus shelter while everyone else remained equally static.
Turning left onto the A169, I left the queues behind and enjoyed a slight downhill for most of the way down to Malton. I spent a fair bit of that section getting as flat on the bars as I could to try and duck under the wind but the rapid progress ground to a halt just outside town with a rather unfamiliar sound - a hissing from the back wheel. It's rare that I get a puncture, due to Continental's excellent GP Four Season tyres, but today I drew the short straw and I was in for a ten minute break while I changed tubes.
Not being particularly impressed with the abilities of my pump I paused a little further down the road at Ralph Yates Cycles to borrow a track pump and pick up a fresh tube, just in case lightning decided to strike twice today. According to their website they have been selling bikes for over 100 years and the premises certainly make you feel like they'd been doing so since the dawn of time. They're based in a lovely old building, with a cluttered and busy interior that looks like a place where work actually goes on, rather than being simply a venue for selling products.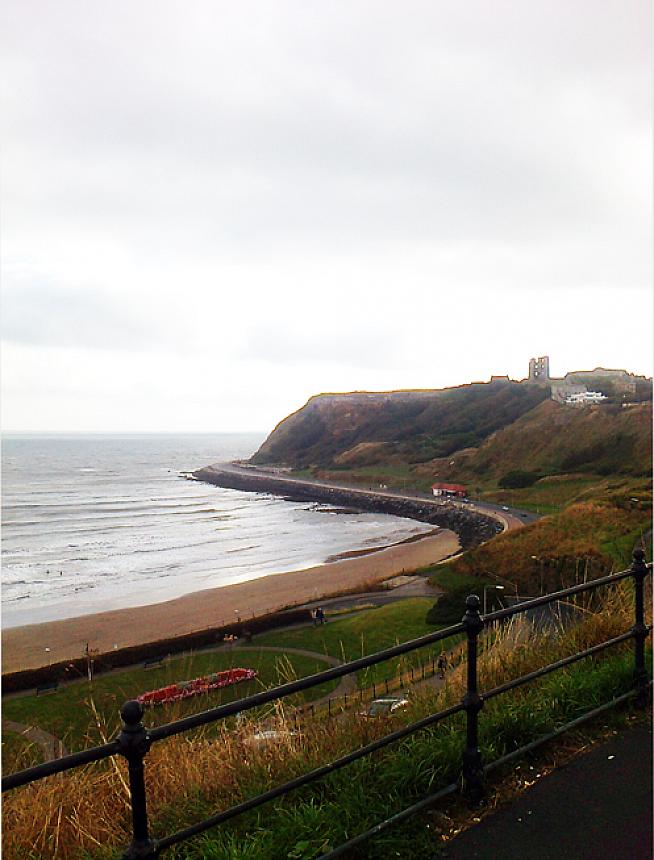 Leaving town on the smaller roads I was looking to reach York by avoiding the busy A64 but also to pass by the biggest tourist draw in the area, Castle Howard. It was only a matter of a few miles before I reached the road running through the estate known as The Stray and one that must have appeared in every tourist photograph of the area. An arrow-straight line of tarmac climbs and falls like a rollercoaster over the next few miles, with ornate stone archways occasionally topping some of the hills.
After enjoying the quiet estate roads I had hoped to remain on these lanes all the way to York but the downside to using a small scale map is that it's quite easy to misread it (well, that's my excuse at least) and before long I was looking at the A64 from a T-junction. Shrugging my shoulders, I pulled onto the dual carriageway and settled in for a dozen miles of heavy traffic all the way into town. On the upside it gave me some incentive to put my foot down and make a bit of effort to get it over with quickly. So, adopting as close as I can manage to a time trial position I enjoyed it as best as I could.
By happy coincidence the route eventually dropped me into York close to a bike shop and I stopped again to check my pressures which turned out to be fine, despite having somehow convinced myself they were still too low. From here I treated myself to a slow cruise around the old city and took in the Minster and the Shambles before settling down for a coffee and slice of cake. By now the sun was out and the day was becoming ideal to be on the bike so I was soon off again, passing out of the southern end of town and onto the A19.
The road would take me almost to my doorstep and was more than a little familiar to me, so I could switch my brain off and concentrate on enjoying the ride itself. Just about flat all the way, my eyes flicked back and forth from the road ahead to the speedo for the 15 miles to Selby. Despite the crosswind coming from my left it seemed to have little impact on my speed and I never dipped below 20mph.
After a handful of jelly babies and a breather in Selby it was off again on a longer stretch of the same roads. The hills of earlier in the day were long gone, and all around was farmland stretching out to the horizon, punctuated occasionally by the power stations that litter the junction of North, South and East Yorkshire.
Over the M62 and on and on, pounding out a rhythm that was both reassuringly swift and assuredly temporary as I could feel the energy reserves gradually starting to fade. I resolved to keep it going until Askern, just a half dozen or so miles north of Doncaster and a nice slow cool down ride home for me. My finish line arrived 40 minutes or so after leaving Selby and soon I was sat by Askern's duck pond enjoying the last of the day's sunshine.
The last stretch of the A19 rolled through Toll Bar and Bentley, feeling easier with every pedal turn as home was now only a couple of miles away. Arriving back on the drive left me feeling I'd managed the perfect end to a holiday!
0 Comments