Most people would spend the night before their daughter's christening making sure all the arrangements were in place and getting ready for the next day's festivities. But, with my house due to be filled with broody female guests and the weather looking relatively mild, this seemed like an ideal chance to try a night ride.
So, as the girls enjoyed their dinner (and I regretfully put a plate of it in the oven for later) I was setting off for a good few hours of pitch black riding. Although the temperature was a forgiving 13-14°C there were a few miles of rain to get through first, and I was glad I'd managed to get my front mudguard fitted for the first time since I bought the pair of them.
As you'd expect, my attention was mainly on my lighting for tonight's ride rather than the waterproofing and my set-up was a tried and tested combination of constant and flashing LEDs. But, as I was to find out, there were still flaws to be worked out.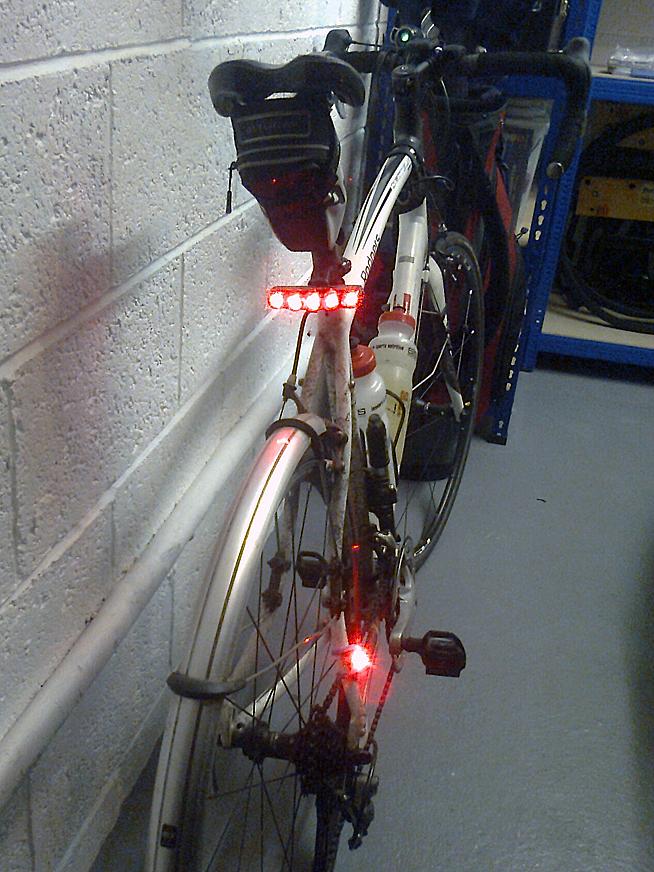 with its 5 LEDs On the seatpost I had a Cateye TL-LD610 set to one of its various flashing modes. I've previously used a Smart Lunar, which gave a fantastically bright light that you really didn't want to look at too closely, but its weatherproofing left a lot to be desired. Consequently, it spent as long drying out in my airing cupboard over last winter as it did on my bike.
At some point in the past I heard that an approaching motorist can find it hard to judge the distance from him or her to a flashing light, and that you should always combine it with a constant rear light as well. Whether or not that is true, I made sure I had a back up - tonight this was a Knog Frog wrapped around my right hand chainstay just above the cassette.
When I first started cycling my helmet was a cheap and cheerful one from Decathlon. It's long been retired in favour of a much nicer Specialized model but it did have the advantage of a vent pattern that allowed some little LEDs to be easily attached to the front and rear. The sort you get in a blister pack for about £3.00 on Ebay worked particularly well, and if yours allows this then I'd recommend them as an extra bit of illumination. The front facing light helps you read the speedo or a map, but allows you to alert drivers approaching from junctions to your presence with a quick look in their direction. Several times tonight I'd wish I had lights like these in place.
My route took me north towards Barnsley on what would be some fairly long stretches of well-lit roads, but first the descent off the steepest hill near my house on one of the few unlit sections had to be tackled. I was glad I had my Magicshine MJ-808 on the front; even on half power this gave an excellent flood of lighting that meant only minimal squinting was required to see any potholes or roadkill that might trip me up. With a separate battery pack that attaches to the frame with Velcro, there's plenty of life in the power supply and the beam is enough to grab the attention of even the sleep-deprived cabbies I was bound to run into later.
To back this up, I had a Chinese version of the Knog Frog (thank you Ebay) on the bars set to flashing mode. I use this mainly for times when I'm going to be coming home around dusk or if visibility is reduced in the daytime due to rain or fog. It was probably too weak to stand out against the beam from the Magicshine tonight, but I took the view that it was better on than off.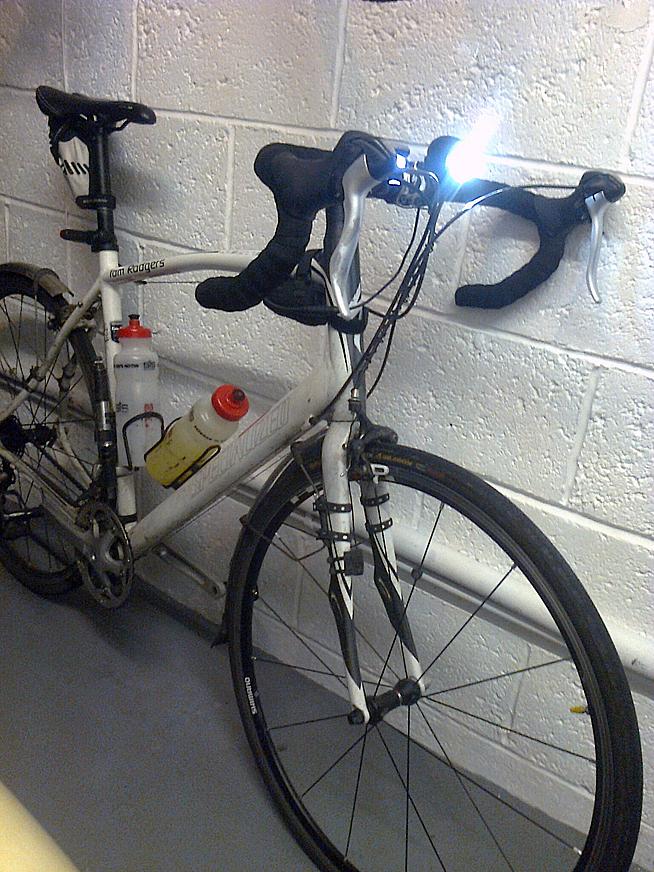 It wasn't long into the ride that the rain stopped and soon I was riding on dry roads climbing the gentle ascent up to the outskirts of Barnsley which eventually took me to the long descent to Stairfoot Roundabout. Here I met the first flaw in my kit for tonight when I was trying to move into the right hand lane. My black mitts are super comfortable for long rides, but are no use at all when trying to catch the attention of the car behind me into whose path I'm trying to move. Eventually someone will invent some sort of indicator lights for cyclists, but for now a reflective strip stitched onto the back of a mitt or a bright yellow hi-viz glove would be a good idea. Several times during the ride I was caught out like this and I'll be investing in something suitable before I go out at night again.
Skirting around Barnsley and heading for the M1 I was several times worried by the sight of cars approaching junctions from my left at a speed that suggested they were coming straight into my path but who managed to stop just in time. It was these occasions that made me remember my previous wheelset that had spoke reflectors fitted to them. These are invaluable for helping to avoid getting side-swiped, particularly if you aren't using helmet mounted lights (or if you are but don't look in the direction of the car concerned). They're currently on sale in my local Aldi for a few quid so I'll be picking some of these up soon.
Junction 37 of the M1 eventually arrived and at 8pm was reasonably quiet, meaning I was across and onto the A628 easily enough, heading towards Manchester. The next few miles were the last of the lit roads for some time and there's quite an intimidating feel to the last few hundred yards ride up to the edge of the light's reach. It's a little like riding towards a solid black wall, but in no time at all I'm through it and once again staring at the edge of the yellow triangle of light cast just ahead of my front wheel.
I was due to turn off left onto the A629 just before Penistone but the junction was a long time coming due to the uphill gradients I was encountering, and tackling them in the dark was a strange feeling. Being surrounded by the dark meant it was almost like exercising in a small room rather than being out in the middle of the countryside.
Finally the roundabout arrived and with it a brief spell of streetlighting, but it was soon back into darkness as the undulating road made its way along the top of the moors. As I passed through Thurgoland and Wortley there were some lit sections and a speed camera I rather optimistically tried to set off, but eventually proper pitch blackness returned. Being on a slight descent, my speed meant I was wishing I had a little more light. This meant I had to click through the modes on the Magicshine first to flashing then to off before I got back to full power. Seemed like a simple enough job, but somehow the final click didn't go as smoothly as planned and I had a second or so of riding without any light at all. At 25mph that is not a pleasant feeling!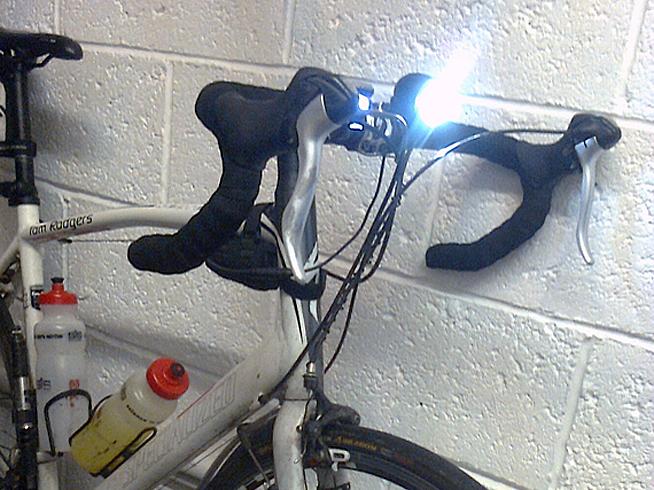 Composure recovered, I was soon back on track and the deserted A629 eventually joined the much busier A61 running down from the M1 towards Sheffield. With traffic as heavy as I'd encountered so far the Cateye once again became the most important light on the bike.
The edge of the city began with Grenoside, which you'll all be getting a fleeting view of as stage two of the Tour enters its final few kilometres here next year. And what a fast finish it will be, turning right at the bottom of Salt Box Lane onto the A61 and heading downhill on a long straight dual carriageway to the Arrivee. Even tonight with very little effort I was up around 30mph, so expect some impressive speeds across the finish line. Sadly, no flamme rouge for me tonight just red traffic lights!
The descent bottoms out just short of Hillsborough stadium, home of Sheffield Wednesday FC. Just before that was a roundabout where again I was wishing for either a helmet light or some spoke reflectors as a cabbie cut it a little close. It was then a long straight flat drag into the town centre proper down Penistone Road and a short and nasty climb up Netherton Road where, despite the hour, I got an encouraging yell from a passing car.
Coming down off the moors and dropping onto somewhere like West Street, full of drunken revellers tonight, was an odd transition and standing amongst such a crowd of people in sweaty lycra with a bike lit up like a Christmas tree can draw the wrong kind of attention. After persuading one of the few sober students in the entire city that night to pop into Tesco and get me a bottle of Fanta I was on my way again, this time out of town toward the giant Meadowhall shopping centre.
The road down the Don Valley is flat and straight and, tonight, very fast. Long sections between traffic lights and hardly any cars made for a fantastic blast through what is left of Sheffield's industrial heartland and the few remaining steelworks. This is the highpoint of the ride - to be flat out on a road normally heaving with traffic that is now all your own gives me enough of a buzz to keep the effort up for the 4 miles out to Meadowhall.
It's two minutes from there to the deserted M1 junction and I'm quickly across and heading into Rotherham and the start of more rural roads. It's a bit of rollercoaster now, with a long descent down to Greasborough where drafting a Vauxhall Corsa once again nearly sets off a speed camera followed by good mile or so uphill through both Nether and Upper Haugh.
What goes up must come down, and into the last five miles or so I enjoy a long downhill through Swinton, taking a crowd of drunks by surprise as they cross the road outside the pub. The final climb up the side of the Dearne Valley to Cadeby put me on a road perfectly aligned for the moonlight to reflect off the wet road surface allowing the tarmac to almost glow. The last mile home is illuminated in this way, and apart from a couple more late night drinkers making their way back there is no one around at all; until at last, I pull onto the drive ready for that dinner I put away four hours earlier!
0 Comments