Doncaster to Sheringham / 202 miles / 4 September 2013
Early September had some good weather with this year's summer not fading too quickly, so with a trip to the north Norfolk coast coming up I was presented with an ideal opportunity to work a long distance ride into what was otherwise a family holiday. The direct route from home plotted at around 140 miles but I wanted to push it up a little more, so heading directly east from home out to the coast and then following it all the way around to Sheringham boosted it to a more interesting 200. It would need a full day in the saddle with an early start and an evening finish though.
No matter how much I anticipate a ride and look forward to getting out on the road for the day, waking up at times like 4.00am never gets any better. I did the usual 20 minutes of staring at the ceiling waiting for a sudden burst of energy to snap me out of my drowsiness and get me moving. Sadly, it didn't arrive and I had to haul myself upright and get on with things still feeling groggy and gritty-eyed.
A shower, a bowl of cereal and a pint of orange juice made all the difference and I was pleasantly surprised to be closing the garage door and pushing off on my way just a few minutes after my target time of 5.00am.
It was a chilly start and my gilet didn't feel like it was the warmest garment ever made but I knew I was only an hour or so away from dawn. So, I persevered as I crossed the town centre that was just beginning to stir, headed on into the suburbs and eastward along roads both arrow straight and flat as a pancake, waiting to see the sun.
Knowing that sunrise wasn't far off certainly took the misery out of that initial phase and the nature of the terrain meant that with so much of the horizon visible the sky looked fantastic as dawn gradually developed.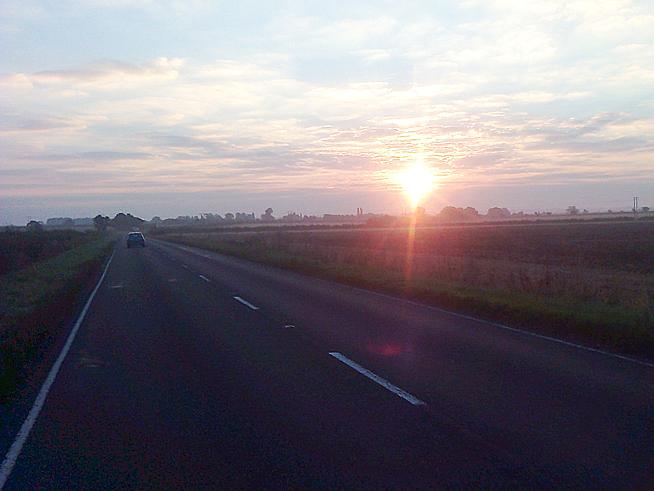 It was a quiet start to the day weather-wise with little wind and a gradually warming temperature. By the time I reached Gainsborough around 6.30 I was seeing other cyclists on the road and the traffic started to wake up. This was the last town centre I would see for a little while as I continued eastward on the A631, skirting around the edge of Market Rasen and out into the countryside again within minutes. Although this was technically the Lincolnshire Wolds the terrain remained relatively easy and the miles passed quickly. Louth arrived next and I coasted down into the town just as they were setting up for market day.
I knew it was going to be a hot day ahead once the sun got up a bit higher and I wasn't going to neglect my hydration. So bottles were topped up at the Spar and a cup of tea sought out. A burger van is the cyclist's best friend in these circumstances and the young bloke manning the one I found was a friendly sort.
His reaction to being told that I'd ridden 60 miles to get there was immediate and forceful ("fahhkin 'ell!") and he repeated the same when I said I still had another 140 to go today. Such encounters are always a bit awkward as you can end up feeling like a bit of a nutcase, but on the upside the admiration was obvious. So, I focused on that positive and left him to wonder what on earth makes someone do something like this.
It was only a short hop to the coast and I reached it at Mablethorpe. Not the most glamorous of locations but with the sun getting higher in the sky and the temperature rising, the sea and sand were worth taking in for a while. So, after a short stop for a drink and a look around, I carried on down the coast to Skegness.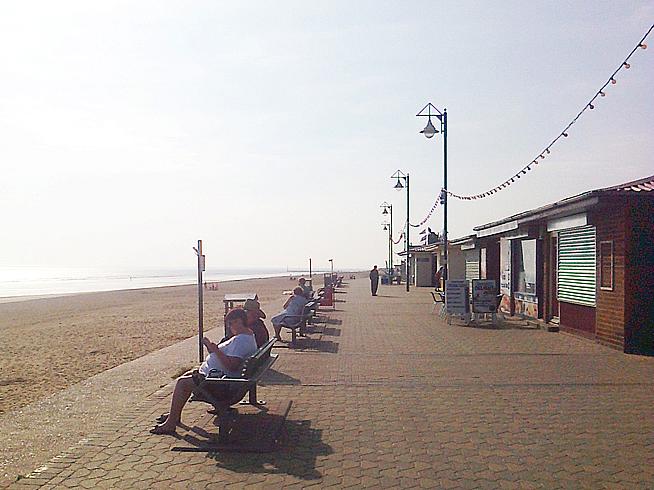 Equally as insalubrious, but on a bigger scale, Skegness is a fairly depressing place once you get away from the usual seaside attractions, but today they were all I needed. A brief look around the front confirmed I could take my pick of the finest junk food the English seaside has to offer. I plumped for waffles with ice cream and maple syrup washed down with a Dr Pepper. Dave Brailsford may not have approved but I had close to 100 miles under my belt.
Suitably nourished, I resumed the ride and left town on the A52 heading to Boston. I was looking around for a garage to pick up some water from and eventually found one about a mile further on. I felt sorry for the guy stood in the kiosk trying to pay for his fuel. He looked like he'd been there a long time as the assistant plodded his way through a call to the credit card company's helpline. I took my water, left my cash on the counter and left them to it.
Shortly after that I started to see some trouble ahead as a train appeared to be parked across the road. For some reason it had come to a stop astride a level crossing and the traffic build up suggested it had been there a while. After a few minutes looking at it and listening to the alarms going off inside it I concluded it would be some time before it shifted. Unwilling to hang around I picked up the bike and walked down the track around the front of the train and back onto the road on the other side. I enjoyed the frustration of the motorists stranded in the queue as I resumed the ride but the headwind I was riding into soon wiped away the smugness.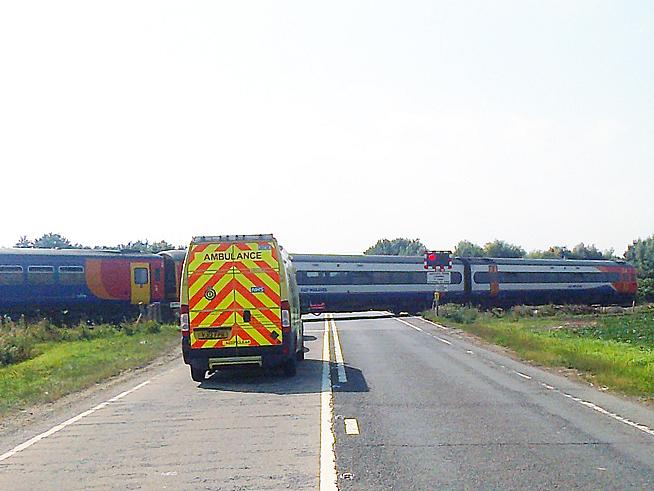 I'd expected to run into this as the forecast was for south/south-easterly winds from late morning and I gritted my teeth as I had a fair way to go in this direction. Flat and featureless, the terrain left no defence from the wind and I was struggling to keep up the speeds I'd comfortably cruised at earlier. Boston eventually arrived but my route took me around the ring road and on to the A16 after a stop at another fuel station for water. Looking back I should have had a sandwich or something more substantial but inexplicably opted for just a bit of a cereal bar and some jelly babies.
Slow speeds were the order of the afternoon and the A16 soon became the A17 heading easterly along the southern end of The Wash. Kings Lynn was the end of this particular stretch of road and it couldn't come quick enough. I knew it was a busy section and single carriageway for a lot of it. I'd scoured the map for an alternative, but to no avail. Worse, just as I wanted to put my foot down and get it over and done with my legs deserted me and I was crawling along inches away from what felt like an endless stream of trucks passing my right elbow. I'm generally ok on fast A-roads but this was on another level and I counted the miles down with fingers crossed all the while.
I breathed a huge sigh of relief as Kings Lynn finally arrived and I skirted the town and took the A149 northwards. This was my last navigational effort, as I'd now be on that road all the way round the coast to Sheringham. Disappointingly, I didn't seem to feel any benefit from the anticipated tail wind which had either died off or was somehow shielded from me by the slightly hillier landscape. Heading up to Hunstanton and past the Sandringham estate I had a short break using the excuse of asking a local cyclist how much further I had to go. She was picking fruit from some brambles by the roadside. Sadly, the woman seemed to be slightly deranged and no matter how many times I asked her or rephrased the question I could get no sense from her so I politely moved on.
After the first mildly hilly section I'd encountered since the Wolds, the road reached its furthest northerly extent and bent around to the east. The late afternoon sun was still strong and the lack of food at Boston was really telling now. I'd lost a lot of fluids, despite drinking more than usual, and running my hand over my top I could feel the salt residues sticking to my palm. I pulled into the next petrol station and had some food and more to drink. It was a bit of a struggle to get the sandwich down as my stomach was churning a bit. I added some ibuprofen to my meal and mixed up the rehydration salts that I usually save to have at the end of a ride.
Although I was feeling a bit rough by now it was still a lovely day and sitting on the edge of the forecourt watching people coming and going was a pleasant way to spend half an hour or so. It was around 6.30pm and my guess was that I had about 30 miles to go, so hanging around any longer was a little pointless. I wanted a shower and a sofa!
The last couple of hours from there were a plod. Occasionally my speed would make it into the 20s but otherwise I was resolutely mid teens. The scenery was a bit disappointing too - I'd been expecting a road that passes so close to the coast as this one to have some sea views, but instead the best I got was a few stretches of marshland and the occasional sign off to my left saying "Beach".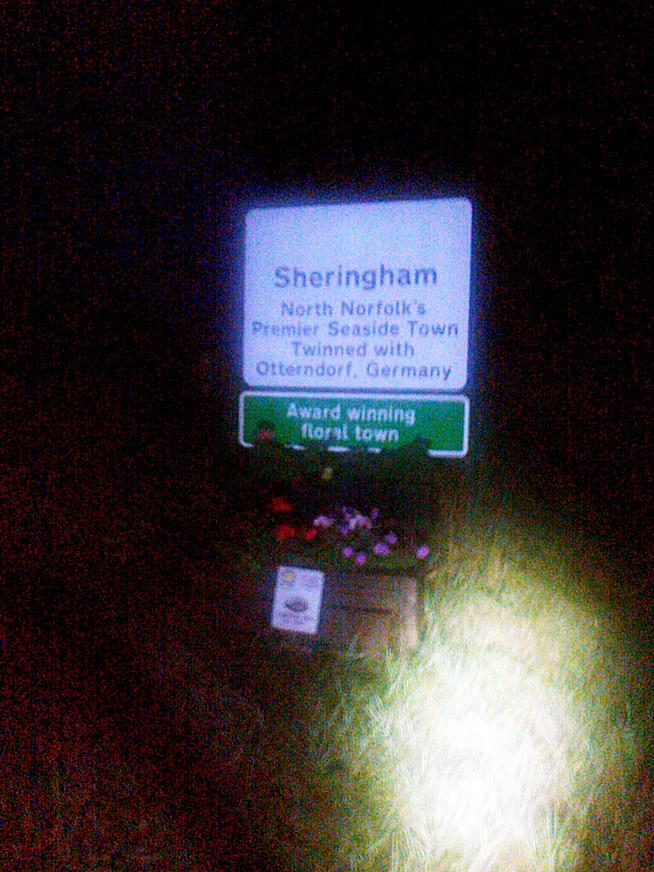 The sunset came and went and the temperature dropped gradually, until I was shivering a little. Like a watched pot that never boils, the road signs giving a distance to Sheringham just never seemed to arrive, leaving me guessing if each new group of streetlights I saw in the distance was the end of the ride. When I finally got to the edge of town it was pitch black and I was glad I had decent lighting on the bike.
I pulled into the station car park and rang my wife for directions to the holiday cottage. The computer showed 202 miles. I must have been in a bit of state as I apparently sounded drunk! Shower, dinner and bed were just a few minutes away and I woke the next day more than ready for the sort of cooked breakfast that would give your doctor nightmares.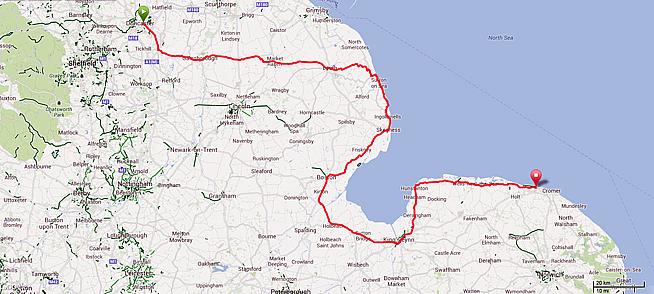 0 Comments