Uli Fluhme wants to bring a slice of Italy to Britain via the Big Apple.
The expansion of the Gran Fondo New York series of events around the globe will include the United Kingdom if the right partner can be found, according to Fluhme, CEO of GFNY.
"There will be a GFNY UK for sure at some point," said Fluhme, who was at the Prudential RideLondon expo and was bowled over by what he saw. "The enthusiasm is incredible."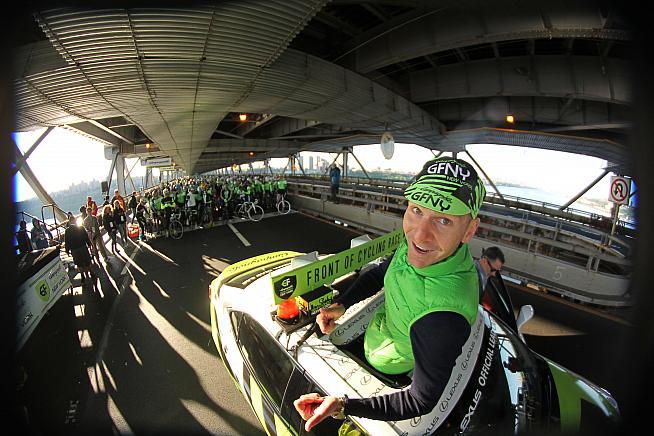 "People talk about a cycling explosion (in the States), but you guys actually have one! Here it's still small," and with a shake of the head he remarked on what was possible with a mayor's support.
Uli and wife Lidia, both talented endurance athletes, gave up finance careers to devote themselves to GFNY. "We say we are on 'workation' 24/7, and it's good!"
After four years of the New York race, which starts on the George Washington bridge and runs up and back the West side of the Hudson River, this year GFNY has expanded from its New York roots. Before the 5th running of the NY event on 17 May 2015 there will have been GFNY World races in Italy, Cozumel, Colombia, Puerto Rico and Barcelona.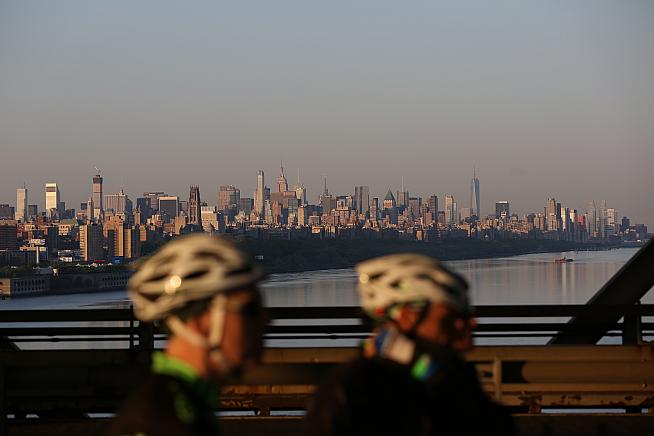 The World events tie in to the Campagnolo Gran Fondo New York with it serving as the GFNY Championship and the top 10% of each age group in the satellite events given preferential start positions at the New York event.
"The end goal of course is global domination" said Uli with a laugh.
It is as part of this expansion that the Fluhmes are looking for the right collaboration to bring the GFNY brand and its bright green colours to Britain if they can be sure of matching the standards of the New York version.
In the meantime they would love to attract more Brits to New York where they are under-represented in a cosmopolitan field from 70 countries at the Campagnolo Gran Fondo New York.
"It's been tricky to get British riders," lamented Uli. "We had about 50 - under 100 certainly - last year."
"Why should I go to New York rather than do the Etape? Do both of course! Our event is great for partners. New York is a city you have to see so why not do it with a gran fondo!
"What I love personally about the event is how international it is. There are riders from all over the world and it creates a really cool atmosphere."
He acknowledged the greater logistical challenge of flying to bike races compared to marathons. "It's not like running when you just have carry-on luggage. With biking it's a production."
As is often the case with big city events, the Campagnolo GFNY is not the cheapest way to ride a century, reflecting the cost of doing business in New York City. Road closures and policing alone add up to around $500,000 and other NYC events like the marathon and triathlon bear equally hefty price tags.
Uli says that the vast majority of the feedback he gets is that it is worth it. "The people who come to our event, love it. We know what it's about because we race."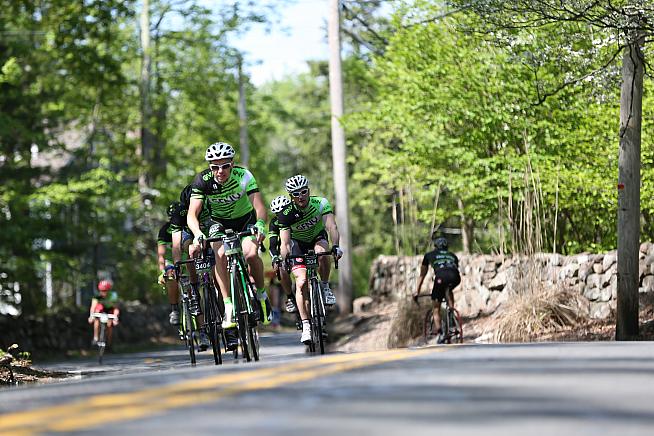 Fluhme, a former professional triathlete and road racer, cheerfully admits that he shamelessly cherry picks the best ideas from other events as well as identifying mistakes to avoid. He and Lidia, who has a 10:22 best out of seven Hawaii Ironmans, certainly have a lot to choose from.
In a month-long European tour this August, which included the RideLondon expo, the Fluhmes took in a swathe of races that is tiring just to read, including: the 824-km/19,000m Schwalbe Tour TransAlp, L'Etape du Tour and the Haute Route Dolomites Swiss Alps (just the 933kms and 20,000m vertical) and various Italian gran fondos.
Next year's Gran Fondo New York takes place on 17 May 2015. For more information and to enter, visit www.granfondony.com.
0 Comments