The main fuss around the publication of Shadows on the Road has been Michael Barry's revelations about the use of the pain killer Tramadol in the pro peloton. While various commentators and even those close to teams have mentioned their concern about the opioid analgesic causing an unusually large number of crashes during the Spring Classics, Barry was the first from within the peloton to confirm the widespread use of Trammies.
This is Barry's third book about the life of a pro rider (he has also written a book on cycling fitness as well as numerous articles for both the specialist cycling press and also for more mainstream publications). It is also his first book since he admitted to the USADA investigation that he systematically doped while riding for the US Postal Team. And to some extent it is a 250+ page explanation for why he took EPO when riding for Lance Armstrong and why he was clean (or at least claims he was) before and after that time.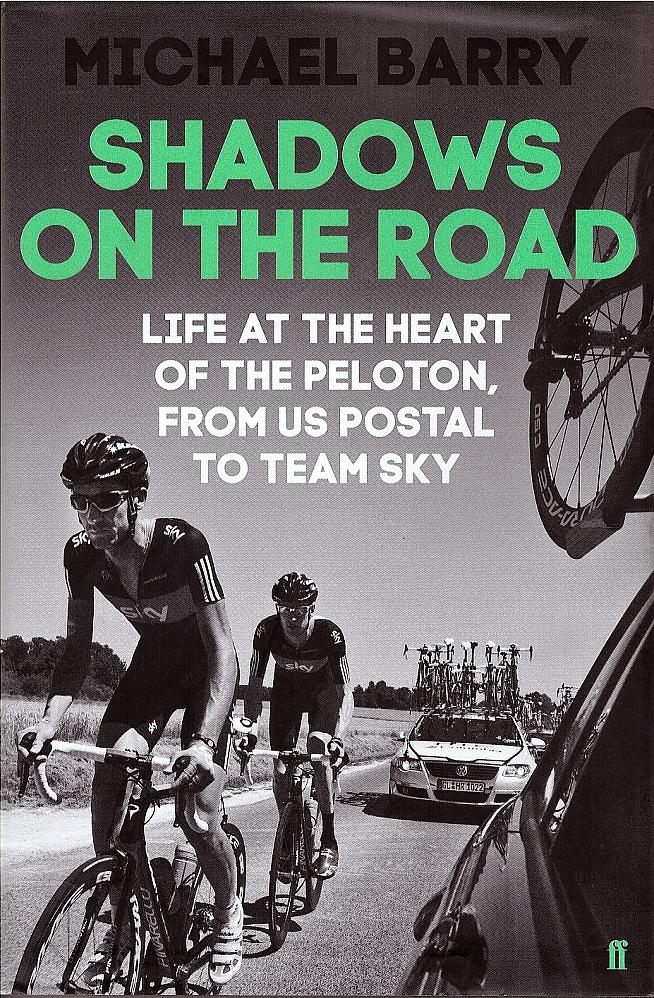 14 years in the pro peloton gives Barry a great insight into what makes a good rider, what drives the really top cyclists, how races are won and lost (sometimes by skill, sometimes for money, sometimes to gain favours later) and how much science was ignored by most teams until Team Sky came along and showed that efficient training is a whole lot better than just getting the miles in.
He writes well. This is not a ghost-written memoir and it is all the better for that. You know that the words are what he means to say rather than what the publisher or hired author thinks will sell well or make their subject look good. There are parts that feel searingly honest and there are parts where you feel Barry is hiding something.
Where he is particularly good is on the subjects of injury and eating. The accumulated worries about crashing - an inevitability in every season - and the way a serious crash not only takes you off your bike for weeks or months but also removes confidence when you get back on are well described. On eating, his descriptions of the obsession about weight and food intake makes one realise just how close to having an eating disorder many pro cyclists are. Both of the subjects are not written about often enough in cycling biographies and autobiographies, given how central both are to the sport.
Where he is less good is on the famous riders he has ridden with. Lance Armstrong, Brad Wiggins, Chris Froome and Mark Cavendish were all team-mates and yet I don't get much of a feeling for them. Even David Millar, who he clearly likes, doesn't really come across well. The bits about Brad Wiggins, who I can be pretty sure Barry doesn't hold in high regard, feel like they have been stuck in at the insistence of a publisher rather than the preference of the author, who it sounds like would rather say nothing than something nasty.
Barry also writes about his life at Team Sky, which was clearly often fraught. The team dynamics were not good with Froome and Wiggins fighting out who should be leader and Cav demanding to be centre stage as he could deliver the vital stage wins. Barry talks about his first training camp, in a sentence that I thought was very interestingly phrased: "We were a drug-free team, yet they would do everything within the legal limits to improve our performance". For those who are sceptical about Sky's results (of which I am not one), I would say that this book will not reduce many of their doubts.
And so to the drugs. It is clear from what Barry has written and the many books that have come out in the past couple of years that most riders at the top level were on drugs. Barry was no different from most of his fellow riders, only succumbing when it was clear that his team expected him to dope and that most of the people he was riding against were getting extra medicinal help. But the fact is that he did take them and then lied about having done so. Now he writes about it, it is only partly apologetic with coaches, team doctors and team managers also squarely blamed for the drug use.
One major quibble is that the structure of this book is all over the place. It jumps from time period to time period, often with very little flagging of that change apart from it being a new chapter. It assumes that you know a lot of the existing history of the sport over the past 15 years, which is probably fair enough for the majority of readers, but if it comes out in paperback the publisher/editor could do a lot worse than at least put the year and place at the beginning of each chapter. I read the book in one sitting (coincidentally on a plane from London to Toronto, Barry's hometown) and I found it hard to follow; I dread to think how confused I would have been trying to read it over the course of a couple of weeks, as most people read books.
On balance, this is an interesting addition to the book from ex pros who rode during the EPO days but it is definitely one for the hard core cycling fan rather than the casual reader who only turns on Eurosport for the Queen stage of the Tour de France.
Shadows on the Road by Michael Barry
Faber and Faber, £17.99 (hardback), 259 pages
0 Comments