As well as being a huge cycling fan I am also a massive fan of the "hooligans' game played by gentlemen" - rugby. As it is now unfortunately the end of the season, and with a three-month wait until this year's Rugby World Cup, I have been in search of another outlet to feed my addiction to the egg-shaped ball.
In between bouts of cycling on Eurosport and furiously trying to avoid the drivel that besieges terrestrial television - Cowell I'm thinking of you here - I stumbled across an old forgotten favourite. Aussie rules football. Aussie rules doesn't make much sense to me and doesn't age: mullets, tight short shorts and real men called Jacko, Brett and Dane who play at places like The Gabba and The SCG. They play on cricket-sized pitches with an almost indefinite amount of players, a totem-like goal area and an extraordinary set of officials which as far as I can work out take their job very seriously.
Ah Australia, you funny little continent oh so far away. For every questionable export - Crocodile Dundee, Uggs for men, Jason Donovan, etc - there is a high quality export. None more so than Après Velo. Yet again the design monkeys have come up with some excellent kit for both on and off the bike.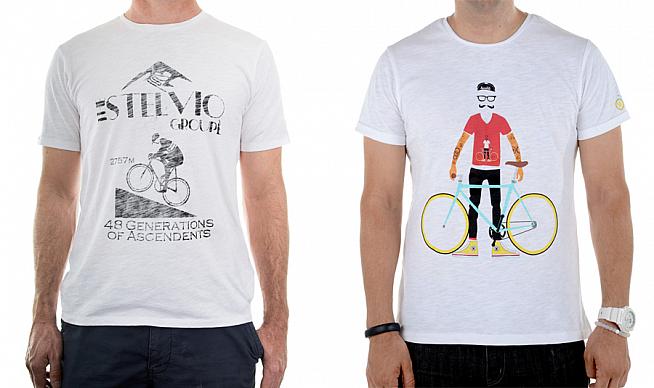 First are a couple of cheeky white summer T-shirts. The "One-Ring/Suffer-Ring" is designed for "those that won't shift and just love the feeling of ONENESS with their bike". Fixie hipsters basically. Now, I tread this ground carefully it has been said that I fall into that hipsterish category. Yes, I have a beard, yes, I have tattoos; however, I don't have the sparrow legs or spray-on jeggings and I don't frequent Shoreditch or Dalston (although I did used to live in Mile End; before it was trendy).
Anyway I digress. The other design is a take on a classic icon of cycling: the Stelvio. "The "Stelvio Groupe" has an unlimited supply of Badass Pain and Suffering and has been going (and going) for 48 generations of ascendants, with no sign of let-up."
Both tees are made from 100% slub cotton which is fantastically soft with a worn-in feel. Both are also striking in design and have aspects making them individual; the One-Ring/Suffer-Ring tee has turned up sleeve cuffs giving it that extra hipster look, while the Stelvio Groupe tee has a distressed graphic and additional Italian flag badge on the sleeve. Excellent styling.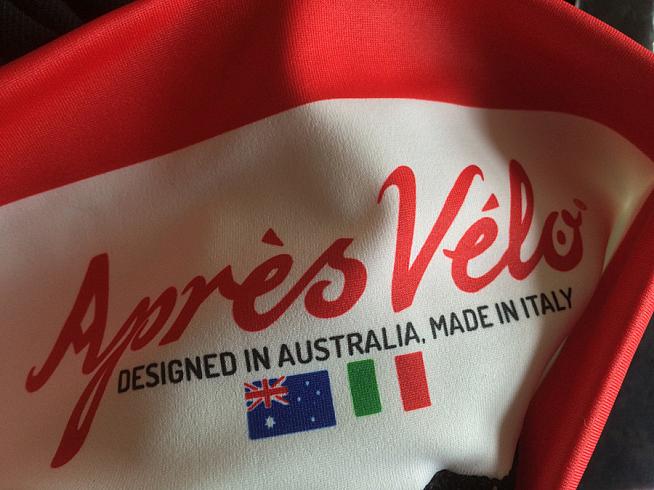 Next comes my personal favourite. As followers of my writings will know, I am not averse to vintage or retro kit. Après Velo have combined a classic polo style with a 12 gauge wool blend and a design that is "inspired by Classic European National Team designs...redefining timeless design whilst maintaining iconic utilitarian features." It looks the nuts. The wool is light and comfortable on the skin and although not a fitted design, hangs well both on or off the bike.
It reminds me very much of Sir Bradley's range of Fred Perry jerseys and stands up against any of them in quality and design. My only gripe is that I would have liked to see some sort of fastening on the neck to avoid a slight flappy neck. The vintage blue with simple dual stripe design does indeed hark back to the first part of the last century; I can imagine seeing Fausto Coppi or Gino Bartali sporting such a jersey with a tubular tyre looped over their shoulder struggling up some dirt road climb. Very iconic, but not so retro that you can't wear it with a pair of jeans and your best New Balance kicks.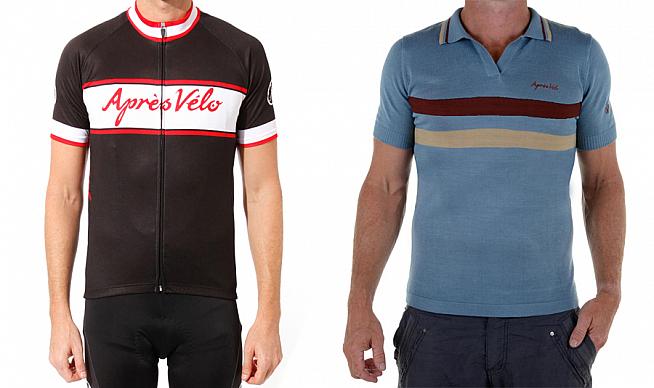 If those three bits of kit weren't enough to spoil your humble writer, those ripper bogans at Après Velo also sent me some kit specifically for playing out on bikes! They think of everything, these antipodeans. The "Classic Riding Jersey" and "Classic BnB Riding Knicks" look good in the black, white and red; they also have a list of features which ensures they can hang out with the big boys.
The riding knicks - bib shorts, in other words - boast a "Moisture wicking, silky smooth, hygienically controlled, carbon gel premium chamois for great fit and enhanced comfort/protection." Other features include a high performance mesh brace fabric with lycra for enhanced fit, multiple panels designed for contoured fit and comfort, and a wide, double-hemmed band for a compression like fit.
This last feature has impressed me the most. Big thick hems with anti-slip gel grippers are so 90s. Razor cut finishes appear to be the norm these days, and shorts/jerseys are much the better for it. The Après Velo shorts, however, have cunningly folded back the lycra and stitched a light hem 2-3cm back up the leg of the short. This ensures an extremely clear cut line, almost invisible hem and definite superior fit - no matter how tree trunk-like or sculpted one's leg is!
The riding jersey prides itself on carrying a "Ministry of Cycling Culture Warning" stating: "there are no sponsor/team logos or badges on our riding gear." This is good, as we all know what those people who wear full team cycling kit get called - it rhymes with merchant banker if you are unsure. The two pieces of kit look great together obviously, but do possess what other kit sometimes lacks - the ability to go with other branded kit. This makes it a shrewd investment as your Après Velo clobber will easily complement any Castelli, Sportful or DHB mash-up you choose to curate. The classic combo is therefore an excellent outfit, and falling into that mid-range kit price bracket means you get a lot of quality and style for your money.
As with all Après Velo kit I have received my fair share of compliments and enquiries into the origin of the garments I am carrying so effortlessly! Après Velo also currently have an outlet store selling off some excellent kit very reasonably. Pair this with the fact that it is coming into winter down there and summer here and it may be worth keeping an eye on the website to see what other bargains arise.
In summary, don't hang on: act now while the Après Velo stock is "as full as a centipede's sock drawer" or you'll be feeling, "as crook as Rookwood" and a complete "drongo"!
(Many thanks to BBC News Magazine for providing a guide to Australian slang that assisted in the writing of this article.)
0 Comments