After a long day in the saddle and the ascent of the famous 21 bends of Alpe d'Huez, you will need a good meal and a couple of cold drinks to recover from your exertions.
Over the years we have established a few favourite places in Alpe d'Huez and one particularly special restaurant in the Alpine meadows not far away from the village (I am never quite sure whether Alpe d'Huez is a village or a town, it's either a big village or a small town. That said, nearby Briancon is classified as a city with a population of 11,300!).
It is always a good idea to book Alpe d'Huez restaurants for dinner (lunch is usually far less busy), especially during big events such as the Marmotte when you otherwise may not get a table for a couple of hours.
Our favourite Alpe d'Huez restaurants are listed below, they are rated as much for atmosphere as the quality of the food.
Le Bato Ivre
It isn't possible to book at this popular brasserie which specialises in pizzas, fondues and French mountain dishes. It feels like a pub when you walk in but the food is definitelty of a higher standard than the decor. If you are looking for a pretty rapid turnaround, efficient service and decent local dishes at a reasonable price, then Le Bato Ivre is your place. We preferred being upstairs by the windows as it was slightly less hectic but we've sat downstairs too and always been happy.
L'Authentique 
You might not expect an Italian restaurant in the French Alps but as the crow flies the Italian border is only 30km away. L'Authentique specialises in the mountain dishes of the region, including raclette and fondue, as well as Italian hams and salamis, lasagne made with Reblochon cheese and a variety of pastas (orrechiette, ravioli, gnocchi, tagliatelle) and sauces (mushroom and ham, caponata, gorgonzola and walnut, bolognese and carbonara). Main courses are in the 17.50 to 25 euro range. On a busy night we were looked after impeccably, most noticeably by the 12 year old son of the owners who was a much better waiter than many adults.
Le Caribou 
A good terrace outside which gets the afternoon sun in the summer. The food is decent without being outstanding but the appeal of Le Caribou is the excellent service and unusual friendliness, which we find is somewhat lacking in some French mountain restaurants. Lots of mountain dishes with melted cheese as well as steaks, tartares and burgers.
Creperie 
Irritatingly I have now forgotten the name of this new creperie opposite La Pomme de Pin on the Avenue des Jeux. It is tiny (perhaphs 18 covers) but the crepes and galettes were excellent, very generously filled and much the best value of anywhere we have eaten in Alpe d'Huez recently.
We also wanted to given an honourable mention to the artisan bakery, Aux Caprices des Neiges, which is the main market square (market day is Friday from 8am to 1pm in the summer, highly recommened for local cheeses, meats and honey). It has fantastic bread plus lots of local pastries and biscuits, which are best bought in the morning when there is still plenty of choice.
La Bergerie
However, leaving the best to last, our favourite place in the region was La Bergerie in nearby Villard-Reculas. If you drive down the road from Alpe d'Huez to Bourg d'Oisans, as you hit the village of Huez take a right where it signals to Villard-Reculas. Drive about 3km to the village and then keep doing through the village until you hit the far side, where there are signs to La Bergerie. You drive up into the Alpine meadows and find this delightful restaurant with a lovely sun terrace. At 1pm it was virtually empty, although by 2.30pm it had filled up a lot more. Incredible views over the valley, a good short menu of mountain classics and attentive service, we really couldn't fault it (the snails and the omlette were the favourite things we ordered). In winter apparently it is much more accessible, as you can simply ski to the door from Alpe d'Huez and there is a simple lift home...not so useful in summer, unless you like a very steep walk home!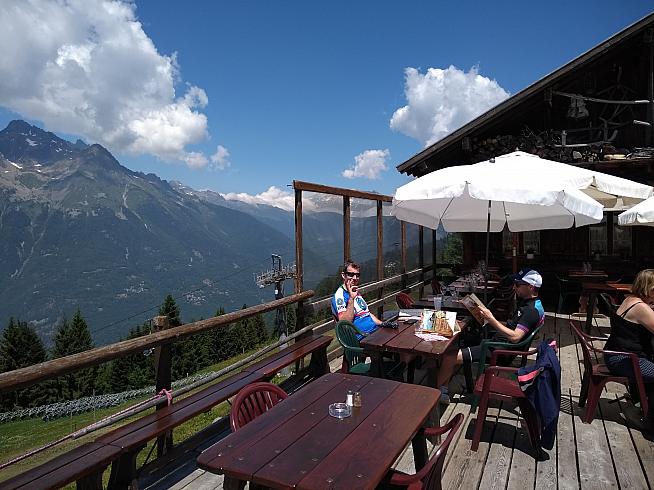 0 Comments