I'm not good at 6am in the morning, especially on a Sunday. The fact that I begin the day by making four times the amount of porridge I need only serves to further underline my inability to cope with early starts. However early mornings are part and parcel of sportives and, as I'm training for a 100 mile challenge in August, I'm hoovering up every opportunity to ride, no matter how early the start.
Fellow 100-mile challenger Dad and I have been talked into Wiggle Wye Valley Warrior by my keenest cycling buddy, Si, who did the inaugural Wye Valley Warrior sportive last year. He has been raving about it in the weeks leading up to today so I am sure of two things: it wil be beautiful and it will be hilly. Fun.
As designated driver, it is my job to collect Si; we delicately load our bikes into my hatchback like over-cautious parents and head for the hills of Wales. Normally, the Wye Valley is only half an hour away: today it takes slightly longer when my anti-early morning syndrome kicks in again and I take us to Wales via the wrong bridge. After a 20 minute detour via the 'scenic route' we arrive at Chepstow Racecourse. Si is virtually bouncing when he spots Dave Brailsford's Team Sky Pinarello next to us in the car park. (Presumably it's an old one.) With 1,700 expected entries, there are riders EVERYWHERE but the organisation is seamless and registration is swift and painless, aided by local club Chepstow Wheelers, which gives a rather nice, local feel. I'm pleased further because I've come to realise that cycling is the only sport where ladies don't have to queue for the loo so that element of pre-ride prep is also swift, whilst the boys are left huffing indignantly.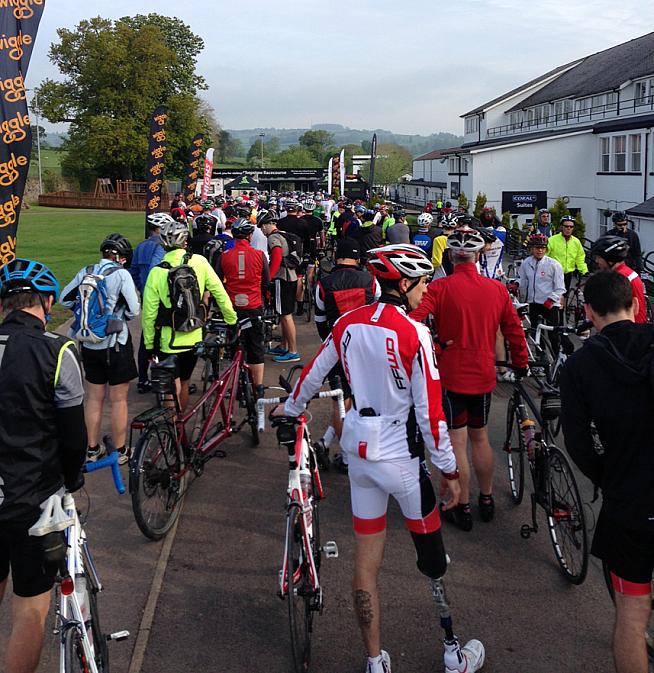 After the usual pre-ride indecisiveness (have I got enough gels? Should I wear legs and arms? Where are my sunglasses?), we are ready for the off. Today I am riding with Si, our mate Lucie and my dad. He's a little apprehensive and a bit quiet as we wait at the start. In contrast, Si and Lucie are champing at the bit to be off (no pun intended). As expected, the first long, swooping, alpine descent into Tintern, just 2 miles after the start, sees them down on the drops and whizzing off, and that's the last we see of them until the first food stop. My dad and I peg on at our own pace as the road flattens out alongside the river Wye. My legs need some warming up. The weather, once again, is stunning - with hazy sunshine, it's just the right side of warm. It seems to be the case at the moment that whenever I go out for a long ride, the weather is good. I think this is the reward I'm earning in return for cumulative scrapes and grazes, thanks to a series of recent bike-related falling off mishaps.
We follow the Wye river north and it is as we take on a steep climb, heading east to Coleford, that I discover that my rear mech (which had suffered from one of the aforementioned mishaps the day before) is not quite as fixed as I thought, with a definite lean in towards the wheel. After stopping to check, Dad and I decide that it'll be okay as long as I don't use my lowest gear. This is not good news. As we ride on, I try to reassure myself that I'll be fine despite all the big climbs that I know are coming up (note to self: don't check route guide just before you leave), but it's no good: I am now the Wye Valley Worrier. This continues for the next few miles, until the four miles of descent into Monmouth makes me forget about it and everything else other than the exhilaration of flying downhill on smooth roads.
At food stop 1, after 24 miles, a hipster mechanic with great tats, great beard and great cap fettles with my bike and sets it right. Thank you, Wiggle, for this element of support. Suddenly I can relax. After inhaling a number of bananas and Oreos, refilling water bottles and catching up with Si and Lucie, Dad and I are on our way again, the others having decided to keep moving before they cooled down.
The stint between food stops 1 and 2 (I'd like to say I don't measure things by meals/food stops but I'd be lying) is 30 miles of more gentle ascents and descents that take us north then westwards between wider valleys and farmland. It feels like we're traveling fast but this is probably not the case because there is now a headwind, so we try to work together, taking it in turns to sit on each other's wheel for some shelter. There aren't many villages. It's very pretty - and very quiet. I know it's a Sunday, but where are all the people? It's like they've cleared out of Monmouthshire so that all we have to concern ourselves with is the riding and the scenery.
Along the way, I chat with a fellow Orbea rider, from Chepstow, who has time trialled the last 7 miles after suffering a mechanical, in order to catch up with his teammates, who are still somewhere up ahead. We chat about our riding and sportive experiences and how great Orbeas are. My dad thinks it's not really the bike that he is interested in but I'm pretty sure it's just good, honest, bike-geek talk. Chepstow Boy bids us farewell and speeds off into the distance, uphill. Show off.
There are two big climbs after Monmouth. The first one is short but brutal but I am encouraged to the summit by a fellow rider, which turns it into a shared achievement. The second one goes on forever. We sit down and plug in. Although not wildly in pain, I am concentrating on my breathing and trying to keep a steady pace. Of course there's a photographer waiting at one of the bends. I try to remember to smile. Later I ask my dad if it's okay if I swear. He says yes. He too is muttering curses under his breath. Then something nice happens: a rider from St Neots CC reminds us to look to our right. The views are stunning; we can see the Brecon Beacons, with Pen-y-fan and Sugar Loaf, off in the distance. The countryside in between is vividly green and bathed in sunshine. It is good to be reminded of why cycling is such a great pastime, in and amongst the personal struggles.
Mercifully not long after this mammoth climb comes the second food stop. I inhale more bananas and chat to the rider from St Neots, which is near Cambridgeshire if you didn't know (I didn't). Both food stops are well stocked, with flapjacks, biscuits and bananas, as well as High 5 energy drinks, tabs and gels. We catch up with Lucie who has ridden most of the middle section on her own and we ride out as a three. The final stint is a mere 11 miles but it feels as though we are high up and exposed and once again there is a headwind. We take it in turns at the front. Later we descend into a magnificent gorge, picking up the river again and the road gets busier. Every now and then we are overtaken by some serious-looking and thrilling-sounding motorbikes revving their way around us. I think Dad, a former motorcyclist, might be regretting his choice of two-wheeled transport.
Chepstow Racecourse awaits us at the top of the final short, sharp climb and, leg muscles protesting, we cross the finish line to collect a medal, jersey and our times. Si is lolling on the grass, having ridden in at least half an hour before us (probably longer, but I don't want to know). Chepstow Boy also appears and we shake hands. He's also finished in some horrendously speedy time. Not that I'm jealous.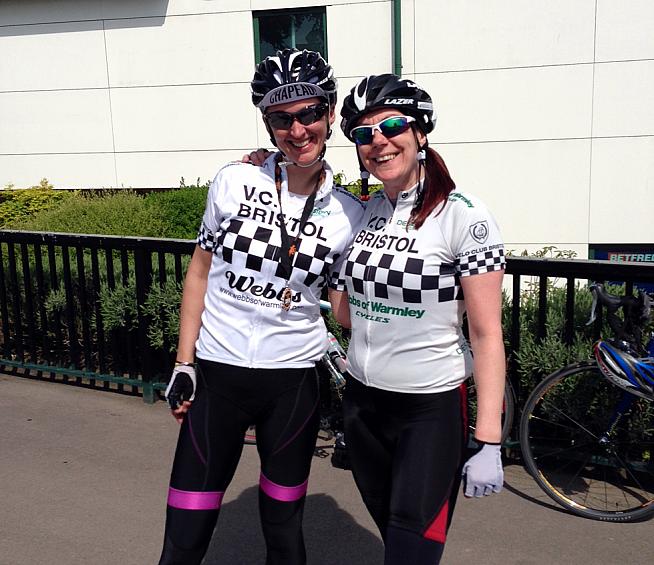 68.5 miles and 6,360ft of climbing later (according to Strava) we are done! Not my speediest ride but it was a lumpy one, so I'm not going to give myself a hard time. I have consumed 5 bananas, 8 Oreos and 12 Jaffa cakes, along with innumerable jellybeans and energy gels, and I drive home, absolutely shattered but on a massive caffeine and sugar high. This is a great sportive: well-organised with good facilities, food stops and support on the way round; magnificent views throughout and, in particular, of the Brecon Beacons; five huge climbs and thrilling descents; not one drop of Welsh rain; and good company in the form of fellow riders, with whom the route and its challenges encourages a shared feeling of support and a sense of camaraderie.
0 Comments