Late last week some whisperings began about a 'secret ride' with some cycling ambassadors, to promote women's cycling. A friend tweeted me a link, I applied for a place, and on Sunday a couple of us from my club were headed over to the VeloPark to meet up with 50 other women including Alice Barnes (@BarnesAlice), Rebecca Charlton (@BeccaCharlton) and none other than Marianne Vos (@marianne_vos)!
The ride was organised by Take The Stage, an organisation set up to promote women's cycling, and was part of a weekend of events in London including a round-table event hosted by Rebecca Charlton with pro riders Marianne Vos and Hannah Barnes. They were joined by Olympic Sprinter Christine Ohuruogu, Muthai Kickboxing World Champion Ruqsana Begum, British Cycling Women's network PR Project Manager Natalie Justice, and Shaun Davidson, CEO to the London Velodrome.
Arriving at the VeloPark around 10am, we signed on, separated into three groups and grabbed some photos before leaving the Olympic Park with a photo car; heading up through Ilford and via Hainault on a 55km loop to ride some of the roads through Epping Forest. Marianne left with the first group and rode with them for the first third of the ride before joining our group for the middle section.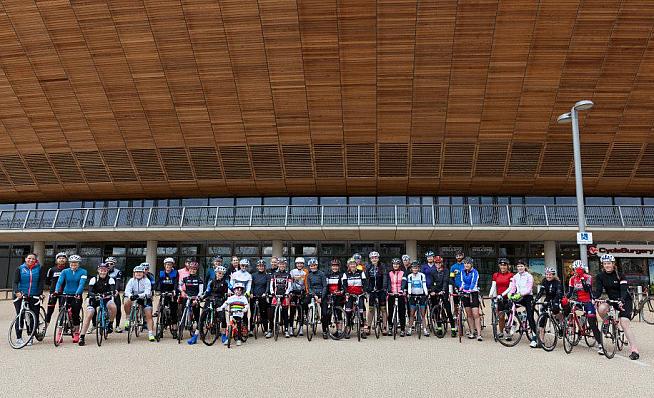 As soon as you're out of London proper you can start to enjoy the roads. We rolled through the countryside chatting, making new friends and finding out which clubs each of us ride with and about our favourite rides and holidays. Passing through Stapleford Abbotts I was riding in the second row and alongside me up pulled Marianne! It was a really quite surreal situation, rolling through Essex chatting to somebody I've only ever watched on TV or racing past me!
Managing to think of something to ask other than "Do you have any brothers or sisters" or "What music do you like?" I got the chance to ask Marianne about her highlights of the year, about Christmas, La Course and her favourite cycling destinations. I also got the chance to ask her for some racing advice.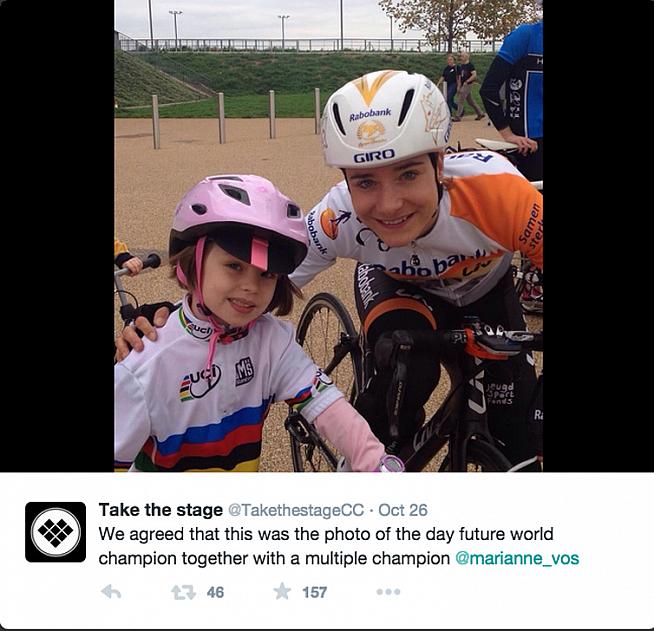 Marianne Vos has been acclaimed as the finest cyclist of her generation and, at the age of 27, has already won just about every prize in the sport - Olympic golds on road and track, three times World Road Race champion, and seven times World Cyclocross Champion. To say I was a bit star-struck would be an understatement, but Marianne was just so gracious and kind. It really was such a surreal situation and later on at home I still couldn't really believe it had happened. I guess the biggest thing I took away from our conversation was just how hard she works and how much she puts into her career, training and racing. While many of us will be waking up with a bit of a hangover on Boxing Day, Marianne will be racing cyclocross with a clear head.
We rolled back into the VeloPark, and after a group photo it was time to head off for home - although not before swapping email addresses and planning to meet up again. It was amazing to ride with Marianne, Alice and Rebecca, and one other outcome of the ride was that we made new connections and friends with more women cyclists. It was really inspiring to be in a huge peloton of women!
Sincere appreciation goes to Marianne, Rebecca and Alice, to all of the ride leaders, the support team, the other women riders, and especially to Marit Huisman for her organisation and help. It really does feel that women's cycling is starting to get the attention it truly deserves.
0 Comments