Ever since 2010, when Major Boris Johnson (long may he reign) invented the bicycle, Londoners have gone mad for cycling. Bikes, bikes, bikes! is all I hear from the capital these days. Those city cats just can't get enough.
The recent RideLondon-Surrey 100 sportive was the latest manifestation of London's cycling addiction, and when I turned up the day before to register I found cyclists really had taken over. Half the roads in town seemed to be closed to traffic, with people on bikes weaving around in circles grinning crazily while queues of vehicles sat motionless belching exhaust fumes into the sky.
Someone - possibly BoJo - had decided it would be a good idea to hold registration for RideLondon in the Excel Centre. It's a big indoor space, granted, but getting there by bike - from anywhere - is not a pleasant journey. It was late on a warm afternoon, I was wearing jeans, laden down with a backpack and found it all a bit stressful and sweaty. Thankfully the sign-on process itself was quick and efficient, and after a just a few minutes' queuing I was handed a rider pack containing my numbers and a kit bag.
Before leaving I had a cursory wander around the stands, where energy products were changing hands at knockdown prices. Six gels for a fiver? In your face, Brixton Market! I snaffled up a handful of energy gels and bars whose ingredients labels may as well have read: 'caffeine, sugar, science'.
Back in town, I met up with a friend to watch the end of the women's race in St James's Park. Liz, being a Londoner, has naturally become a cycling evangelist, and had arrived early to secure a premium vantage point by the finishing line. I had to make do with a premium view of the backs of other spectators' heads, but by hopping up and down I just about gathered that Giorgia Bronzini had denied Marianne Vos in a thrilling sprint finale.
I was starving after my trek to Excel, so we got some food from the stalls in Regent's Park and sat on the grass. Erdinger were giving away free beer to anyone with a bike. It turned out to be their alcohol-free beer, which Erdinger are clearly hoping will catch on among cyclists as a recovery beverage. It might just work too, if they don't raise the price.
Nursing a psychosomatic beer buzz, I got on the bike and rode back to my accommodation for the night. I was staying with my sister and her partner at their flat in Elephant & Castle. What I really felt like was an early night, but they were just back from a daytrip to Hastings and not ready for bed yet. So, after fresh fish tacos with homemade salsa and salad we hit the town - a new open-air bar called The Paperworks, just a few streets away from Fabric. We sat on the decking, had a few beers and pretended we were in Berlin - until, shortly after 11, everyone was ushered out onto the street because "the council are here!"
Back at the flat, a bottle of toffee vodka was produced but thankfully my sister, seeing my face, put a stop to the party. I pinned and stuck about two dozen ride numbers to every part of my bike, helmet and clothing, set my alarm for 5:00 am and settled down for a solid 5 hours' sleep.
Race day!
I mean, sportive day. Secretly though, I was racing - I had set myself a target of 5 hours 30, with the aim of getting as close to 5 hours as possible.
The first part of the plan was getting to the start point, so I scrambled into my kit and set off into the grey half-light of dawn. It was a damp morning but not yet raining, and as I headed across London Bridge and east towards the Olympic Park more and more cyclists appeared, until before long I was part of a hundred-strong peloton stretched out in front and behind, all riding in silence.
As we reached the park signs appeared directing riders to the various start points. I was in Yellow Wave C, with a 6:40 start time and had to ride around the far side of the park to reach my slot. I arrived with barely a minute to spare. I was worried about being late, but in fact after throwing my kit bag into the back of a lorry I was permitted to roll into my start pen without any problems.
As we shuffled en masse towards the start line, I could hear the compere on the PA system interviewing former England rugby captain Martin Johnson, who was taking on the ride. With a sinking sensation I heard the announcer say "So, you must be sorry they've taken out the hills..."
You what? I missed Johnson's reply in my confusion. Was this some kind of sick joke?
The hills, for those unfamiliar with the RideLondon route, are Box Hill of Olympic road race fame and the tougher, but less celebrated, Leith Hill. I hadn't ridden either one before, and the chance to tackle them on closed roads was, for me, a major attraction of RideLondon. I knew the weather forecast was for rain, but had the organisers really decided to cut the heart out of their sportive? Ok, so I may have been over-dramatising things at that point.
As we set off, I didn't quite know what to believe but decided to see what info I could pick up from fellow riders along the way. For now though, with four lanes of carriageway to ourselves, totally free of traffic, there was little time to worry about the missing hills. I focused on pacing myself as the course looped round the Eastway onto the A12, dipped through the Limehouse tunnel, past the Tower of London and on to Victoria Embankment.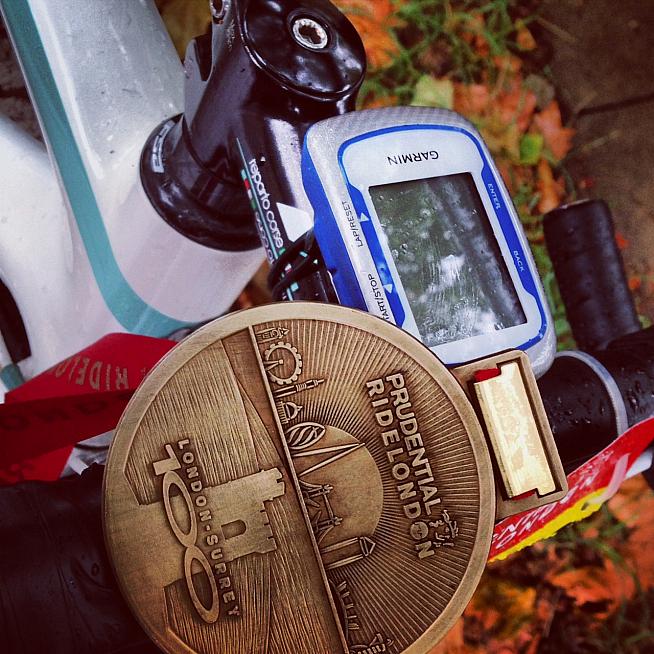 Just a few miles in and already the first spots of rain began to fall. I was already wearing a lightweight rain jacket, and had no extra kit on me so I kept my head down as the course contued west. By the time we reached East Sheen on the approach to Richmond Park the skies had lowered and rain was falling steadily from solid banks of surly cloud. Yet still spectators were lining the roadsides, cheering on not just friends and family but everyone who passed. It was an incredible thing to experience.
As we entered Richmond Park one rider in front of me spotted his family standing by the gates and suddenly pulled across in front of me and got off his bike for a chat. I managed to avoid him, but it was a reminder to take care as I didn't trust my brakes, on carbon rims, to stop me with any great urgency in the wet.
Despite livig in London for 10 years I'd never ridden in Richmond Park either so I enjoyed the swooping roads and sense of almost being in the countryside. Before long, we really were in the countryside as the course pased through Walton on Thames, Weybridge and Byfleet the stretches of greenery either side of the road grew longer.
By now I, along with everyone else, was absolutely drenched from head to foot. The rain has not let up for a minute, and if anything it was getting heavier. I passed the first rider hub, as the feeding zones were called, without pausing. Although I hadn't had time for breakfast, I did have an energy bar in my pocket and took a few bites from that as I rode.
Still the rain fell, and still the crowds lined the roads at every town we passed. It was genuinely phenomenal, those supporters and the atmosphere they generated really made the event.
And at last, to everyone's delight, a hill! Newlands Corner rose into view at 73km, the highest point on this shortened route. Out of the saddle, legs grumbling, I made it to the top after a 6-minute grind.
Wet paper bag
The second feed station appeared right at the top of Newlands Corner, and this time I pulled in to refill my water bottles. I picked up a banana and some dried fruit snacks in paper packets which promptly dissolved into a soggy mess in my pockets - my jersey still has bits of dried paper stuck to the lining. There was a single file queue along the row of tables, but it moved fast and I was back on the road within 5 minutes, which is unheard of speed for me.
By this point I had realised, after speaking briefly to another rider, that the organisers had indeed shortened the course to 86 miles out of safety concerns. At first I felt disappointed, cheated even. The Etape took place in worse conditions than this, and went ahead without a hitch - is Box Hill really a tougher proposition than the Pyrenees?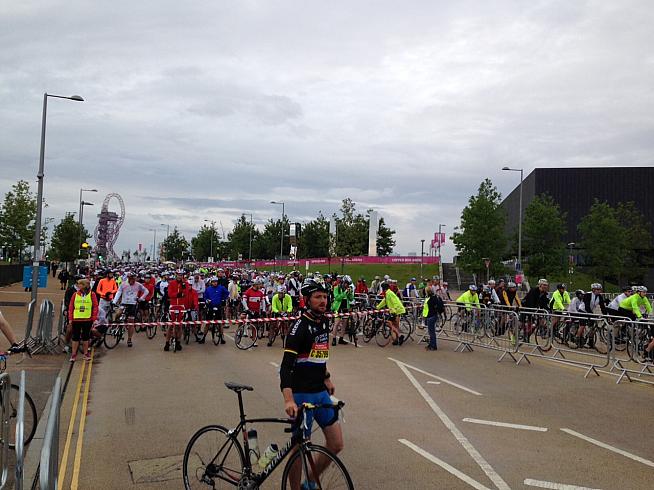 But as I sloshed through mile after mile of relentless rain, my attitude softened. Not that I was relieved to avoid the climbs - for me, they are an essential ingredient in a sportive. But conditions had deteriorated to the point where I could just about understand the organisers' concerns. We passed by storm drains where fountains of water were shooting several feet into the air through the gratings. A couple of times the course took us beneath railway bridges where the road was flooded with puddles that washed over the hubs on my wheels, and in some sections marshals were cordoning off vast lakes that had grown at the roadside.
In fact, the monumental rainfall made up for the missing miles and hijacked hills: thanks to the weather, whatever else happened, the 2014 RideLondon was going to be remembered as an epic.
The miles were passing by quickly, with the closed roads and flat terrain aiding fast progress. It wasn't the sort of weather that encouraged leisurely bimbling either; most of the ride was spent head down, squinting through the saline wash pouring down my face to see the road ahead.
I later discovered that my starting wave was packed full of not only press but pros too, including Laura Trott and Dame Sarah Storey, along with Martin Johnson who I'd heard on the tannoy at the start. But, thanks to the conditions, I didn't spot a single famous face - it was the least chatty sportive I've ever ridden, as everyone retreated into survival mode and cracked on towards the finish.
Express train
As the outskirts of London came into sight again I heard the unmistakeable, pounding whoosh of a fast-moving train approaching, and determined to latch on. Four, five, six riders passed me on my right; I glanced over my shoulder waiting for a break, and slotted into the bunch. We steadily passed by lone and smaller knots of riders, keeping up a decent speed in the high 30s. I held my place without trouble, but somewhere near Kingston - where we encountered massed ranks of fellow riders, the later starters, heading the opposite direction on their way out into Surrey - the group split in two and then fragmented.
Alone again, I reached the foot of Wimbledon Hill.
"Come on! Last hill,"called a supporter from the roadside. In front of me, a rider cut across the road to collect a water bottle being held out by supporters; his bike slid from under him and he was left sitting on his backside on the wet road.
I got out of the saddle and made it up the short climb, but my legs were starting to tire from the effort. Still, with the end in sight there was no risk of stopping now.
Soon the mist cleared to reveal the brown Thames swirling slow and swollen to our right as we paced the last few miles up Embankment towards the grandstand finish. A slight headwind had picked up by this point, and that stretch along the river was a bit of a drag - but not for long, and as the road cut in past Westminster and up Whitehall my nostrils were flaring in anticipation of the finish line.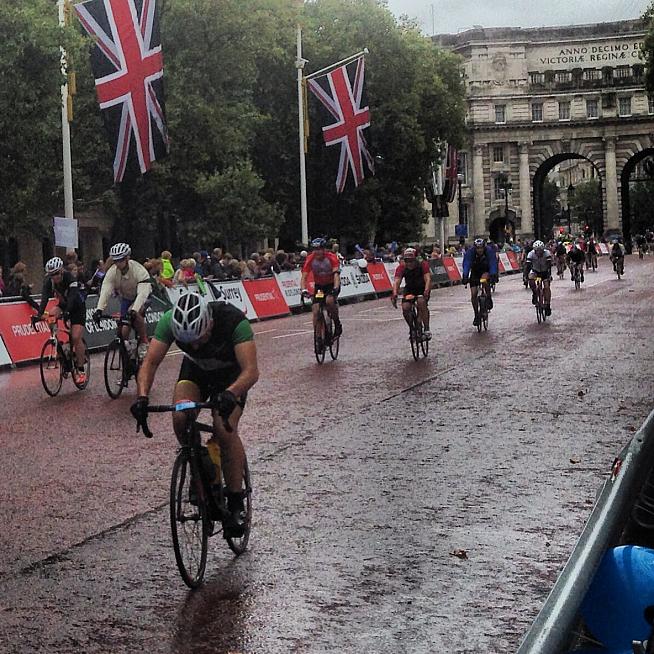 Pratfall
In the event, I almost didn't make it to the finish line. Deciding in the heat of the moment to give it the stand-up sprint into Trafalgar Square, I overcooked the sharp lefthand bend back onto the Mall. Time slowed to standstill as I watched my front wheel speed towards the barriers. After 85.5 miles of riding through torrential rain I was going to crash within sight of the finish line - and in front of all these nice people watching and clapping, too.
'This is going to be embarrassing,' I remember thinking, in the split second before my wheel reached the fencing and - missed it by a hair's breadth! To my huge relief and gratitude, the bike tracked round into the bend at the very last second, with the spectators jumping back from the barrier as I disappeared under Admiralty Arch and cranked it up for a final sprint.
I know that some people like to mock sportive riders for 'pretend sprinting' towards non-existent finish lines, but I feel no shame in reporting that I put my foot down and wrung out every last bit of effort as I raced towards Buckingham Palace. All spectators saw was another bedraggled guy trundling over the line, the fools - but I surged past Cav and Kittel in the final metres and blazed over that line like a meteorite. Winner!
In the weeks since the event I've decided to file the RideLondon sportive under 'successes'. Yes, it was a shame to lose the hills, and no 86 miles is not the same as 100 miles. But even the watery armageddon couldn't dampen the joy of racing on closed roads, with absolutely outstanding support shown by everyone along the route.
I've already entered the ballot, and with any luck will be back next year to attempt to beat my time of 4 hours 25 minutes, extra miles or not...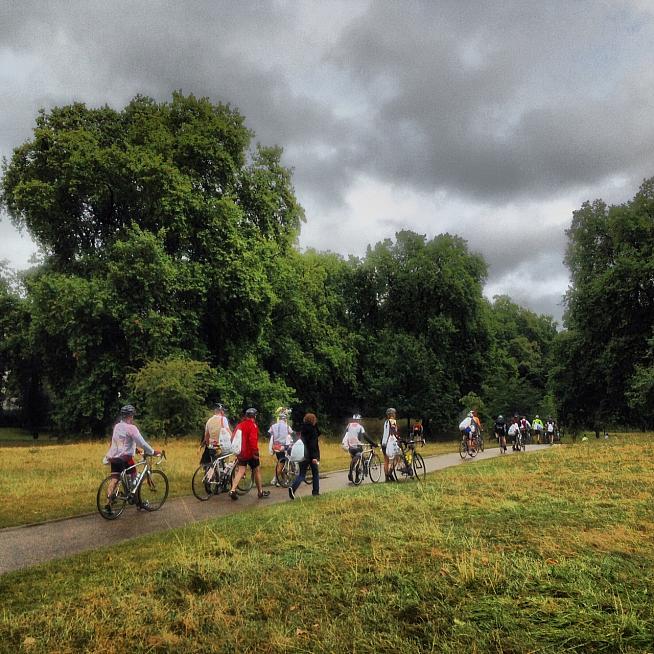 0 Comments