Data. How much do you use? Speed, distance, time, gradient, cadence, heart rate, power?
I don't know anyone who doesn't ride with at least one of them. It's addictive - not least the prospect of uploading and comparing after. Did I beat my best time on that hill? What was my average speed? How many calories? How long? How many miles this month?
Then there's the more serious bits. FPT, lactate thresholds, watts/kg analysis. How do your numbers stack up with Contador, Froome, Voigt? (On second thoughts, it may be safer not to check.)
Personally I have my current speed, ride time and gradient on almost every ride - plus heart rate and cadence for some. I can check elevation, both current and ride total, at a swipe. Comparisons with my friends and previous self are done through Stava and Veloviewer. But not on Sunday. On Sunday I rode the Ride of the Falling Leaves sportive on nothing but feel.
The last one-day classic of the season, the Giro Lombardia is held in Northern Italy in early October. Nicknamed the Race of the Falling Leaves, it is the climber's classic. This year's edition was won by Dan Martin, while past champions include Hinault, Moser, Merckx and Coppi.
On the same Sunday the pros did battle in Italy, London cycling club Dulwich Paragon ran their annual sportive, The Ride of the Falling Leaves. It leaves Herne Hill velodrome and heads out through Kent over 105 kilometres (65 miles) and up 1,500 metres. This year I was on it.
The day started cold - as low as 3.5 degrees, rising to the mid-teens by lunch - with clear skies, and there was no wind. I dressed warmly, the softshell making its first appearance of the season, plus knee warmers, shoe covers and long-fingered gloves. It was possibly too much later on, but lovely first thing.
Meeting up with three other riders I know (who posted similar RideLondon 100 times to me) at the velodrome we started out with a plan to ride together.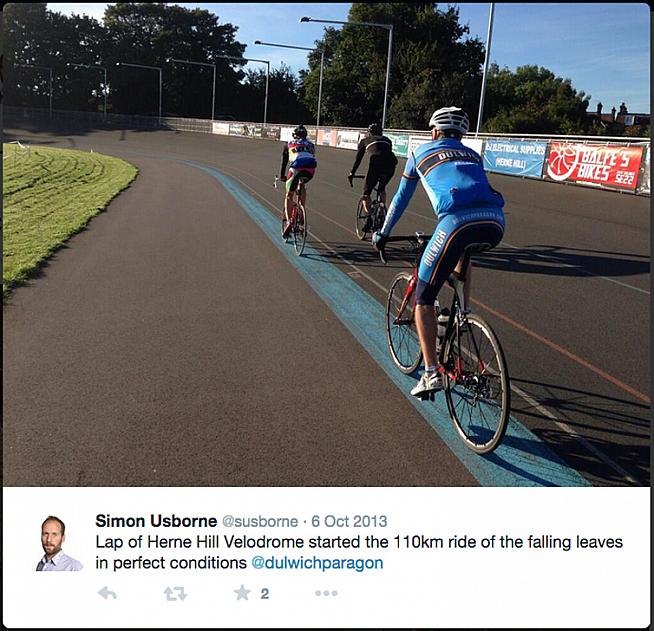 Herne Hill and beyond
Herne Hill velodrome is a fantastic place to start. Built in 1891, it's one of the world's oldest tracks. It was used for the 1948 Olympics, and for more than 20 years was London's only velodrome. It's where Wiggins learnt to ride the track and has been recently renovated.
It was also the first time I've ever ridden on a velodrome, and I enjoyed it. I tried to follow the painted blue lines, climbing the banking and dropping down on my friends - then we were off the track and onto the roads.
The start of the route takes you up to Crystal Palace, a testing little leg-warmer, then down the hill and out into Kent. The roads are great: empty, smooth, and before I knew it I was in the countryside on as nice a day for cycling as I can remember. Crisp air, but toasty warm in my wind-proofs, no wind, bright, clear, rolling hills and fields to the left and right of the road. The sun was low, leaving dappled shadows through the trees onto the road.
I should say that my decision to ride old-school without GPS was not quite voluntary. Instead, my Garmin packed in. After four increasingly frustrated attempts I gave up on trying to make it work and soon I was revelling in riding on feel alone; spinning up a minor incline at some speed or other, chatting to the guys I was riding with, looking up at the view not down to my stem. Through no real choice of my own, this would be my first data-free long ride for quite some time.
No numbers mo problem
It was an early honeymoon for me in data-less riding. The first concern to hit me was "but how well did I do on that hill?" I'd ridden it before, I knew that, but had no idea if I was faster or slower.
My next concern was "how did I do on that hill compared to Alastair?" He'd briefly ridden on ahead of us, I'd climbed well and I had no idea how close our times would be. I also couldn't log the ride, meaning that the times and my overall October numbers would be low as a result. I considered stealing the file from one of the people I was riding with and claiming it as my own.
Then other problems started appearing. "Are we on a hill?" I asked. We were, but not much of one. I just didn't know. "How fast are we going?" Normally I'm happy at 30kph on the flat indefinitely, can ride at 35kph for a good amount of time, 40kph for a short one, and 25 feels too slow. I just didn't have a clue.
Then something else occured to me - time. I eat to a loose schedule, mainly so I don't forget to, when riding. Nothing for the first hour or so, then a gel or a bite of something every 30/40 mins.
Enjoying the scenery, with no clue how long I'd been in the saddle, I felt my legs getting tired. "How long have we been riding?" I asked Alastair. It was over an hour, so I bolted down a gel. Then I worried I wouldn't know how long until the next one.
Distance was a problem as well. How far into the ride was I? How much was left? It was set to be 105km long with 1,500m of climbing, and I had no idea how much of either I'd done. Martin - whose Garmin was working fine - told me we were a third into the ride but had only covered a quarter of the climbing.
It also meant I didn't know when the food stops were or how far away. Pacing my eating and drinking was now problematic. I soon came to realise I wasn't alone in this. Others with working tech told me we were 60-odd kilometres in, well over half way, but so far there had been no stop.
We were debating whether there was meant to be one or two, pretty convinced there was at least one (as there were two Dulwich riders in the group and they remembered being asked to volunteer), but no sign of it so far.
We hit Toys Hill, the second big hill of the ride, 65km in and all of us running low on something. Still no stop. We took a break, took in the view, and redistributed supplies.
I was down to three gels, but had most of a litre of water left so shared it with those that were almost out. One rider had had two punctures, so picked up a spare tube from someone who had two. Someone offered me some food. A few minutes later we set off again. Down the hill, up another, down it again and then, finally, the (only) break stop appeared.
Located in a car park, 72.5km into a 105km ride there was water, bananas and flapjacks available, along with a mechanic to look at bikes. We took a break and I ate as much as I could. It was getting clear that by this point I'd not eaten enough.
There were three serious climbs left to go. We started with Sundridge Hill - a beast of a climb, officially 1.6km at 7%, it hits and holds gradients in the late teens to early 20s for hundreds of metres. I went from being fastest of our mini-group up early climbs to dropping miles off the back as my energy levels disintegrated.
Cudham Road was next, another steep ascent, hitting huge gradients midway up. I resorted to weaving to get up it. My quads had given up, I shifted back in my saddle to put more work through my hamstrings instead. A few kilometres later they gave up too.
My legs were gone. On the flat I was in the drops, at the biggest effort I could hold, putting out a meaty 30kph. 18mph was all I had left in me. On a climb this paltry output became embarrassing. I crawled up 5% inclines in my granny gear.
Just one hill left though: get to the top of Crystal Palace and it was downhill all the way to the end. I managed it, somehow, and pulling into the finish area at Dulwich College Sports Club (just down the road from the velodrome) was greeted with something magical.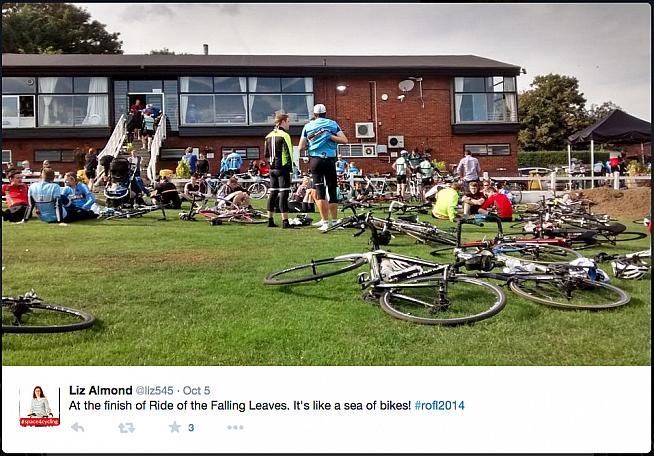 How to end a sportive
You see, in all the dozens of sportives I've ridden across the UK and beyond, I've never been given a token for a pint at the finish line before (non-alcoholic alternatives available). With glorious sunshine and a rather impressive hot food spread (more than making up for the lack of options at the break stop), you could wash down your generous helping of pasta, potatoes, meatballs, bread or whatever with a pint from the well-stocked bar.
As it's Dulwich's club sportive, a lot of people lived nearby. Many stayed around after the ride, and with home just a short ride from the finish I would imagine some locals enjoyed more than one recovery beer. This meant the atmosphere at the finish was unlike any I'd seen, and one I approved of.
Standing in the sunshine on the lawn outside the sports centre, chatting to people I'd ridden with and those I hadn't, with a pint in my hand, for a while I forgot my energy lows, forgot the hills and the punctures and the seemingly never-ending wait for the food stops.
As for riding technology free again? Put it this way, I'm now considering buying a power meter.
2 Comments