Amid the excitement surrounding the official unveiling of the 2014 Tour de France route, it was easy to miss another massive bit of news for sportive fans as the date and route of the 2014 Étape du Tour were announced.
A cyclosportive that allows us mere mortals to enjoy - or suffer - the "pro experience" for a day by riding a stage of the Tour de France, the annual Étape is eagerly awaited by cycling fans across Europe.
It's an opportunity not to be missed, and for 2014 the Étape will follow the 18th stage of the Tour de France. The 148km route starts off in the town of Pau on the northern side of the Pyrenees - and as you might suspect, the Tour planners have made full use of the local topography with some hefty climbs included.
The signature climb will see riders tackle the 2115m Col Du Tourmalet, a 17.1km ascent with an average gradient of 7.3%. And there's more bad news for budding Marcel Kittels, as the stage features a 13.6km hill finish in Hautacam. This ski resort town is located just 28km from Lourdes, and with an altitude of 1520m there are bound to be a few weary-legged pilgrims praying for a divine push to the finish line come the day's end.
This year's Étape takes place four days before the peloton passes by the same way, allowing recovery time for those who want to stay in the area to take in the Tour.
Over 13,000 participants are expected to take on the challenge. To be among them, visit the event website below where details on pricing and registration will be available from 12 November.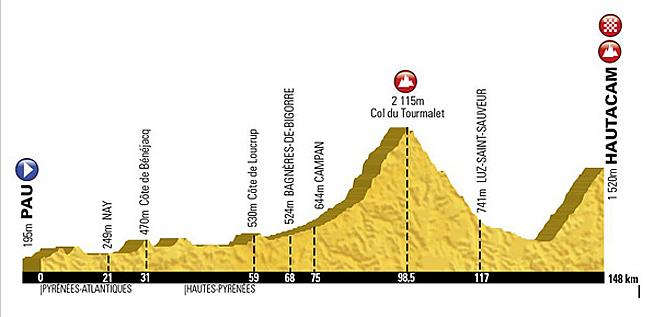 0 Comments