Entries to Mallorca 312 will reopen tomorrow, organisers have confirmed, after the booking website crashed today under the volume of people attempting to register.
The 2024 edition of the ever-popular sportive takes place on 27 April 2024.
Entries were set to open at 11:00 CET (10:00 UK time) this morning, but most riders attempting to book their place were greeted with a screen saying "Registrations not active".
After 5 hours of radio silence - and a predictably frustrated response from would-be entrants on the event's social media page - the organisers have addressed the issue.
"As you have noticed, due to the high number of visitors, our server has collapsed," reads a statement on the Mallorca 312 Instagram account.
"We are currently working out the appropriate maintenance tasks to guarantee a smooth registration process. We apologize for any inconvenience caused."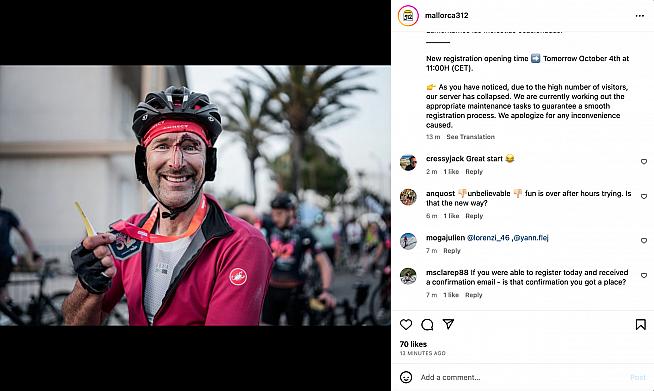 A small number of people did successfully manage to book their place. For everyone else, the adventure will resume at the same time tomorrow with entry scheduled to reopen at 10:00 UK time (11:00 CET) on Wednesday 4 October.
Despite the hiccup, I think we can safely say the Mallorca 312's popularity remains undimmed.
Book your place at mallorca312.com.
0 Comments