The Rapha Festive 500, everyone's favourite festive cycling challenge, is back for 2022.
If you've not heard of the Festive 500, it's Rapha's way of encouraging you to ride 500 kilometres in eight days between Christmas Eve and New Year's Eve (24-31 December).
It's not only a great way to keep in shape amid seasonal excess, but there are some prizes up for grabs too.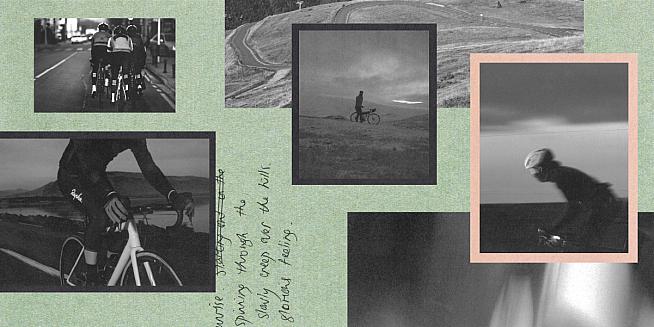 The Festive 500 was the brainchild of former Rapha designer Graeme Raeburn, who 12 years ago set out to cover 1000 kilometres over the Christmas period. This he achieved, but in doing so he realised this distance was about twice as far as he would have liked to ride. The Festive 500 was born.
"It's not a mile-chasing thing, but rather a journey. It's about getting out there and just enjoying being on your bike," he explained.
Over the intervening 12 years, riders from Girona to Gongju have been getting on their bikes with the goal of completing 500 kilometres over the festive period. The Festive 500 has become a rite of passage and an iconic challenge which has captured the imagination of followers new and old every year.
But there's more to it than reaching the finish line. Camaraderie and community, motivation and mistakes are all part of what makes it such a special challenge.
Sign up on Strava
Join thousands of fellow riders around the world and sign up to the challenge on Strava to make things official. Those who go the full distance and post their progress on Strava will receive a special digital badge, and be entered into a prize draw with the chance to win a brand new OPEN U.P. bike.
Sign up here.
The Festive 500 Collection
As ever, Rapha have launched a collection of limited edition kit and accessories to accompany this year's challenge.
Created from the concept of the golden ratio, this year's design reflects every rider's desire to find the perfect balance of time on and off the bike during the busy festive period.
Coming soon at rapha.cc/festive-500.
Spirit of the Festive 500
Every year, as part of our Spirit of the Festive 500 awards, riders commemorate their kilometres in a range of clever and creative ways. From posters to pastries, scented candles to storyboards, we celebrate these momentos with a range of prizes.
Document your days in your own style and be in with the chance of winning Prizes from the likes of Wahoo, POC, Snow Peak and Campagnolo.
Ride on Zwift
If you prefer to put in the work indoors - and it does make it a lot easier - you can find a group ride on Zwift. There will be Festive 500 rides starting every two hours during the challenge to help you find a ride during even the most hectic festive schedule.
www.zwift.com/rapha-festive-500
0 Comments