The 31st edition of the Étape du Tour will take place on 9 July 2023.
The course follows the same route as stage 14 of the 2023 Tour de France, starting in Annemasse and finishing in Morzine. Entries will open on Wednesday 8 November.
The 152km route takes in more than 4,100 metres of elevation gain, including the climbs of col de Saxel, Col de Cou, Col de Feu, Col de la Ramaz and Col de Joux Plane.
Check out the profile of the 2023 Étape du Tour: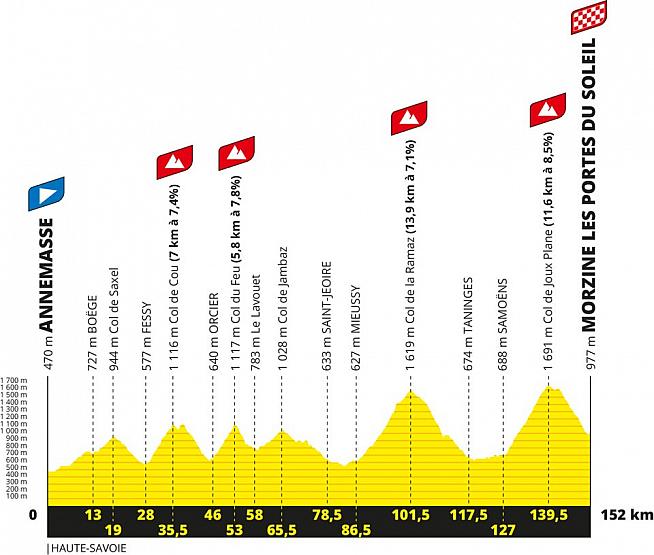 L'Etape 2023 - a case of déjà vu?
Etape veterans might notice the finish of the 2023 route looks familiar. That's because the final two climbs, Col de la Ramez and Col de Joux Plane, also featured in the 2016 Etape du Tour.
That's not a reason to skip the 2023 edition though, as the opening 100km take in a number of new climbs.
Col de la Ramez and Joux Plane are well worth a second visit too - with the latter rated as tougher than Alpe d'Huez by Sportive.com publisher Joe.
Here's what Joe had to say about the final two climbs back in 2016:
COL DE LA RAMAZ
The third climb of the day is the Col de la Ramaz which sees Etape riders climb 1,014 metres over 15.5km to the 1,619 metres summit. It has an average of 6.1% slope but that doesn't really tell the full story. The initial 6km goes at roughly 5%, followed by one kilometre of flat, before another kilometre at 8% and then two kilometres at a leg sapping 10.4%. After that you have a kilometre at 8.6%, then two kilometres at around 6.5%. The good news is that the final 500 metres of the climb is almost totally flat. For most Etape riders this will be a tough climb in the heat of the day - you will need to take this steadily and ensure that you are drinking plenty of water because if it is a hot day (and it very often is at this time of year) then the Ramaz will take a lot of energy out of you. For an average Etape rider the total climb is probably around 75 minutes and you should not think of this simply as the warm up to the Col de Joux Plane. The scenery is beautiful - plenty of hairpin bends at the start of the climb, followed by Alpine pastures and then the snow tunnels on the upper reaches. The surface will have been replaced for the Tour, removing one of the main complaints about the ride currently.
Off the top of the Ramaz (we think there will be a feed station at the top but it is possible ASO will decide there is not enough space for anything other than a water station) there is a nice long descent of 16km with a vertical drop of 960 metres. At the top it is a quite narrow road and you will need to be careful if you are surrounded by other riders; fortunately by this stage of an Etape the groups have usually sorted themselves out and you should be riding with people roughly the same speed as you. Towards the bottom of the descent as you get nearer Taninges the road gets wider and it should be a rapid and enjoyable ride. The town itself is not unpretty - it has Roman origins - and we expect there to be a feed station somewhere on the outskirts of the 3,000 population location.
From Taninges there is then a 13km drag along to Samoëns. We imagine you will be routed along the D907, which is mildly uphill (just 78 metres ascent over 13km) but will probably feel like somewhat hard work in the midday sun. You will ideally want to get yourself into a group on this section.
Samoëns is a pretty town, famed for its stonemasonry which were supplied by the numerous limestone quarries in the area. The town is dominated by a pretty (traffic free) square with a huge lime tree and nearby is an Alpine botanical garden. If you want to get your family to come and support you then Samoëns would be an excellent base, especially as it has a reputation for excellent Savoyard food.
COL DE JOUX PLANE
And so comes the final climb of the day. I don't want to scare you but the Col de Joux Plane is a tough old climb. The slopes face south so the full force of the sun will be beating down on you and there is pretty much nowhere to hide. This will be the twelfth time the Tour de France has used this climb, which has been categorised Haut Categorie (ie the toughest) since 1978. It is a climb that has broken some top riders, including Laurent Fignon in 1983 and Lance Armstrong in 2000, who described the day in which he climbed the Joux Plane as "the hardest day on my life - on a bike". It was also the climb where Floyd Landis so memorably destroyed his rivals in the 2006 Tour, four days before he tested positive for doping.
To be totally honest, we were quite surprised to see this stage chosen because of the toughness of the Col de Joux Plane. At 11.6km long with an average slope of 8.5% it is unrelenting. And at the end of a long ride it will be challenging for even the most race fit rider. If you haven't trained enough this will be a climb that finds you out. It starts with about 750 metres at 8.5%, followed by a 12% ramp for 300 metres, followed by a short section at 5% and then two kilometres at 8.5%. A short 'break' of 500 metres at 5% allows a little recovery but then you have 2km at 7%, 600 metres at 10.8% and then follows the last 5km at an average of just over 9% along exposed slopes with absolutely no shelter. Most people who have ridden this will admit that while it is not one of the 'iconic' climbs, the Joux Plane is one of the toughest in the northern Alps. Pantani ascended this climb in 33 minutes - if you manage to do this in double that time then 'chapeau' to you! Personally I rate this as a harder climb than Alpe d'Huez.
When you reach the top the views are spectacular with Mont Blanc dominating the scenery. There will be a feed station (and medical recovery, I'd expect) on the grassy Alpine summit. However don't relax! Although the route map looks like your climbing for the day is finished, in fact what happens is that you have a short descent to the lake, whereupon you must climb another 70 metres to get across the Col de Ranfolly. For those unprepared for this little ascent I can imagine it will be pretty dispiriting.
From the Ranfolly down to Morzine it should be pure joy and relief but you do need to be wary. The 11km descent is at an average of 6.5% with a maximum slope of 11.1% and while it is steep and technical at the top it is also fun. However when you are tired after a long day riding it is something that will test your reflexes and you should not relax and think this is just the final run in to the finish line. There are plenty of tight hairpin bends with steep slopes to keep you occupied. There is a small ascent on the ride into the centre of Morzine to tackle in the final kilometre but if you have got this far the adrenaline will keep you going and the thought of a refreshing beer (or about 16 hours in bed) should take your mind off the pain.
How to enter L'Etape du Tour
Entries for L'Etape du Tour 2023 will open on Wednesday 2 November.
For those looking ahead to logistics, the nearest airport to Annemasse is Geneva located 28km away - about 30 minutes drive.
The finish in Morzine is roughly an hour from Annemasse by car via toll roads, or 1h 20 without tolls.
For more details and to register, visit the event website at www.letapedutourdefrance.com.
0 Comments