It's been quiet on the Eoghan front recently - too quiet, as they used to say in the cowboy films right before an ambush.
Experience suggests that when our roving reporter drops off the radar, it means he's plotting something... and sure enough, the coddiwompling Canadian has pulled another epic challenge out of the bag.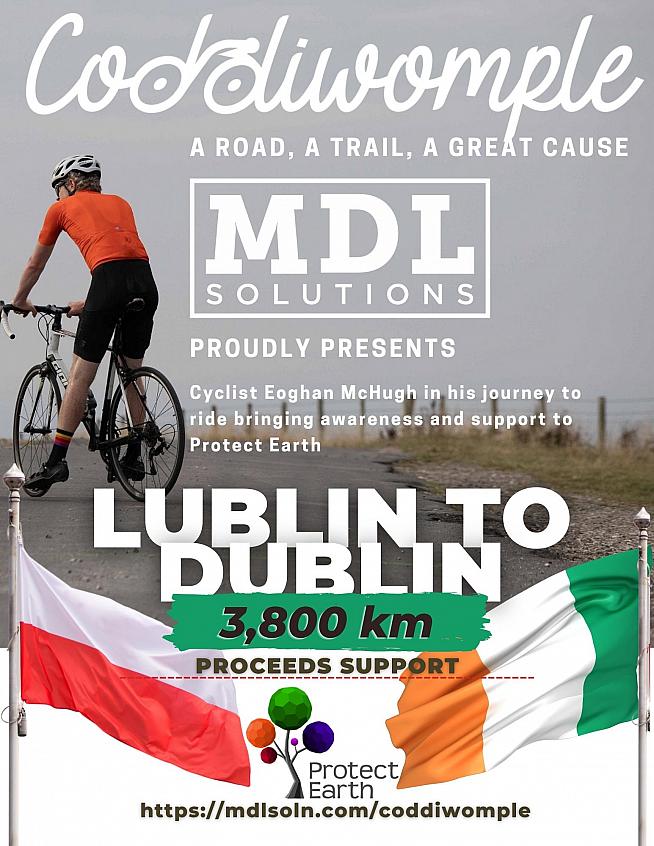 4,023 kilometres. 2,500 miles. That's the distance Eoghan McHugh will cover on his latest ride from Lublin, Poland, to Dublin, Ireland.
"I plotted the route, and once I recovered from how much distance I will be cycling, I was tempted to replot the route," he jokes. "This is the biggest ride I've ever done!"
Coined the Lublin to Dublin Coddiwomple, Eoghan will ride through Poland, Germany, France, the UK, and Ireland. It all starts in early September.
"I've planned six weeks for this adventure. And, starting in September, it's perfect. The length of time, the distances covered, and changes in seasons, you know, Europe faced very difficult weather this summer. And, challenging weather is becoming the norm."
The climate emergency is at the heart of the Coddiwomple; Eoghan is riding to raise money for Protect Earth - an environmental charity based in the UK whose mission is to plant trees, and lots of them.
Riding a bike is one of the greener ways to travel, and Eoghan's adventure has attracted the support of MDL Solutions, purveyors of heating, cooling and ventilation (HVAC) equipment based in Ontario, Canada.
"Without their support, this once-in-a-lifetime opportunity wouldn't be possible," notes Eoghan.
The ride is also supported by UK cycle insurance specialists CycleGuard, who are donating any money raised through sales generated via the Coddiwomple to Protect Earth.
Some familiar names have returned to help Eoghan, too - Ribble Cycles are on board, and Eoghan will be undertaking the ride on his trusty CGR Ti. Welsh clothing company Howies will be kitting Eoghan out in their organic active clothing.
And, if he makes it as far as Ireland, we might even stand him a pint of Guinness on his way to Dublin.
Not promising anything, mind...
Follow Eoghan's progress
Dot watchers can track Eoghan's progress via MDL Solution's website; they have set up a dedicated page for the ride with live tracking.
Eoghan will also be documenting his adventure on Instagram, where he'll post updates and have a weekly Insta live.
And of course, if you'd like to make a donation to Protect Earth to help support their work reforesting the UK, you can do so via the link below.
Instagram: @storiesfromamanandhisbike
Live tracking: mdlsoln.com/coddiwomple
Donate: mdlsoln.com/coddiwomple-news/biodiversity-fund

0 Comments