The route and date for the 2022 Etape du Tour have been confirmed at this morning's Tour de France route reveal in Paris.
The Etape sportive will take place on Sunday 10 July 2022 in Briancon in the French Alps, and follow the route of stage 12 of the 2022 Tour de France.
It looks set to be one of the toughest editions of the Etape du Tour in recent years, with over 4500m of climbing - including a summit finish atop the iconic Alpe d'Huez.
Entries will open at 4pm (3pm UK time) on Monday 18 October at www.letapedutourdefrance.com.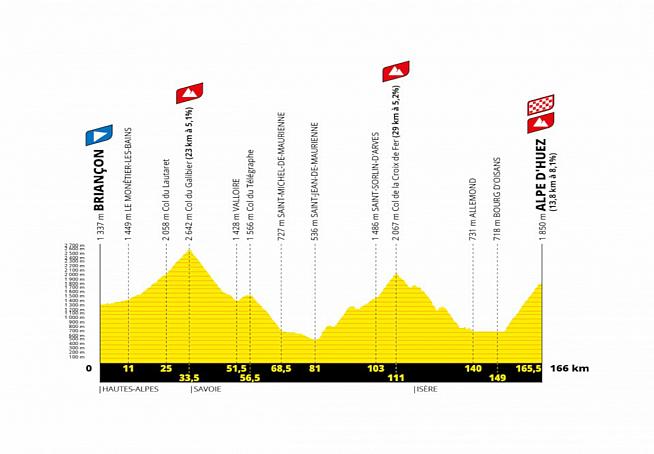 The announcement of a return to the Alps means farewell to the long-anticipated Nice edition, which was called off in 2020 and again this year because of the pandemic.
Instead, it's a return to something of a classic route with three iconic climbs: the Col du Galibier, Col de la Croix de Fer, and Alpe d'Huez.
The Alpe d'Huez has featured as a summit finish in three past editions of L'Etape, most recently in 2011 and before that in 2006 and 1995. It's also of course the finish for another classic sportive, La Marmotte Alps, which will take place the week before on 3 July 2022.
Interestingly, the Marmotte organisers chose to launch entries for 2022 at 10:30am this morning - at the exact time that the live route reveal for this year's Tour de France began.
> Entries open for La Marmotte Alps 2022 >
Whereas recent editions of the Marmotte and Etape have taken place on the same weekend, the one-week gap in 2022 raises the tantalising prospect of an epic double-header for any cyclists looking to pack two of Europe's toughest rides into one holiday.
And four days after the Etape, the pro peloton will arrive in Briancon to take on the same course in the Tour de France.
The first 100 entries for L'Etape du Tour were released earlier today at www.letour.fr/en/club.
General entreis for L'Etape go on sale on Monday 18 October at 4pm.
To enter, visit www.letapedutourdefrance.com.
0 Comments