The route reveal for the 2022 Tour de France takes place this morning at 10:30am UK time - and that of course means that we'll discover the route of the 2022 Etape du Tour.
After two attempts to hold the Etape in Nice in 2020 and 2021 were foiled by Covid, will the organisers hope for third time lucky, or opt for a completely different route elsewhere in France?
Without jumping to any conclusions, official Etape Nice jerseys have just appeared in Rapha's bargain bin so we're expecting to see something new for 2022.
You can follow the launch live online by signing up to the new Tour de France Club at www.letour.fr/en/unveiling-route-2022.
It's free, and there are a couple of incentives thrown in to while away the minutes until the reveal.
For example, how about winning this Colnago dream bike equipped with Campagnolo EPS?
To enter the draw, simply guess the total distance of the 2022 Tour de France route.
By way of a hint, the 2021 edition was 3414km long - as anyone who followed Lachlan Morton's incredible Alt Tour this year may remember. If you missed it, the EF Education Nippo rider rode the complete Tour solo on a bike loaded with camp gear - and still reached Paris ahead of his team mates in the pro peloton.
Another little perk to this year's launch - the organisers will be releasing the first 100 entries to the 2022 Etape du Tour live during this morning's route reveal.
A link will appear on screen during the presentation, so tune in at 10:30am and keep your eyes peeled.
Follow live: www.letour.fr/en/club/2022routes
More to follow below as details are revealed...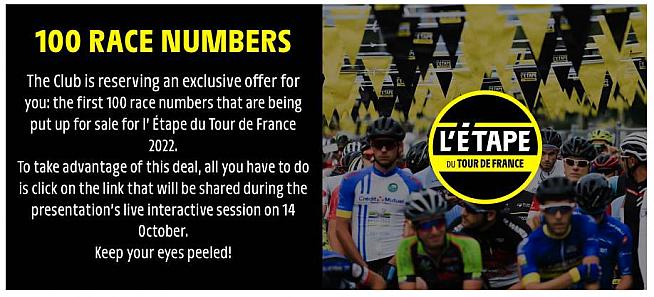 10:47am: La Marmotte makes a grab for Le Tour's thunder

Some classic trolling here from the organisers of La Marmotte - they've just opened entries to the 2022 edition... via an email timed perfectly to coincide with the Tour de France route reveal.
La Marmotte is of course the Etape du Tour's main rival to the title of Europe's most celebrated sportive. And it usually takes place on the same weekend as the Etape.
The Marmotte will be on Sunday 3 July 2022. And some news for hardcore sportivistes - the Marmotte Ultrafondo returns for 2022.
That's 226km, 6300m climbing. Two ascents of the local hill, Alpe d'Huez.
Go on, you know you want to...
Enter La Marmotte: marmottegranfondoalpes.com
10:54am: Tour de France Femmes avec Zwift
Easily the biggest news of this year's reveal is the launch of the first women's Tour - the Tour de France Femmes avec Zwift.
Le Tour Femmes will start in Paris on the final day of the men's Tour - a decision taken, say the organisers, to ensure the event receives maximum media attention.
The opening stage will feature a KOM on the Champs Elysees. Not exactly noted as a major climb, that... but it has precedent from 1979 apparently.
There will be plenty of climbing in the following stages though, including a spot of gravel on the Planche des Belles Filles.
The inaugural Tour de France Femmes will feature eight stages. Credit to sponsors Zwift for backing what is a big first step towards parity.
"We will be looking back on this in 100 years", says race director Marion Rousse.
You can read more about the Tour de Femmes here.
11:23am: Crown Prince Frederik of Denmark
The audience in Paris is packed with cycling royalty, but now on stage is crown prince Frederik of Denmark.
Sporting a tie decorated with little bicycles, he's just referred to the Tour "kicking off" in Copenhagen.
The Denmark Grand Départ will be the most northerly depart for a Tour de France.
"I went to pick up my kids with a bike recently," says the prince.
Seems the bike really is embedded in everyday life in Denmark, "a small country on two wheels" as the on-screen caption has just put it.
11:42am Cobbles!
We're onto the route reveal now. 5 July will see 11 sections of cobbles on the stage from Lille, including five which have never appeared in Paris-Roubaix.
Something for the riders to look forward to there. Some of them probably still have mud behind their ears from this year's Paris-Roubaix.
Meanwhile, we've already spotted a likely candidate for the Etape route in the flyover at the start of the launch.
If we're right, get ready for 21 bends on the Alpe... We'll find out shortly.
11:51am: IT'S ALPE D'HUEZ!
Well stage 11 also looked a contender, but it is in fact Alpe d'Huez on the menu for L'Etape du Tour 2022!
And the date for the 2022 Etape is 10th July 2022 - 4 days before the pros.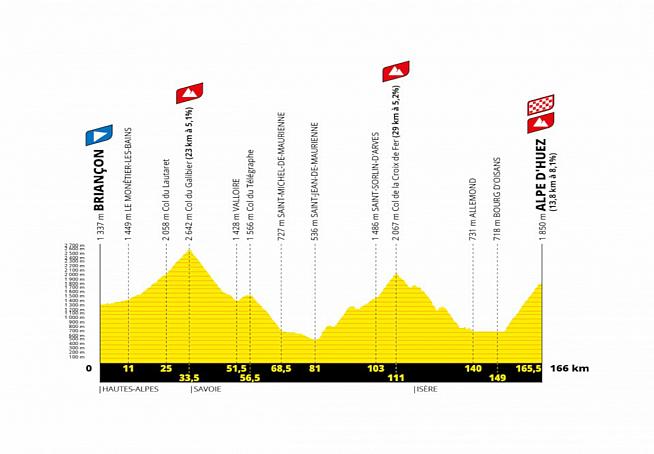 The 2022 Etape will start in Briancon and follow the route of stage 12 of the 2022 Tour de France.
Col du Galibier, St Michel de Maurienne, and then uuuuup to Col de la Croix de Fer, Bourg d'Oisans, and a summit finish on Alpe d'Huez.
The distance is 166km, with 4750m climbing if I heard right - got distracted by the footage from 1986 of Hinault and Lemond finishing the stage together hand in hand.
Average speed was 32km/h. Doubt many Etape riders will be close to that, but it looks set to be a classic edition.
12:02pm: Total route 3328km
Congratulations if you guessed 3328km in the Colnago prize draw mentioned above.
That's the shortest Tour in over 10 years. I was well out with my guess of 3460km. But it's good news for Lachy if he decides to do another solo effort!
12:05pm: "Vive The Tours"
And that's a wrap - nice sign-off from Christian Prudhomme who finished with the customary "Vive le Tour", before adding "No - Vive the Tours".
Time later to pore over the Tour route in more detail, but the Tour de France Femmes is a long overdue addition.
And how about that Etape du Tour route?
Just realised I totally missed the live link to those 100 Etape entries going on sale. Unless Prudhomme forgot to activate it - he did get in a bit of a muddle midway, thrown by getting the Crown Prince's son's age wrong on live TV. (If you missed it, he was presenting Prince Frederik with a game to give to his 16-year-old son.)
10:23pm Ah - but here is the link, via email:
GO GO GO!
Full details for the 2022 Etape du Tour are now live at www.letapedutourdefrance.com.
0 Comments