This year's edition of La Marmotte Alps has been postponed until September, organisers have confirmed.
One of Europe's biggest sportives, La Marmotte is a bucket list cycling challenge tackling three iconic Alpine climbs including Alpe d'Huez over a 186km course.
This year's edition was set to take place on 27 June. However, the organisers have rescheduled for Saturday 4 September 2021.
A statement on the event website explains:
"The organizers of the LEPAPE Marmotte Granfondo Alpes will have tried everything to keep the event on the date initially scheduled for June 27, 2021. However, the current context and the recent government announcements of April 29 do not allow us to organize the event. this event next June.
Therefore, we confirm the postponement of the LEPAPE Marmotte Granfondo Alpes to Saturday September 4, 2021."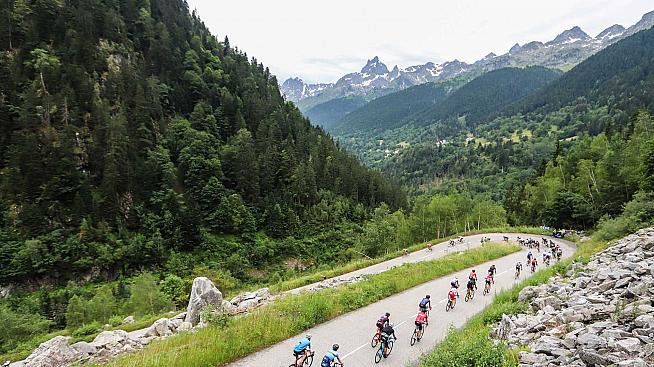 The revised programme for the event will see the hill climb challenge on Alpe d'Huez take place on Thursday 2 September, with the Rando des Marmottes - a more leisurely version of La Marmotte that splits the course over two days - taking place on Friday 3 and Saturday 4 September.
Saturday will see the full Marmotte take place, and also the new Ultrafondo Alps - an extended 235km course with an eye-watering 6500m of climbing.
Entrants will receive an email from the organisers offering them the choice of riding on the new September date or transferring their place to the 2022 edition.
The deadline for deciding is 31 May 2021, after which your place will be automatically be confirmed for 4 September.
Entries open
In a sign of the ongoing disruption caused to sporting events and travel by the Covid pandemic, it is actually still possible to enter this year's Marmotte.
The ride usually sells out almost instantly, but entries are currently available via the Marmotte website.
Individual entry costs €110 for the Marmotte and Marmotte Ultrafondo, or just €70 for the Marmotte Rando if you'd like to savour the course over a weekend.
Find out more and book your place at marmottegranfondoalpes.com.
0 Comments