Evans Cycles is set to cut its workforce by almost half as Mike Ashley's Frasers Group looks to cut costs, according to reports today.
More than 300 staff are expected to lose their jobs, while remaining store workers are swtched to zero-hours contracts.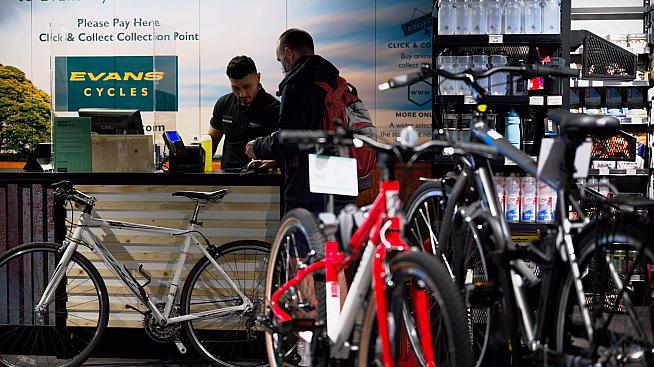 The Guardian reports that Evans staff have been sent a document outlining cuts to staffing and changes to contracts in coming weeks:
"A note to staff said: 'We cannot rely on old ways of running our business and we must adapt. These changes will look to address the cost of sales ratio in our stores and ensure that we are able to be more flexible with our cost base out of peak trading and during difficult trading periods.'"
Staff have been told they will need to reapply for their jobs in coming weeks, and management will have to work longer hours moving from 40-hour contracts to 45 hours.
According to the report, all other store staff will be switched from fixed-hours contracts, which usually guarantee at least eight hours a week, to "casual worker agreements" - which, the Guardian says, is Frasers' term for zero-hours contracts.
Evans currently employs 813 staff according to figures filed at Companies House, with that number set to fall to 475 in the coming round of cuts.
Evans Cycles faced going into administration before being acquired by billionaire Mike Ashley's Sports Direct (now Frasers Group) in October 2018.
At the time Ashley warned that many stores would need to close to save the business.
"We are pleased to have rescued the Evans Cycles brand," said Ashley in 2018.
"However, in order to save the business we only believe we will be able to keep 50% of stores open in the future. Unfortunately some stores will have to close."
While Evans did close some stores they also opened at six new locations in 2020, including stores in Sutton and Birmingham.
The past 12 months have seen a boom in cycling, with bike retailers and workshops including Evans Cycles permitted to remain open as an essential service for most of the pandemic.
However, a shortage of components and the implementation of a new IT system have afflicted the company in recent months, while the introduction of Tier 4 restrictions led the group to issue a profit warning in December 2020.
Ride It out
Evans Cycles also cancelled all their remaining Ride It sportives in April last year, citing Covid-19 disruptions.
The popular series included more than 20 road and off-road sportives across England and Scotland, but has now seemingly vanished without trace with no events planned for 2021.
0 Comments