Another day, another sportive postponement - and today it's one of the biggest events in the calendar, with news that the Tour of Flanders sportive will not be going ahead the day before the Ronde van Vlaanderen Spring Classic.
Originally set for 3 April, the organisers of We Ride Flanders have announced that this year's sportive will instead take place on Saturday 18 September.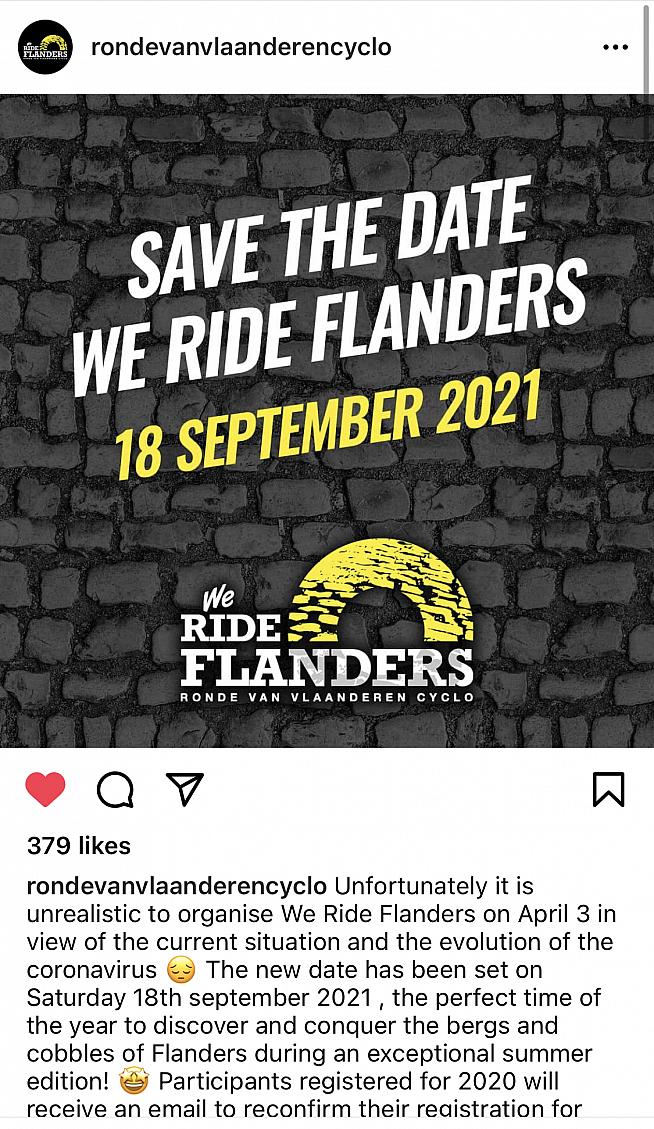 With the 2020 edition first postponed and then cancelled amid the coronavirus outbreak, all entrants now have the choice to carry over entry to September or to next year's edition, in April 2022.
"Over the last weeks and months, we have moved heaven and earth to welcome you and many others again at the start of the Ronde van Vlaanderen Cyclo on Saturday 3rd April," reads a statement on the event website.
"However, we now have to face the facts and conclude that it is unrealistic to organise We Ride Flanders at the start of April in view of the current situation and the evolution of the coronavirus. We were very sad having to make this decision because we were very much looking forward to it too, just like you!
"That is why we have decided together with the authorities and law enforcement involved to focus all our attention on a new date in the autumn, and to organise We Ride Flanders on Saturday 18th September 2021."
Looking on the bright side, weather conditions in Flanders may be marginally better in September than early April.
And if you can't wait for your cobbles hit, there's always the newly announced Flanders Gravel weekender taking place in July...
> New Flanders Gravel Weekend set for July 2021 >
What of the other Spring Classic sportives?
Flanders weekend is of course typically sandwiched between the Gent-Wevelgem and Paris-Roubaix races, each of which boast their own sportives - in the case of Paris-Roubaix, one of the most popular in Europe.
We've no firm news at present on when, or whether, these rides will go ahead in 2021. Event websites in both case haven't been updated in many months, but given the postponement of Flanders it seems likely that a similar fate awaits the early season swing of French, Dutch and Flemish classics including Amstel Gold and the Omloop het Nieuwsblad.
We'll update our listings as soon as we have confirmed info.
0 Comments