London Bike Show, one of the UK's largest trade and public cycling exhibitions, has folded with owners Newtimber Media going out of business.
This year's edition would have been the event's 10th anniversary, and was set to take place on 5-7 March 2021 at the ExCel centre in London.
The 2020 show was cancelled at the onset of the coronavirus pandemic, and organisers Newtimber Media say ongoing uncertainty around the pandemic has forced the company to cease trading.
A statement on the event website says:
"The London Bike and Triathlon London Shows are the latest casualty of the global pandemic. The team have done everything in their powers to keep the business running and working to deliver a 2021 show.
"However, the delayed restart of exhibitions and mass participation events has left us not knowing the future of events in 2021. The only outcome now for Newtimber Media is to sadly cease trading.
"Business recovery specialists are in the process of recouping funds from our suppliers and our clients will hear from them in due course with what will happen next. A sad end to what was a successful event, wishing the industry good health and success in the future."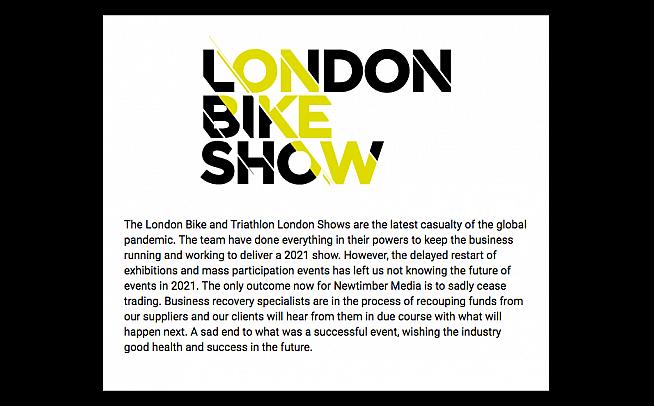 Covid deals mixed hand to cycling industry
The apparent collapse of a major and well-established cycling show shows the mixed fortunes of cycling businesses in the wake of the coronavirus pandemic.
While on the one hand cycling has seen a massive resurgence, with bike shops struggling to keep pace with demand, the events industry has suffered from widespread cancellations of sportives, cycling tours and holidays, and exhibitions.
The continuation of the pandemic into 2021 has seen a number of organisers forced to reschedule or cancel early season sportives. The opening rounds of UK Cycling Events' new Glorious Gravel series, for example, have been pushed back from their scheduled January and February dates to April and May.
Of the UK's other major cycling shows, Bespoked has been moved from it's planned April slot to 15-17 October.
In the meantime, Bespoked will be hosting "takeovers" of leading cycling brands' Instagram feeds throughout the year. Find out more at www.bespoked.cc.
The Cycle Show, scheduled to run over three days from 25 June at its new home in London's Alexandra Palace, is going ahead as planned at this time.
0 Comments