So you're into cycling, but do you know your maglia rosa from your maillot jaune? Your Strade Bianche from your Edoardo Bianchi? 
Here's a chance to put your cycling knowledge to the test, with three new quiz card decks from Brainy Bikers.

Themed around the Tour de France, Cycling Mishaps and Famous Cyclists, each game has 140 accurately-researched questions.
Players are quizzed on history, historical events, general knowledge, famous Cols, cycling's most famous egos, the dark side of cycling and the silly things that happen when on two wheels.
The questions are pitched to challenge everyone from newbie cyclists to long-time Tour fans; so, even if you don't know Tom Simpson from Homer Simpson, you'll come away with a few fascinating facts to impress on the next club run!
"We've run quizzes with new cyclists and cyclists who've been on the bike for 10-plus years. They all walk away having learned something and having known the answer to questions,' said Peter, one of the Brainy Bikers.
The other half of the team is our own Eoghan McHugh. Usually to be found plotting sanity-risking feats of endurance, it's now clear just how Eoghan has been spending those long hours alone in the saddle.
"Both of us at Brainy Bikers are keen cyclists," explains Eoghan.
"We met on a club run a few years back. We're also both a bit nerdy about cycling. Combining that with our backgrounds in graphic design and marketing, Brainy Bikers was born."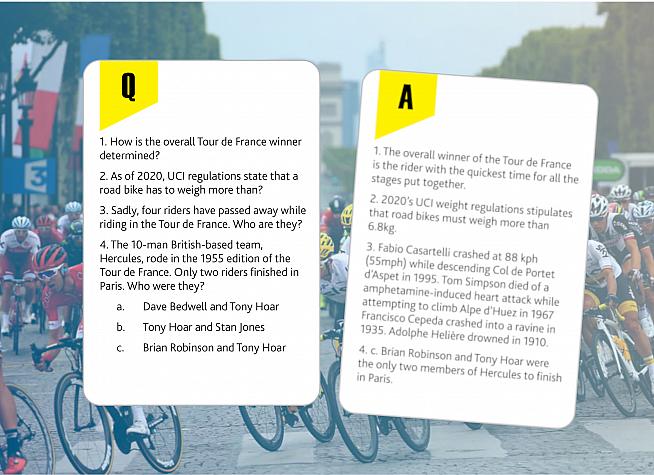 The idea for the card decks came about during the first coronavirus lockdown early in 2020.
"When lockdown hit we ran some quizzes," continues Eoghan.
"We saw the need for cyclists to connect with their friends over what we're all passionate about, cycling. To make sure we were onto something, we went out to thousands of people across the UK. We had a few designs we liked. So, we asked people what they liked and used the feedback to improve our ideas.
"The design work for the packaging and cards kept getting better. And the ideas kept getting better, too."
Whether passing the time on a journey, or to liven up your next Zoom quiz, the card games are ideal for cycling fans.
Priced £9.99, we reckon they're a decent early shout for Christmas stockings too.
Buy your decks at BrainyBikers.com and on Amazon. Decks are £9.99 for a single deck of cards or £24.99 for all three.
Follow Brainy Bikers and test your cycling knowledge on Facebook, Twitter and Instagram.
0 Comments