Iconic Italian bike brand Colnago have agreed a partnership deal with the Haute Route series of cycling events.
In a move focused on "providing unrivaled support for cyclists participating in all Haute Route events", Colnago will take on the role of title partner for the renowned cycling series.
The partnership will launch with Haute Route's return to the road next month at the Haute Route Ventoux. With much of the 2020 series cancelled because of coronavirus, the 2021 Haute Route series begins in Brazil in March and traverses the globe with nine events on four different continents.
The Colnago brand will be incorporated into Haute Route's concept of year-round support for its riders, from training before each race, to a fully supported experience at every event.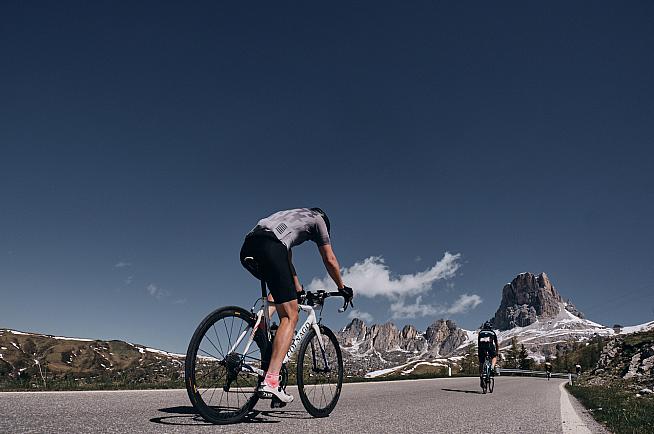 "Haute Route has always been about raising the bar for our riders and so we are absolutely thrilled to team up with such an amazing brand which stands for all the same things we do," said Haute Route CEO Julie Royer Coutts.
"When one of the most trusted brands in road bikes and pro cycling teams up with the finest global amateur cycling event, it produces the ultimate cycling experience. On and off events, this collaboration will level up the support provided to riders on their cycling journey and towards the Colnago Haute Route Series."
"Ernesto Colnago founded a company in order to create the best bikes in the world and to build dreams for the riders. Today we carry his wisdom to create superior experiences," said Melissa Moncada, Colnago Vice-Chairman.
"Haute Route is the greatest event in the world this allows us to help passionate amateur cyclists take part in the absolute pinnacle cycling experience. At Colnago we strive to create nothing but the best bikes and experiences and we are proud to bring this dedication to riders of the Colnago Haute Route series."
Colnago will also become title partner of the Gran Fondo National Series. Acquired in 2017 by Haute Route, the GFNS series consists of nine cycling events in the United States and together with the Haute route series provides a substantial platform for Colnago to engage with cycling communities all around the world.
For more information about the Haute Route, visit www.hauteroute.org.
0 Comments