Wahoo have launched the latest edition of their top-tier KICKR smart trainer, featuring increased power accuracy and a new AXIS system that allows side-to-side movement.
Wahoo say the fifth-generation KICKR improves on the realistic ride feel of their highly regarded KICKR trainers, offering riders a number of improvements to enhance their indoor training sessions.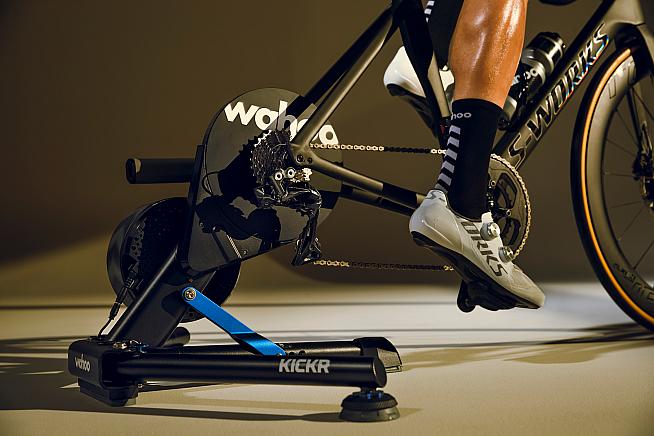 The new KICKR, the same smart trainer used by World Tour teams INEOS and BORA-hansgrohe, brings to market two main new features.
First up is improved power accuracy; Wahoo claim the latest KICKR boasts accuracy of +/-1%, compared with +/-2% for the previous iteration.
The improved accuracy is put down to a proprietary auto-calibration process., which Wahoo say gives the new KICKR "unsurpassed power accuracy without the need for users to perform a spin down, saving valuable time and providing riders confidence in the accuracy of their power data."
Roll with it
The second key feature of the new KICKR is the addition of AXIS feet, which allow the trainer to tilt up to 5 degrees from side to side while riding.
The idea is to create a more natural, comfortable ride feel, allowing a bike installed onto the trainer to smoothly tilt up to 5 degrees from side-to-side with each pedal stroke.
Like the previous KICKR, this version is nearly silent which makes riding it feel more like riding outdoors.
"With key updates that improve any indoor ride, our newest KICKR will deliver an elevated experience for all Wahooligans," said Product Manager Tyler Harris. "Without any need to calibrate, and improved accuracy, riders can be more confident than ever in power numbers, and with the new AXIS Feet providing subtle side-to-side motion, ride feel has never been more realistic."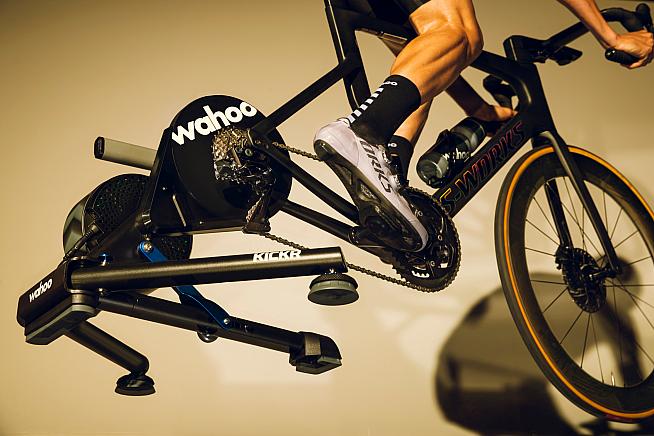 When we heard about the new AXIS feature, our first thought was whether the allowance for lateral movement might alleviate concerns over using certain bike frames in static trainers.
In particular, some bike manufacturers have specified that the user's warranty will be voided if their bikes are used on a direct drive trainer like the KICKR, because of concerns that the frame could be subjected to undue stress.
We put the question to Tyler at Wahoo, who replied:
"The AXIS feet do provide more natural side-do-side movement for the overall ride but this doesn't impact the mounting points of the trainer and bike. The bike industry's stance has certainly evolved when it comes to direct drive trainers and mounting bikes onto them. Now, with better understanding of the physical interaction between the bike and the trainers, just about all frame manufacturers have removed these voided warranty claims altogether."
"In regards to stress, our testing - and that of other bike manufacturers - have shown no additional stress caused by a direct drive trainer when compared to a normal wheel setup."
So, apparently this wasn't a factor in the development of the AXIS system - but it can't hurt that your bike is now able to roll with the punches when you're laying down the watts.
New features, same price
Despite adding in several new features, the new KICKR will maintain the same retail price of the previous generation, £999.99.
And of course, the new KICKR is compatible with the KICKR CLIMB Indoor Grade Simulator, KICKR HEADWIND Smart Fan, and KICKR DESK for riders looking to create the ultimate indoor cycling set-up.
And if you're looking to build fitness ahead of a late season (or next year's target) sportive, the KICKR is also fully compatible with indoor workouts from Wahoo's The Sufferfest virtual training app.
The newest KICKR is available now from WahooFitness.com.
0 Comments