Haute cuisine and cycling don't always go hand in hand - certainly at sportive feed zones, where a tray of chopped bananas and gels is about as fancy as it gets.
That looks set to change thanks to LeBlanq, a new venture promising luxury cycling weekends hosted by some of the biggest names in the cycling and culinary worlds.
The series launches this September with LeBlanq 01, a weekend's cycling and fine dining on the Isle of Wight. Your cycling host for the weekend is none other than Sir Bradley Wiggins, the UK's first winner of the Tour de France, former holder of the Hour Record and multiple gold medal-winning Olympian.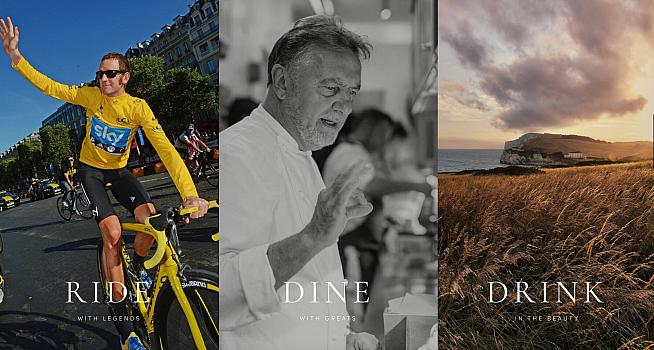 While Wiggo leads guests on the bike ride, taking care of business in the kitchen is Raymond Blanc OBE.
Blanc will rustle up a "Tour de Feast" dinner on the Saturday together with Ashley Palmer-Watts, former executive-chef of Heston Blumenthal's Fat Duck restaurant group.
After a scenic day's riding on the Isle of Wight's stunning coastline, the evening ends with a fireside chat and whisky tasting in the company of Sir Bradley and Sean Yates.
That's right - ex-pro and legendary hard man of British cycling Sean Yates is on board too, in what looks to be something of a dream team assembled by LeBlanq founder Justin Clarke.
The plan is for a series of similar weekends to follow, with Clarke and Yates drawing on their formidable contacts and reputations in the restaurant and cycling worlds respectively to ensure a top tier line-up of talent.
As you might expect, the experience comes with a premium price tag - we're talking £2,000 for the weekend here.
On the other hand, Sir Bradley Wiggins, Sean Yates and a large selection of fine whisky? You'll be dining out on the anecdotes for years...
Find out more and register your interest at www.leblanq.com.
0 Comments