Somerset may conjure images of cider and cheddar, but with its tranquil lanes and gorgeous scenery the West Country offers a treat for cyclists too.
This summer sees a series of three fabulous West Country sportives take place. The Mendips Lakes and Lumps Ride, the Great Weston Ride and the Great Exmoor Ride all offer absolutely stunning routes, while sharing a relaxed, inclusive ethos and differing levels of challenge to suit any rider.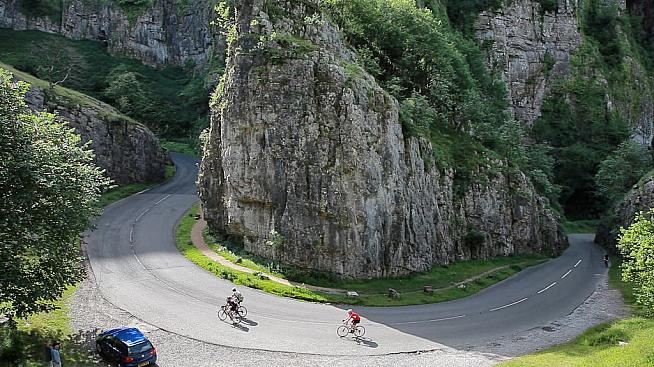 With events in June, July and early September, the series is designed to become more challenging as the summer progresses - so, for those who want it, there's the opportunity and motivation to push themselves and their cycling to ever-higher levels if they choose to tackle two or even all three of rides.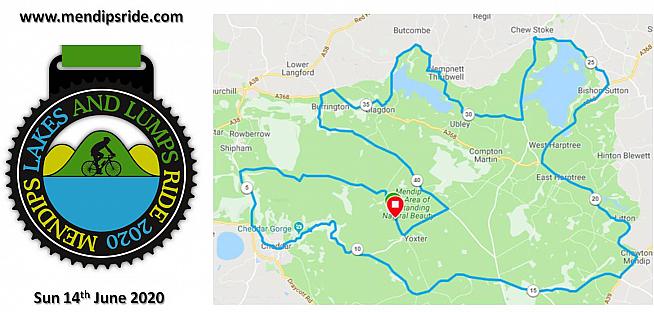 The series kicks off with the Mendips Lakes & Lumps Ride on Sunday 14 June 2020. At just 69km (43 miles) with 850m of climbing, it's a relatively gentle ride to ease you into the summer.
The ride is part of the National Trust's Top of the Gorge outdoor festival, recently ranked as one of the best 'Adventure & Wellness' festivals in the UK by The Guardian.
It's the shortest of the three sportives, and deliberately so; riders receive free entry to the festival (worth £15), with the aim of getting people back in good time to enjoy some of the festival activities. And of course, the free food and beer that is provided as part of the ride entry...
The route showcases some of the very best parts of the Mendip Hills AONB, and although relatively short the climbing is loaded towards the final 12 miles which ensures a very decent challenge.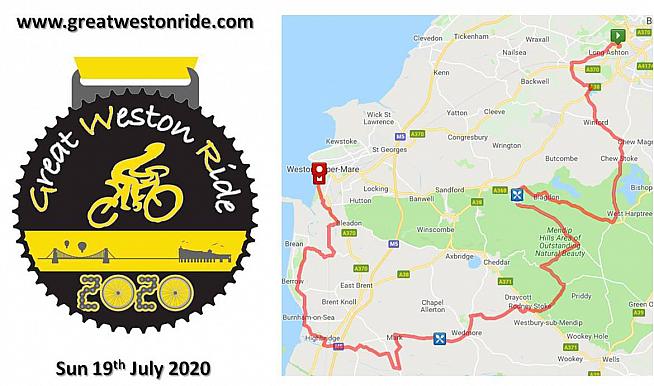 The mid-summer Great Weston Ride is a well-established and extremely popular sportive, with 1000+ participants each year. And it's easy to see why; with a choice of eight stunning routes to choose from, it has something for pretty much anyone.
This year's edition takes place on Sunday 19th July, with a choice of routes ranging from 57-75 miles and up to 1300m of climbing.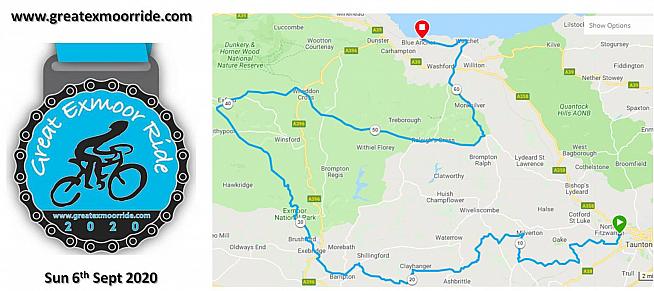 To round things off, the series culminates with the Great Exmoor Ride on Sunday 6th September. Undoubtedly the sternest test of the three, it's another spectacular route with fabulous views and simply a great way to end the summer.
The 106km (66 miles) route with 1600m climbing is not for the faint-hearted, but it's certainly do-able for determined cyclists with a decent level of fitness. The challenge is well worth it for the huge sense of achievement at the finish, but even fairly experienced cyclists report that it's a really good test of their legs - be prepared to really earn your stripes on this one!
If all of that tempts you to head west this summer, check out the event websites for more details on each sportive - and sign up for some fantastic cycling in Somerset.
0 Comments