Ballot entries are now open for the Fred Whitton Challenge 2020. This year's ride takes place on Sunday 7th June 2020 and will start and finish in the picturesque village of Grasmere, in the heart of the Lake District.
At 113 miles (182km) in length and taking in a hefty puncheur's platter of Lakeland climbs, 'the Fred' (as it's affectionately known by veterans) has long been regarded as the ultimate UK sportive challenge.
First held in 1999, the ride is named after local cyclist Fred Whitton. With 3950m of climbing taking in all of the major passes in the Lake District National Park, it's a challenge that's easily the equal of continental cyclosportives like La Marmotte.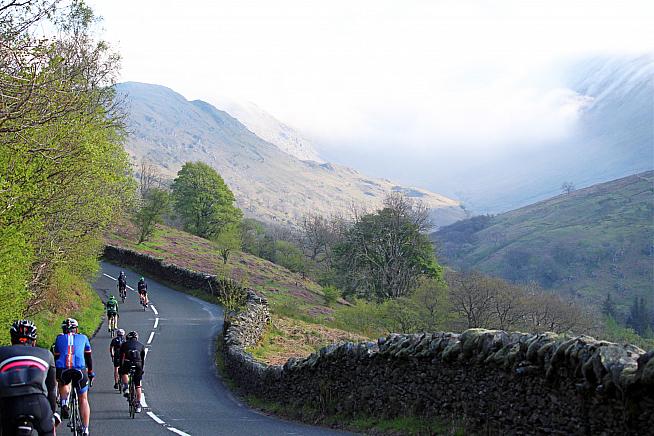 The infamous climbs of Hardknott and Wrynose, with a 30% gradient coming at 98 miles, have helped to seal the event's status. While top riders complete the route in just under six hours, 11 hours and over is not uncommon for the average sportive rider.
Plenty more riders each year fail to finish at all, and for those new to sportives the organisers' words of warning are worth bearing in mind:
"The Saddleback Fred Whitton Challenge is a tough day in the saddle across remote and mountainous terrain. Before entering, we always recommend you get experience in a 100 mile sportive and/or a hilly sportive with over 2800m of elevation gain to get a feel for the event."
There are two checkpoints on the route, and a minimum speed of 10mph (16kph) is required to meet the cut-off. Fancy a sneak peek at Hardknott? Matt Lowther's video from 2019's Fred Whitton captures the climb in painful detail:
Aside from the personal test of endurance, the Fred Whitton Challenge also benefits charity and all riders are encouraged to fundraise for Macmillan Cancer Care. The event has now raised well over £1 million for Macmillan and local charities over the past 20 years.
The Fred Whitton's formidable reputation has led to massive competition for places; as a result, entries are allocated through a ballot with 2000 places available. Entry this year is priced at £70.
The ballot remains open for 10 days, with a rider list being confirmed in late January. For those lucky enough to win a place on the start grid, it's only the first hurdle - the serious training starts now!
If you fancy adding the Fred to your 2020 goals, the ballot is open until midnight on Thursday 16th January at www.fredwhittonchallenge.co.uk.
0 Comments