Ultra-endurance racing duo, Graham and Ben Goff, return for another bikepacking adventure. Except this time, they've organised it!
We first met Graham and Ben Goff at this year's inaugural Trans Alba Race, where the father-and-son pair from Montana were competing as a team.
As we traversed the dramatic landscape (and weather) of Scotland's north-west coast, the sociable pair shared tales from past rides - including dodging hurricanes on the great Trans Am race, which put a wet Scottish summer in perspective.
It was clear that bikepacking is in the Goffs' blood. So it's no surprise to find that for 2020 they're launching their own bike race - and one designed to showcase the remote and rugged beauty of the state they call home.
Montana Bike Odyssey will see riders embark on an epic adventure through Montana, one of the biggest and wildest states in the USA. And by the look of things, the Goffs have put their years of endurance cycling experience to good use in devising a 1,650 mile clockwise route around the Big Sky State.
From the start in Bozeman, riders will be treated to stunning scenery (as well as a total of 90,000+ feet of climbing) passing through the Rocky Mountains of Western Montana, over the Going to the Sun road in Glacier National Park, and across the expansive prairies and breaks of central Montana.
Riders can look forward to two ferry crossings over the mighty Missouri River, as well as an ascent of the 10,947ft Beartooth Pass, then on through the northern portion of Yellowstone National Park before returning to Bozeman.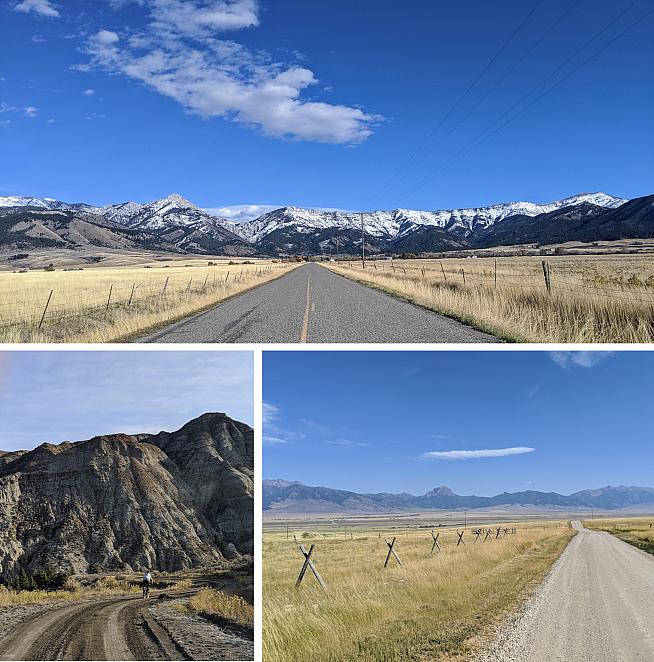 As you might expect given the wilder reaches of Montana's lofty expanses, it's not all smooth tarmac roads. The mixed surface course incorporates state and county paved roads, maintained gravel roads and unmaintained dirt roads.
The varied parcours means riders will need to carefully consider their bike and kit choices; there will be 845 miles of paved road, 770 miles of gravel and dirt roads (ranging from well maintained "hero gravel" to unmaintained dirt roads that could potentially become race-ending mud) and 35 miles of paved, dedicated bike paths.
And what a time of year they've picked as well! The ride is slated to start 8th September 2020 - just as the leaves start to turn and autumn - or "Fall" - starts to whisper its arrival.
For anyone not familiar with September time in wild places, keep any food tied up in a tree away from tents and sleeping areas. Bears are out prepping for hibernation and are less discerning on what they eat that time of year... registration does come with bear spray rental!
Participants can ride solo or in teams of two. Dotwatchers, loved ones and hungry bears can follow each rider's progress thanks to Spot GPS trackers. The trackers are available to rent for the event, or entrants can piggyback off Montana Bike Odyssey's tracking if they already have their own SPOT tracker.
Graham and Ben are already taking applications now and registration closes on 1st April, 2020 - but don't leave it that late and end up an April Fool. The race starts the 8th of September, and the expectation is that most riders will have finished by the 25th. Graham, an architect by trade, is an accomplished painter, so let's hope for a special finishers gift created by the man himself!
As veterans of bikepacking epics, the organisers are aware of the financial considerations involved in going to far flung places, so they have uniquely opened an application granting one female and one male rider the opportunity to ride with costs waived.
It's a nice touch, and having ridden with the Goffs I would say riders are in safe hands. These guys are lovely chaps, and it looks they've put together an awesome event - don't miss it!
For more details and to apply, visit www.montanabikeodyssey.com.
0 Comments