Sunday 6th October sees the 15th edition of the Autumn Epic, and possibly the last chance to ride a classic sportive that helped kick off the whole scene 15 years ago. The Autumn Epic has been going since 2005, and pioneered the use of online entry and chip timing.
"This October we'll be running it one last time," says organiser Andy Dawson of Rideventures, "and then giving it a rest in 2020."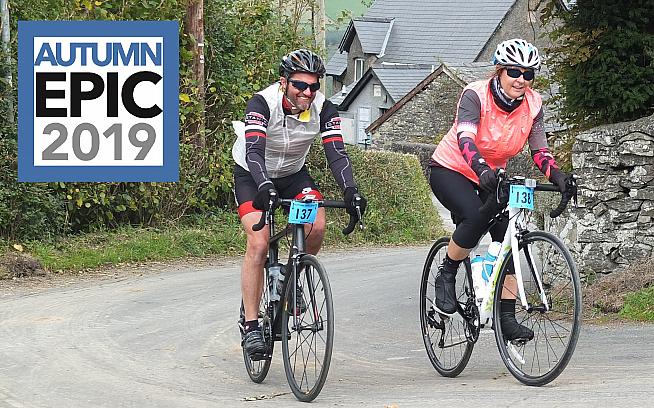 As you might expect with such a venerable event, the Autumn Epic is a long-time favourite with thousands of riders. For many it was their first sportive, so this is a final chance to ride the classic route.
Five routes ranging in length from 25 to 100 miles are on offer for the Autumn Epic, all starting from Knighton in Mid Wales.
"We publish standard times for the route so people can aim for a Gold, Silver or Bronze level. On the 6th October there's an opportunity to better your time," adds Andy.
The original 150km (95 mile) route will be back for a 15th year, along with a slightly longer 100-mile course first added in 2018. The other distances are 25 miles, 45 miles and 80 miles.
The two longer routes feature eight notable hills with around 2700m (8000 feet) of climbing, for a stiff end-of-season challenge. Route details and profiles are available on the event website; you can view a map and profile for the long course here.
Rideventures hasn't ruled out bringing back the Epic in 2021, but it will be a revised route.
Meanwhile, for 2020 there are plans to revive the Epic's evil twin - the Devil Ride - for a one-off edition in the summer.
Entry to the Autumn Epic is priced £30 for the two long Epic routes, £29 for the 80-mile Legend course, £25 for the Adventure 45 course and £20 for the Quest 25 course.
Your entry fee includes a fully signed route, electronic timing, feed stations, mechanical support, a broom wagon, and hot food at the finish.
For full details and to sign up, visit www.rideventures.co.uk.
0 Comments