Early details of next year's Velo Birmingham & Midlands sportive have just been announced, including a new summertime date of Sunday 28 June Sunday 21 June 2020.
Please note: since this article was first published the organisers have changed the date to Sunday 21 June 2020.
100 mile entries for Vélo Birmingham & Midlands 2020 are now on sale to everyone who has pre-registered.
Any remaining entries will go on sale on Monday 7 October 2019.
Entries for the shorter route will open in 2020.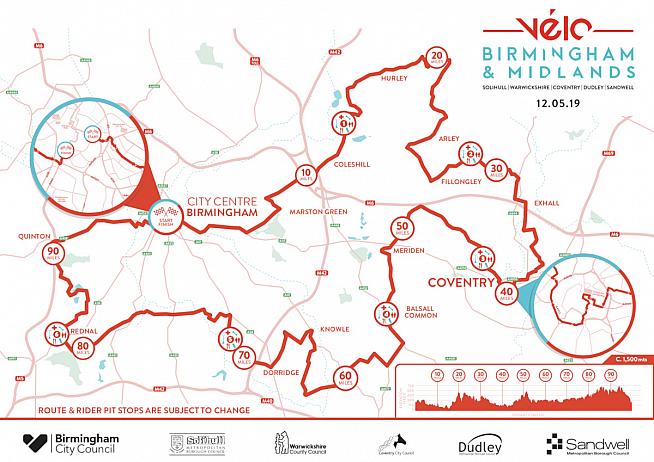 First staged in 2017, the UK's second-biggest closed roads sportive will return for a third edition in 2020 (having skipped 2018). Up to 18,000 riders are expected to take part, making it one of the biggest cycling events in the country. Only RideLondon has a bigger field of entrants.
The 100-mile route takes in the city centres of both Birmingham and Coventry, as well as some beautiful local villages and features 1,500 metres of climbing.
The ride starts and finishes in Birmingham city centre and heads north east before hitting the cobbled roads next to Coventry Cathedral after approximately 40 miles. The route then heads on a zig zag roughly going west through Dorridge and Rednal before heading back into Birmingham via Quinton.
It's a challenging day out on the bike, but well within reach of the averagely fit cyclist who has put in some sensible training.
Pre-registration for the sportive is now open, and is essential if you want to take part. Entries will open later in the year, but only to people who've signed up in advance.
For more details and to pre-register, visit the event website at www.velobirmingham.com.
0 Comments