Details of The Big Velofete, a brand new cycling festival set at London's historic Herne Hill Velodrome, have just landed on our desk. A fundraising event for the Friends of Herne Hill Velodrome, the Velofete will take place on 15-16 June with a packed programme of racing, activities, speakers and stalls from your favourite cycling writers and brands.
I used to live and work in Herne Hill, just around the corner from the venue for London's 1948 Olympics cycling events - but it's safe to say that Velofete will be even more entertaining than my wobbly lunchtime efforts around the concrete track.
Visitors to the festival can look forward to race events from right across the spectrum, including road racing, track racing, sprinting, tandem sprinting, road bike criteriums, fixed gear criteriums, cyclocross, duathlon, cross country running and drag sprints - with competitions for women and men, young and veteran.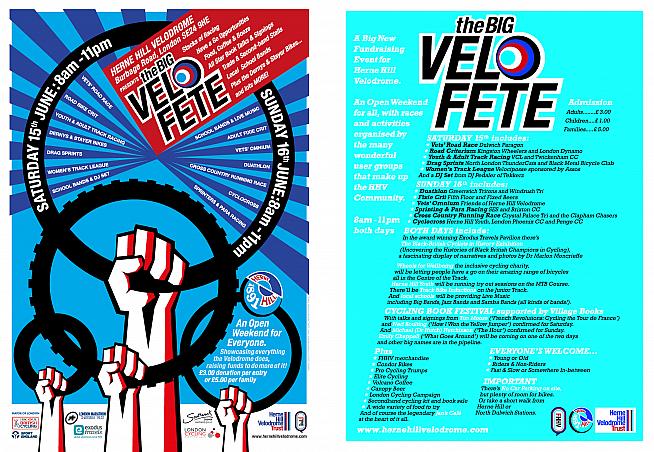 The festival kicks off with a special event on Friday 14th June from 19:30 in the Exodus Travels Pavilion. The newly appointed President of the Herne Hill Velodrome Trust, Ned Boulting, will be joined by friend David Millar in conversation discussing all things cycling, drawing from years of experience in their respective careers. Tickets cost £10 Adult, £8 Special Friend and £5 Youth tickets and include free spectator entry for Saturday and Sunday. Tickets can be purchased online.
If that's not enough, there's plenty of ways for spectators to get involved with numerous 'have a go' activities throughout the weekend as well as exhibitions, talks, signings and stalls.
Activities will be run throughout the weekend, so you can try your hand at riding the adapted cycles used by Wheels for Well Being, Strider Balance Bike sessions for 2-5 year olds and Frog pedal bike sessions for 4-8 year olds. There will also be track bike inductions for kids and adults, along with mountain bike sessions with Herne Hill Youth Cycling Club.
In partnership with Village Books, the Cycling Book Festival will host talks and discussions across the weekend with some of the leading cycling writers in the UK. Ned Boulting, bestselling author of How I Won the Yellow Jumper and others, editor of The Road Book and ITV's voice of cycling, will headline Saturday night in the book tent.
Other speakers include Tim Moore, Michael "Dr Hutch" Hutchinson, Emily Chappell, Max Leonard, Paul Jones, Michael Broadwith, Marlon Moncrieffe, Kate Rawles Jools Walker, Chris Sidwells, Tom Simpson, Vas-y-Barry and Jenni Gwiazdowski.
Black-British Cycling Champions
Over both days of the festival, the ground-breaking research of Dr Marlon Moncrieffe will be exhibited in the Pavilion. 'Made in Britain: Uncovering the life-histories of Black-British Champions in Cycling' is a fascinating display of narratives and photos featuring, amongst others, HHV riders past and present.
The exhibition showcases black British cycle racers like Maurice Burton, Russell Williams, Christian Lyte, David Clarke, Charlotte Cole-Hossain and others. Through a collection of testimonies by the cycle racers, the exhibition helps answer the question around why there is currently a dearth of high-profile black cycle racers.
Music & Merch
It wouldn't be a festival without music, and local schools orchestras will help provide the atmosphere over the weekend. Expect to hear a little bit of everything from classical to samba, folk to jazz  - while Saturday night will see a little bit of a party atmosphere creeping in with DJ Pedaler of Tekkerz CC taking to the decks from 9pm.
Condor, Pro Cycling Trumps, Elite Cycling, Volcano Coffee, Canopy Beer and London Cycling Campaign will all be onsite will stalls, along with plenty of beautiful Friends of Herne Hill Velodrome merchandise items on sale as well as a pre-loved cycling books and clothing stalls, food and drink.
About Herne Hill Velodrome
Herne Hill Velodrome was built in 1891 and was a venue for the 1948 Olympic Games. It has come under threat many times, but has always survived due to the dedication of its users and supporters.
In 2005 the velodrome was shut for a short time after negotiations on the lease reached a deadlock. The track fell into disrepair as the short lease granted meant raising funds for refurbishment was difficult. In 2011, the velodrome was the focus of a high-profile and ultimately successful campaign from the local and cycling communities to save the facility.
A new clubhouse was opened in 2017 and facilities are constantly being improved. HHV provides activities for a huge range of cycling, for riders of all abilities and backgrounds, from infants to professionals. Funds raised from the Big Velofete will be used to continue this vital, inclusive programme of exercise and sport for the whole local community.
Entry to the Big Velofete is done on a donation basis. A suggested donation will be collected on entry, this is £3 for adults, £1 for children or £5 for a family.
For more information and to see the full schedule, visit www.hernehillvelodrome.com/velofete.
0 Comments