The organisers of Velo Birmingham & Midlands, one of the UK's biggest closed road sportives, have announced a new 42-mile route for the 2019 edition. Cyclists looking for a shorter option than the full 100-mile route can now choose to ride from Birmingham to Coventry city centre, enjoying the same closed roads and atmosphere as those taking on the full distance.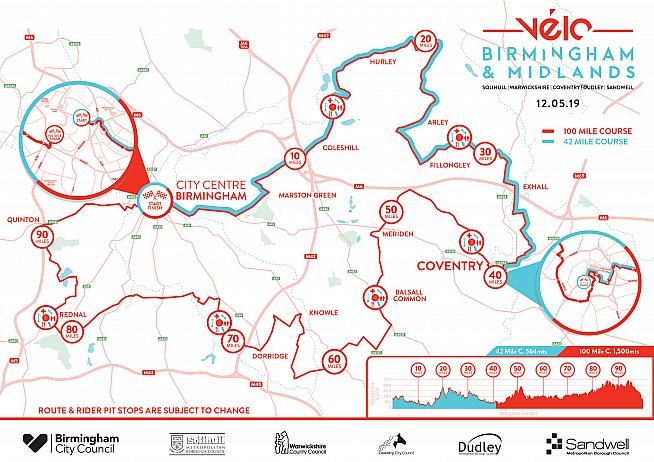 This year's Velo Birmingham & Midlands takes place on Sunday 12 May. Entries for the 42-mile route are open now, with 3000 places on sale.
So what can riders expect on the day? Over to Velo Birmingham for a summary:
"Starting near the Birmingham Bull Ring in the heart of Birmingham city centre, the 42-mile route will weave its way through the beautiful West Midlands countryside en route to the heart of Coventry - the European City of Sport 2019 and City of Culture 2021 - where you will cross the finish line on University Square in the shadow of the historic Coventry Cathedral.
"Along the way, you will encounter stunning countryside, panoramic views, picturesque villages and climbs... not to mention the tens of thousands of residents lining the streets to cheer you on!
"The safe, high quality event experience is exactly the same as our 100-mile route; the only difference is you don't have to ride as far! Once you've crossed the finish line, you'll be able to enjoy an afternoon of celebrations in Coventry and re-fuel at the famous Coventry Food Festival."
The new route looks set to appeal to casual and new cyclists as well as those who missed out on entry to the 100-mile ride. The shorter distance makes it a great introduction to riding in a closed road cycling event, and certainly for cyclists new to sportives it's an ideal way to gain confidence in a welcoming and friendly environment.
In related news, a limited number of additional places for the sold-out 100-mile route are set to be released. The extra places will go on sale on Monday 11 February, but you can get your name on the waiting list now on the Velo Birmingham site.
For full details and to enter, visit www.velobirmingham.com.
0 Comments