The Swedish makers of Albedo100, a "revolutionary" new invisible spray paint, claim it will help to save the lives of thousands of cyclists and pedestrians.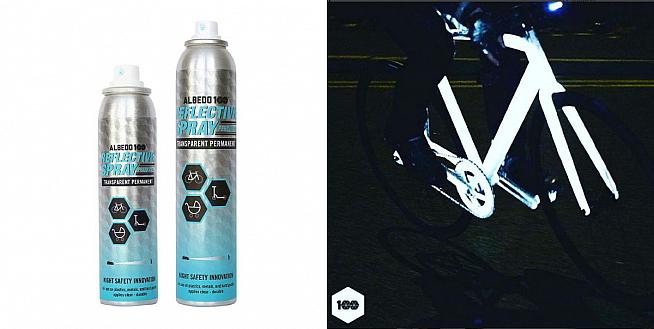 The Albedo100 spray is invisible to the human eye, but is highly reflective of car headlights during darkness. It comes in a handy spray can and can be applied to clothing or a bike frame to boost visibility when cycling in low light.
The spray is completely invisible in daylight, yet remains largely weatherproof to ensure effectiveness in heavy rain. By spraying the product onto clothing such as a coat or hat, or onto a bicycle frame, pedestrians and cyclists instantly become highly reflective when out in the dark.
Albedo100 claim that a person wearing the spray can be seen from up to 500 feet away when light hits it, a significant improvement in visibility when compared to someone wearing bright clothing, who can only be seen from around 200 feet away.
The hope is that this increased illumination can help reduce the numbers of night time accidents on our roads, as drivers are able to spot pedestrians and cyclists much earlier and take appropriate evasive actions.
The Albedo100 spray comes in a range of options, some for use on clothing and fabrics and a "permanent" version for use on bikes and solid objects. Although it's labelled permanent, the Albedo website cautions that it will eventually wear off a bike over a period of months, depending on weather conditions.
As well as being applied to clothing, helmets and bikes the spray can be used to create reflective sportive signage (we're immediately thinking "invisible arrows for the Dunwich Dynamo!") or, for the creatively inclined, reflective designs on your bike and kit using stencils.
The spray consists of reflective microparticles and glue, and our only initial concern was that these microparticles could find their way into the environment as the product washes off.
We put the question to the Albedo100 team, and received a fast response: "The microparticles are made of glass and not plastic, and therefore aren't harmful to the environment."
With those concerns allayed, Albedo100 sounds like an ideal product for cycle commuters and training rides in the dark winter months.
And - if it works as claimed - a can of Albedo100 may soon be on the essential kit list of riders tackling audaxes or ultra-endurance events like the Transcontinental Race.
A 100ml can of Albedo100 permanent reflective spray costs £12.99.
We hope to have a sample in for testing shortly. In the meantime, you can find out more at www.albedo100.co.uk.
0 Comments