Along with the Etape du Tour, the Marmotte Alps is probably the hottest ticket in sportive town each summer - and the date for entries to the 2019 edition has now been announced.
Next year's Marmotte (or the Look Granfondo Marmotte Alpes to give the event its full title) takes place on Sunday 7 July 2019. Bundle entries for the Marmotte plus one or more other events in the Marmotte Granfondo Series will be on sale from Monday 15 October.
Solo entries to just the Marmotte Alps will open a week later, on Monday 22 October.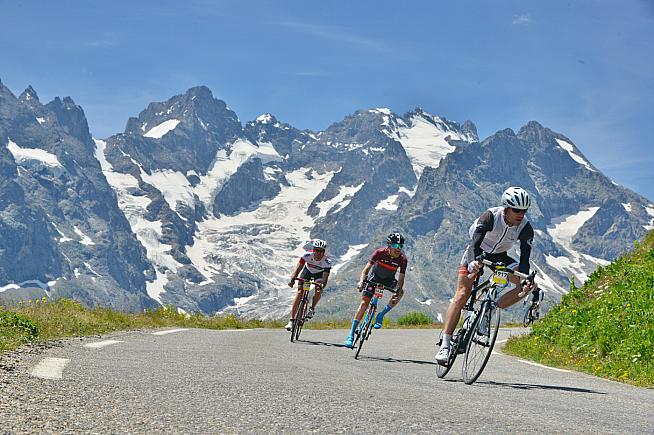 Early registration is advisable as the Marmotte sells out each year, although for recent editions places have still been available for a few weeks after going on sale.
The solo Marmotte option remains by far the most popular, but the other sportives in the series are well worth a look - especially if you've already ticked the Marmotte Alps off your bucket list.
The Marmotte Series is run under the umbrella of Cycling Classics France, whose programme for 2019 includes a notable new status for the Bourgogne Cyclo. Taking place on Saturday 27 April, this 175km season-starter is now a qualifying event for the UCI Granfondo World Championships. That means that finishers who make the cut will qualify for the UCI Granfondo World Championships, which in 2019 will be held in Poznan, Poland on 5-8 September.
>>> Read Joe's report on riding - and abandoning! - the 2018 Marmotte >>>
If you're looking for a challenge a par with the Marmotte, then Cycling Classics have you covered. The Supergranfondo Galibier-Izoard is a 185km sportive which, as the name suggests, tackles two of cycling's legendary climbs, the neighbouring cols du Galibier and d'Izoard, for a total of 4600m of climbing.
Looking for still more? How about the Tour du Mont Blanc. At 330km in length and with over 8000m of ascent through three countries, it makes the Marmotte look like a gentle Sunday coffee run... Next year's event is on 21 July.
Whichever ride you choose, you'll find more details and entry on the Marmotte Granfondo Series website from 15 October. Get training, and good luck!
www.marmottegranfondoseries.com
0 Comments