UK Cycling Events (UKCE) has joined forces with online cycling and triathlon retailer, Sigma Sports, to launch a new 2018 cycling series featuring some of the UK's most popular sportive rides.
Bookings are now live for the Sigma Sports Challenge Series, comprising 10 road events across the UK.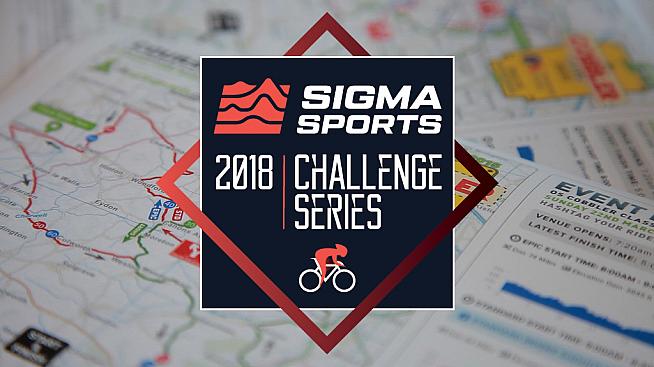 The series brings together some of the most established Cycling Weekly Sportive Series rides, including the sell-out Wiltshire Wildcat and Ripon Revolution, with the addition of two events from last year's popular UK Cycling Events Series.
It includes the Cobbler Classic on Saturday 9 June, taking in the East Midlands' beautiful rolling countryside surrounding Northampton, and the West Coast Classic starting from Preston on Sunday 1 July. Riders can experience the best of the north west coast with the option to tuck into free fish and chips after a hard day in the saddle.
Ian Whittingham, Managing Director at Sigma Sports, an online cycling and triathlon retailer with a flagship store in Kingston-upon-Thames, said: "We're excited to partner with UK Cycling Events and it's great to be a part of such a popular and well known series of events.
"We're busy bringing the high-quality, in-store, service you'd expect from Sigma Sports to our online offering, and this is a great chance for us to get out there and meet enthusiastic cyclists from all over the UK."
The series kicks off on Sunday, 11 March with the Wiltshire Wildcat. All ten events will feature an epic, standard or short route, with full mechanical and medical support on hand for riders. As usual with UKCE events, you can expect fully stocked feed stations, well signed routes, route marshalling, and a finisher medal. Bookings can be made via ukcyclingevents.co.uk.
Save up to 25% with a Sportive Season Pass
If you're planning to rack up the miles in 2018, UK Cycling Events are offering a chance to save on the cost of entry with a range of Season Passes.
"A Cycling Event Season Pass is the perfect way to plan the season ahead and, by paying up front, it will keep you motivated throughout the year while saving you some money, too" say UKCE.
Pick of the bunch is the Gold pass, offering entry to 10 sportives with a cost saving of 25%. The Silver pass offers entry to five events at a saving of 15%, while a Bronze pass is a good option if you only plan on riding a few events, saving you 10% on the cost of entry to three sportives. 
Events you can enter include sportives from the Wiggle, Brewin Dolphin, Sigma Sport, Adventure Cross and UKCE series - in other words, almost any event from UKCE's packed programme of rides across the country. The only events not included are the No Excuses and French sportives.
Sounds like a decent Christmas present to us!
Find out more and book your Season Pass at www.ukcyclingevents.co.uk.
0 Comments