Missed out on a place for next year's Etape du Tour? Entries for 2018 sold out in record time, but you still have options. And one option is riding all three Alpine stages of the Tour de France - fully supported - with Le Loop.
From the rolling vistas of the sunny south-west to the legendary climbs of the Alps and Pyrenees, Le Loop offers amateur cyclists a unique taste of the world's greatest bike race. If the full Tour sounds like a tall order, you can choose from shorter Loops of 2-10 stages instead.
Loop 5, The Alpine Triple, includes the Etape du Tour stage from Annecy to Le Grand-Bornand on day one; but days two and three are no less spectacular, with climbs of the Col de Madeleine, Croix de Fer and Alpe d'Huez on the menu!
You'll be supported all the way by the team at Le Loop, and for 2018 they're especially encouraging women cyclists to take part with a new Team Marie initiative.
Up for the challenge? Read on to find out more...
What is Le Loop?
Le Loop is a fully supported cycling challenge that follows the route of the Tour de France a week ahead of the pros. Think of it in terms of the hugely popular Etape du Tour sportive; except that where Etape riders test themselves on a single stage of the Tour, Le Loop riders can take on every stage.
The event supports the William Wates Memorial Trust, helping the UK's most disadvantaged young people to avoid a life of crime and violence and fulfil their potential. Riders commit to fundraising a minimum target depending on which Loop they choose. For the majority, this will be £1,200. To date, the Tour de Force/Le Loop has raised over £3 million. Their goal is to raise £400,000 a year.
The 2018 Route
The 2018 Tour de France will start in the Vendée - Pays de la Loire, and so of course Le Loop will do the same. Le Loop begins on Saturday 30th June and will end 21 stages and around 3,300km later in Paris on Sunday 22nd July. Read more about the route.
For 2018, Le Loop are offering 10 Loop options. These range in duration from two to all 21 stages of Le Tour; some packed with mountain climbs in the Alps or Pyrenees, others in the flatter north of France, and some taking in a little of everything as next year's Tour explores some hitherto unvisited gems.
It's a mind-blowing prospect, but Le Loop have a few suggestions to help you choose:
For relative newbies, check out Loops 1, 6 and 10 (short option)
For women (and men!) looking for safety in numbers, choose from one of the Team Marie Loops: 4 or 5
For the handlebar chewers, head for the big mountains on Loops 5, 6, 7, 9 & 10 (long option)
Fancy something unique and fascinating? Are you game, but not that game? Loops 2 & 8 are for you
Team Marie
Le Loop are especially looking to encourage women to take part, and to that end they've set up Team Marie. The initiative is named in honour of the first woman to ride the Tour de France, Marie Marvingt. In 1908, Marie was refused permission to cycle the Tour de France, so she did it anyway (on the same course, just slightly later), completing the whole tour in a year when only 36 of 114 men managed the same.
Loops 4 and 5 have been designated as Team Marie Loops, and the organisers explain: "Our Team Marie Loop Options are particularly welcoming to those who'd like as much supportive female company as possible." While adding, "there's nothing to stop women choosing any Loop they like and several will overlap with the Team Marie suggestions."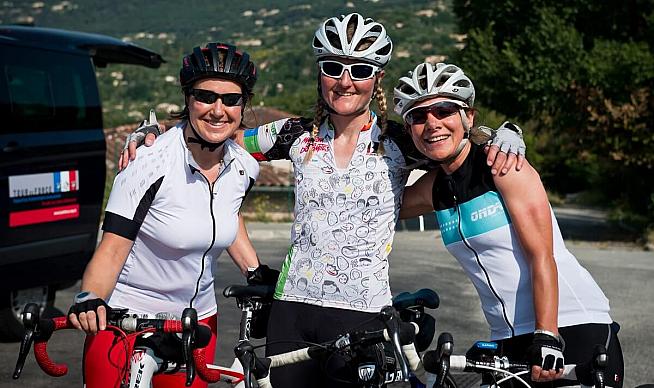 What's more, writer and endurance cyclist Emily Chappell - winner of last year's Transcontinental Race - has signed on as Lead Cyclist, offering her experience and support to female cyclists on Le Loop.
"What I'm going to enjoy most about my new role is the opportunity to make a difference - to be living, breathing, riding proof that events like this belong to women as much as to men, and to encourage and support all the other women who sign up to ride a few stages, or even the whole thing," says Emily.
A Team Marie Facebook Group has been set up as a place for women riders to make friends, swap training tips, compare tan lines, arrange get-togethers and social rides, and support each other towards their goal - be it completing the whole Grand Loop, riding a couple of spiky mountain stages, or spending a week on the bike in glorious scenery and good company.
Find out more about Team Marie on the event website: rideleloop.org/team-marie.
I want to ride the Tour de France! How do I enter?
Entries for Le Loop are now open, but you'll have to be fast - places sell out quickly each year. Entries for the full Tour in 2018 have already been snapped up, but you can still enter any of the Loops.
For more details and to book your place, visit rideleloop.org.
0 Comments